This week we have registered five new major public short campaigns and a number of follow-up reports.
New shorts of Iceberg Research and White Diamond dropped the most following reports.
Perhaps the most interesting one was by Scorpion Research, who targeted a recent EV-related SPAC. The campaign was filled with strong claims of fraud and deception and likened the company to Theranos.
We also look at the new report aimed at the notorious Chinese online educator who needs to file their audited financial results by the end of this month.
Lastly, we are tracking the most recent stock price gyrations at two other new campaigns launched this week.
---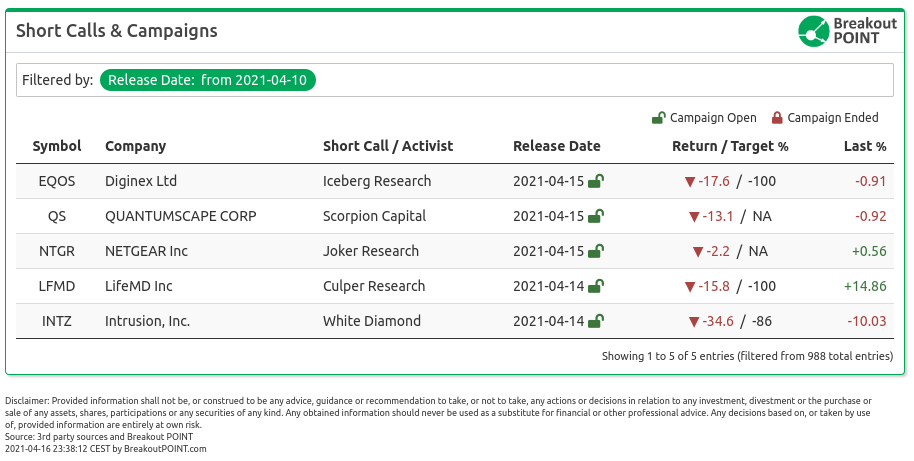 ---

---
Bits and Pieces
Investor from Chamat's 'Emerging Managers' class of 2021 on short sellers and why this investor stopped publishing positions:
For the past few weeks it's become clear to me the shorts were attacking my favorite stocks. Over the past 24 hours I've received some evidence. These shorts don't care about these companies or the shareholders, they are just greedy pricks. I'd love a good short squeeze. pic.twitter.com/QgbCWWGs9g

— Jonah Lupton (@JonahLupton) April 15, 2021
---
Get most popular retail stocks. Track real time retail sentiment and popularity via our APIs and dashboards.

---
Big Movers
This week's we saw several stocks that moved in the right direction for the short-sellers. The biggest mover was LifeMD (LFMD) which is down 40% for the week. This about $300m telemedicine company was targeted by Culper Research just this Wednesday due to allegations of dubious corporate governance and fraudulent statements.
Most importantly, the report believes the company is supposedly using doctors that either appear fake or have a tainted track record. According to the short seller, the first doctor named on LFMD's list is a person who previously had troubles with his practices in at least eight states and had his registration revoked. In another instance, Culper could not find a licensed doctor that the company was supposedly using.
Moreover, Culper writes that the past track record of several LFMD's insiders raises significant red flags. Allegedly, many insiders have hidden their involvement with another entity that was prosecuted by the FTD for allegations of wide-ranging fraud and deception.
Due to all, this the short-seller sees a significant downside opportunity and adds that eventually, the stock could even go to zero as the business sees little to no growth and could be exposed to legal liability from the FTC given Culper's claims.
Shortly after the report, Culper noted that the company already altered the doctors' list and removed some of the claims which Culper saw as troublesome.
The stock is now down about 22% since the initial report. What likely did not help was the company's reaction. The company did release a rather generic reply to the report. The CEO promised to give an interview, likely addressing the claims, however as per the tweet below, it was eventually cancelled.
LifeMD $LFMD CEO Schreiber has just cancelled his 11am interview. pic.twitter.com/E9YBwfhPVA

— Culper (@CulperResearch) April 15, 2021
Thus the below questions are likely to remain unanswered for now.
This morning, LifeMD $LFMD provided a generic non-response to our report which denied nothing, even as $LFMD removed Dr. Badii from its site yesterday. We understand that stock promoter/CEO Justin Schreiber is set for an interview at 11am ET today. Here are 10 questions we have. pic.twitter.com/6tlUnAaNBI

— Culper (@CulperResearch) April 15, 2021
Another new campaign that saw the targeted stock plummet was by White Diamond Research. The short-seller targeted Intrusion (INTZ), an about $500m cybersecurity company, due to allegations of dubious product and questionable track record.
Most importantly, the report believes the company's core new product is supposedly without any significant underlying intellectual property and is based on open-source tech, which is freely accessible. The beta test of the product was allegedly also done by associated parties with INTZ. The product documentation is apparently filled with buzzwords but leaves out any meaningful information.
Moreover, White Diamond wrote that the Chairman of the Board of the company has previously presided over a company that was supposedly a pump and dump scheme that faced SEC charges. The insiders of INTZ are continuously cashing out.
Due to all this, the short-seller sees a significant downside. As the alleged hype wears off, the shares could collapse about 85% from the current stock price.
The stock is now lower by about 34% since the report. So far, the company only provided a short refutation of the report but did not release any comments regarding specific claims made by White Diamond.
On the other side of the tracks, there weren't many stocks registering large upward moves. There was just a single stock moving up more than 12%. It was Veritone (VERI). This stock was initially targeted by Night Market Research in March of this year due to allegations of overvaluation and misperception by the market. The short-seller mainly talked about VERI's business which is misperceived by the market as AI pure-play, while the revenue from this part of the company is minuscule, and they never had much success in expanding it.
The shares are down about 24% since the report but had a relatively good week. The reason for this is not really clear as there was no new fundamental news, but retail interest seems to be still holding up relatively well. Some were asking whether Palantir (PLTR) could somehow work with VERI.
---
More SPAC shenanigans?
This week we have seen a couple of campaigns target stocks that recently went public through the SPAC structure. The biggest so far has certainly been by Scorpion Capital who targeted Quantumscape (QS). This is a popular stock among retailers, given its focus on creating the next big battery technology. As the EV sector got hot, QS has had a wild ride up. At highs, the stock was hovering around $150 per share. Now the stock retreated to about $35 per share and is trading at a valuation of $15bn without having any revenues.
However, Scorpion believes there is plenty of further downside and likened the stock to Theranos. This is mainly due to allegations of dubious product claims and corporate governance.
Most importantly, the report believes the company has...
---
(Get full weekly report and stay on top of activist short selling developments - Join Breakout Point).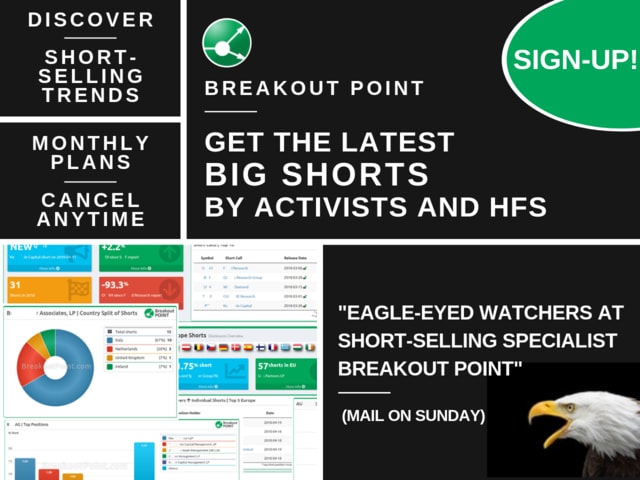 ---
FAQ | Q: Can I publish parts of above data and analytics in an article? A: As long as you reference our work in your article - yes, you can.
FAQ | Q: Could you provide more related data and analytics? A: Sure, contact us, and we'll try to help as soon as possible.
* Note: Presented data and analytics is as of available on 2021-04-16 UTC 12:00.
The services and any information provided by Breakout Point or on the Breakout Point website shall not be, or construed to be any advice, guidance or recommendation to take, or not to take, any actions or decisions in relation to any investment, divestment or the purchase or sale of any assets, shares, participations or any securities of any kind. Any information obtained through Breakout Point and its services should never be used as a substitute for financial or other professional advice. Any decisions based on, or taken by use of, information obtained through Breakout Point and by its services are entirely at own risk.