Today in premarket on October 29 we are seeing the following stocks with unusual positive retail interest estimates;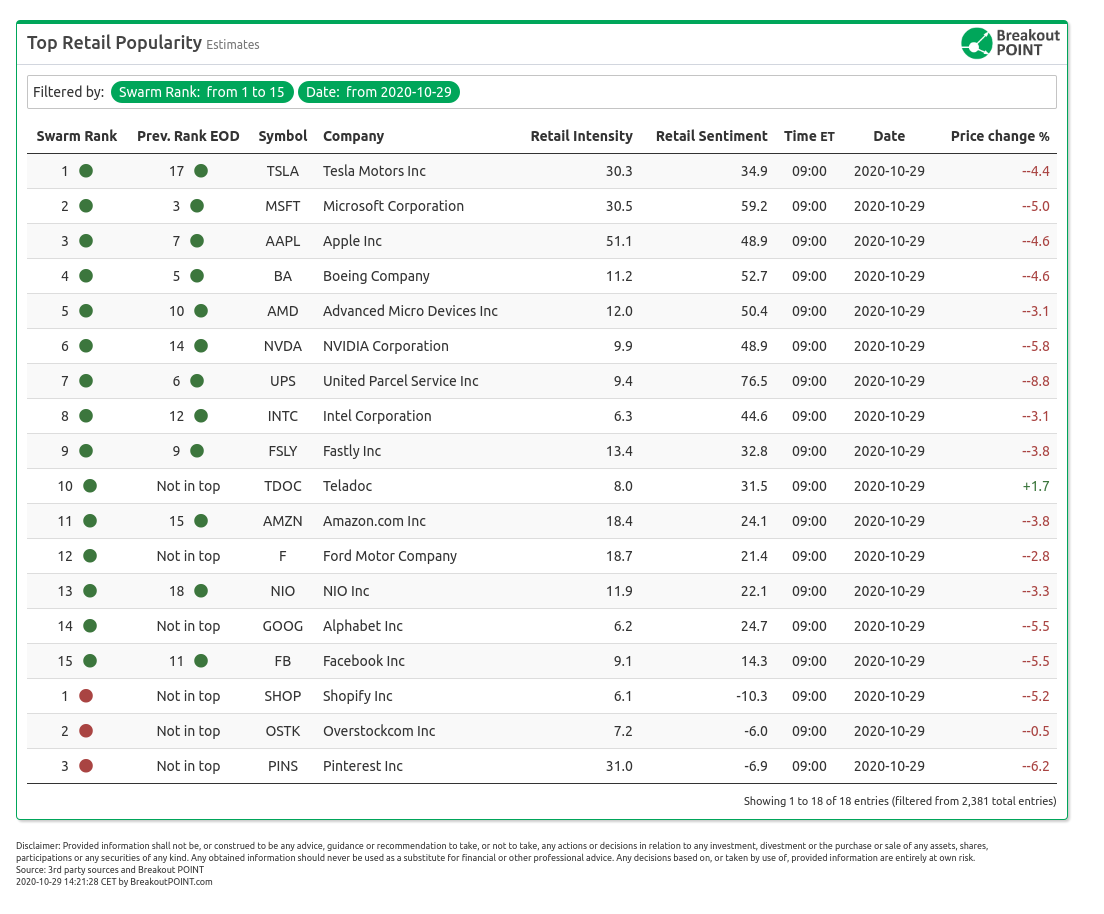 Positive Sentiment Highlights
Today's notable positive retail sentiment stocks in the list include Exxon Mobile (XOM) and Teladoc (TDOC).
Both stocks got on the list due to their respective earnings reports.
The oil giant XOM, did not yet report (it will tomorrow), but the company did announce it will maintain its dividend which is what some subreddits consider as a positive feature. Twitter concurred.
Gonna enjoy that 11% yield while I can. https://t.co/FFvy9PDAQm

— PlungeProtectionTeam (@gamesblazer06) October 28, 2020
Although some Redditors were not as positive and considered XOM as a classic boomer investment when discussing why ARK is leading in performance in today's market.
TDOC, a $18.69bn virtual healthcare service provider, has already reported theirs. The earnings were positive and the management also raised guidance for next quarters. The stock was a long-time favourite of retailers due to its COVID19 angle as bulls hope more and more people will starting using its virtual platform. Especially since TDOC announced a purchase of another player in the market which was viewed as positive.
The sentiment is unlikely to have changed after the earnings as per below tweet.
I'm confused. $TDOC and $LVGO both beat estimates but down 8% after hours. $TDOC revenues were up 109% YoY and $LVGO revenues were up 126% YoY.

This feels like an opportunity to add to a massive healthcare growth story. pic.twitter.com/vWOSHCDaKP

— Jonah Lupton (@JonahLupton) October 28, 2020
Other earnings stocks in the list included UPS, the $135bn global delivery company. The report topped market expectations, however, the shares recorded a negative session, although current pre-market action points to a slight rebound. This has hit many Redditors who set up the usual loss-parading threads.
The credit card company, V, was similar in that the positive earnings driven by an increased amount of transactions did not lead to many gains, but retailers were positive nonetheless. One Seeking Alpha author quickly released an article digesting the earnings and suggesting the stock is 'on sale'. Twitter again concurred.
$MA and $V are the ultimate recovery stocks. Spending is down but cashless spending trends are up and never going backward so if u are buying cos that should have a better yoy gain in 2021 then these credit card brands are a super investment.This is the trough quarter BTFD I will

— Eric Clark (@Dynamicbrands) October 28, 2020
Other news could also lead to further retail interest.
COINBASE SAYS LAUNCH OF COINBASE CARD, A VISA DEBIT CARD THAT ALLOWS CRYPTO TO BE USED FOR PAYMENTS, PURCHASES ONLINE, IN-STORE, ATM CASH WITHDRAWALS$V

— *Walter Bloomberg (@DeItaone) October 28, 2020
Dominant retail selling pressure
Finally, we mention tickers with estimated dominant retail selling pressure: Shopify (SHOP) and Pinterest (PINS).
PINS was likely caught by our system given the earnings report of the social media company. The company reported blowout earnings with a surge in online users throughout the world. This was relatively widely expected among r/wallstreetbets and thus threads of celebrating the move in after-hours of over 20% were plentiful as retailers were taking profits. Some were already looking for the next big earnings report jump.
SHOP is listed as seeing selling pressure likely due to similar factors. The earnings were positive, but the share price action was muted as retailers likely started to sell their profits. Two weeks before a Seeking Alpha author shared a more or less same sentiment.
---

---
FAQ | Q: Can I publish parts of above data and analytics in an article? A: As long as you reference our work in your article - yes, you can.
FAQ | Q: Could you provide more related data and analytics? A: Sure, contact us and we'll try to help as soon as possible.
* Note: Presented data and analytics is as of available on 2020-10-29, UTC 13:00.
The services and any information provided by Breakout Point or on the Breakout Point website shall not be, or construed to be any advice, guidance or recommendation to take, or not to take, any actions or decisions in relation to any investment, divestment or the purchase or sale of any assets, shares, participations or any securities of any kind. Any information obtained through Breakout Point and its services should never be used as a substitute for financial or other professional advice. Any decisions based on, or taken by use of, information obtained through Breakout Point and by its services are entirely at own risk.