Third Point's Daniel Loeb said in an investor letter on Friday that they have grown their short book (ref. CNBC). We had a look at current Third Point's big short positions in Europe.*
Third Point LLC has recently disclosed two European shorts >0.5% ("big shorts"). Both short bets are against very well known companies:
a 0.74% short position in Infineon Technologies (semiconductors, DAX). With a market cap of about €20.65 billion this translates to a position of about €153 million, and
a 0.50% short position in Michelin (tires, CAC40). With a market cap of about €16.05 billion this translates to a position of about €80 million.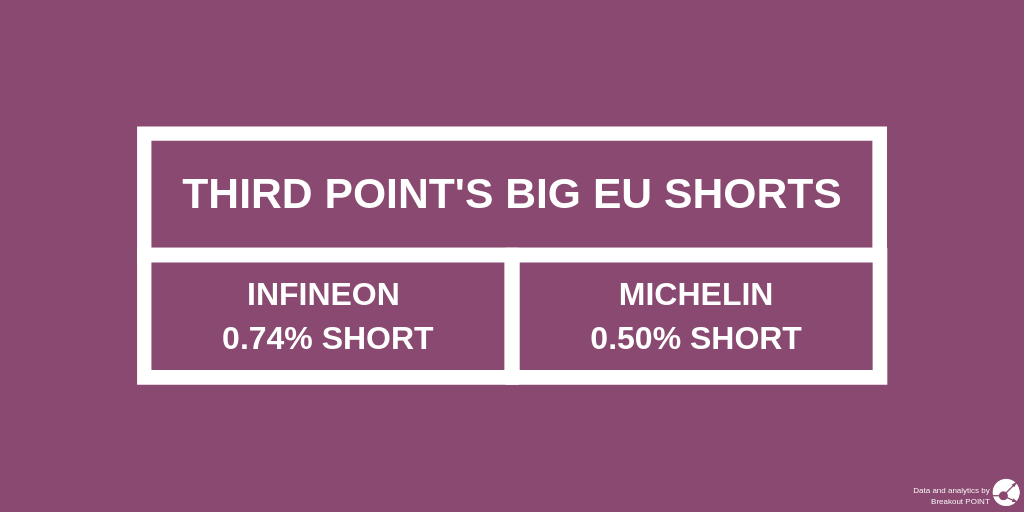 Third Point's short position in Michelin popped-up for the first time in Apr'18 (0.5%), has been decreased in Jun'18 (0.47%), and resurfaced on 2018-10-19 (0.5%). Michelin is more than 20% down since close on 2018-04-18 (date of the first appearance of this short). Several other funds had a big short in Michelin, e.g. Blue Ridge and Tiger Global, but they have already reduced their short positions under 0.5%.
Third Point's short in Infineon popped up for the first time on 2018-10-24 and has been increased from 0.51% to 0.74% on 2018-10-26. Infineon is about 10% up since close on 2018-10-24. In addition to Third Point, AQR Capital Management holds a big short of 1.03% in Infineon.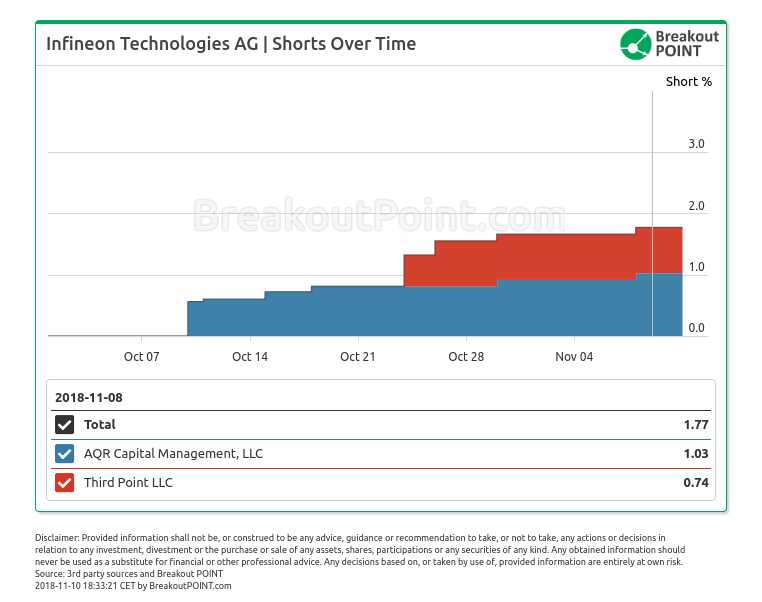 Above two shorts are currently the only active Third Point's big EU shorts in our records. In 2018, Third Point also had big shorts in ProSieben and H&M. However, these short positions have been reduced under 0.5% in July and January, respectively: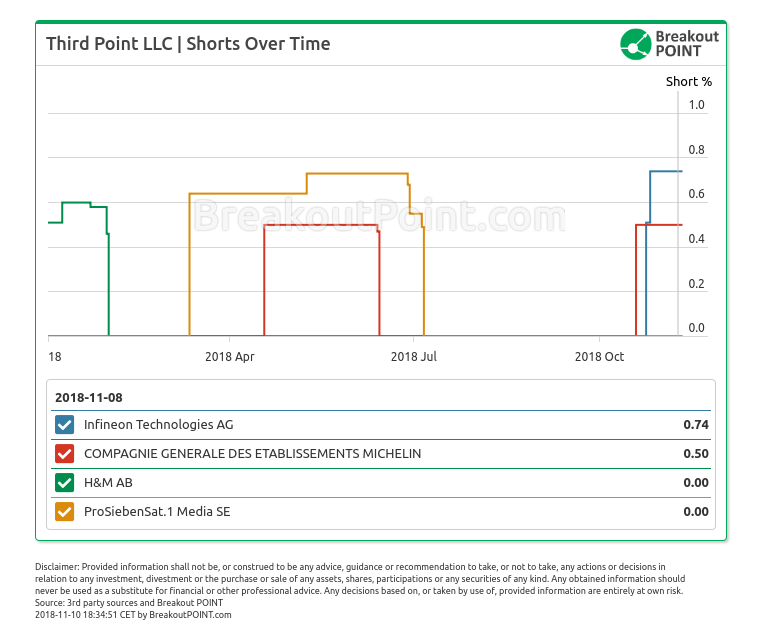 Third Point reduced their big ProSieben short before recent down move in the stock prices. They are not the only hedge fund (HF) that apparently prematurely reduced ProSieben's short position. In fact, out of 4 biggest short sellers, only Tybourne Capital kept their big short. Interestingly, ProSieben has also been a subject of an activist short report by Viceroy Research in Mar'18 and the stock prices are down about 43% since.
Know what influential investors and activists do. Cancel anytime. Join Breakout POINT.
FAQ | Q: Can I publish parts of above data and analytics in an article? A: As long as you reference our work in your article - yes, you can.
FAQ | Q: Could you provide further related data and analytics? A: Sure, LET'S TALK and we'll try to help as soon as possible.
* Note: Presented short selling data is based on European net short position data which is disclosed to the public when short positions at least equal to 0.5% of company issued share capital.