Today on Monday, December 3, 17 presenters are to present at Whitney Tilson's Kase Learning Shorting Conference (learn more about the organizers of the Shorting Conference here).
First Session
Gabriel Grego from Quintessential Capital Management is short Canadian cannabis company, Aphria Inc. Related short report "Aphria: A Shell Game with a Cannabis Business on the Side" is co-authored with Hindenburg Research - such cooperation on a report itsef is rather rare. Aprhia's initial response is that allegations by short seller are 'false and defamatory'. Company's more comprehensive response is available in "Aphria statement regarding short-seller report" here.
Sahm Adrangi from Kerrisdale Capital Management pitches short in CarGurus.
Matthew Kliber from Gracian Capital LLC presents a Signet Jewelers short.
Viceroy Research is short Ebix. Amogn other items, Viceroy mentiones in their "Goodwill Hunting - The Alchemy of Creating Profits" presentation a change in business model and accounting discrepancies.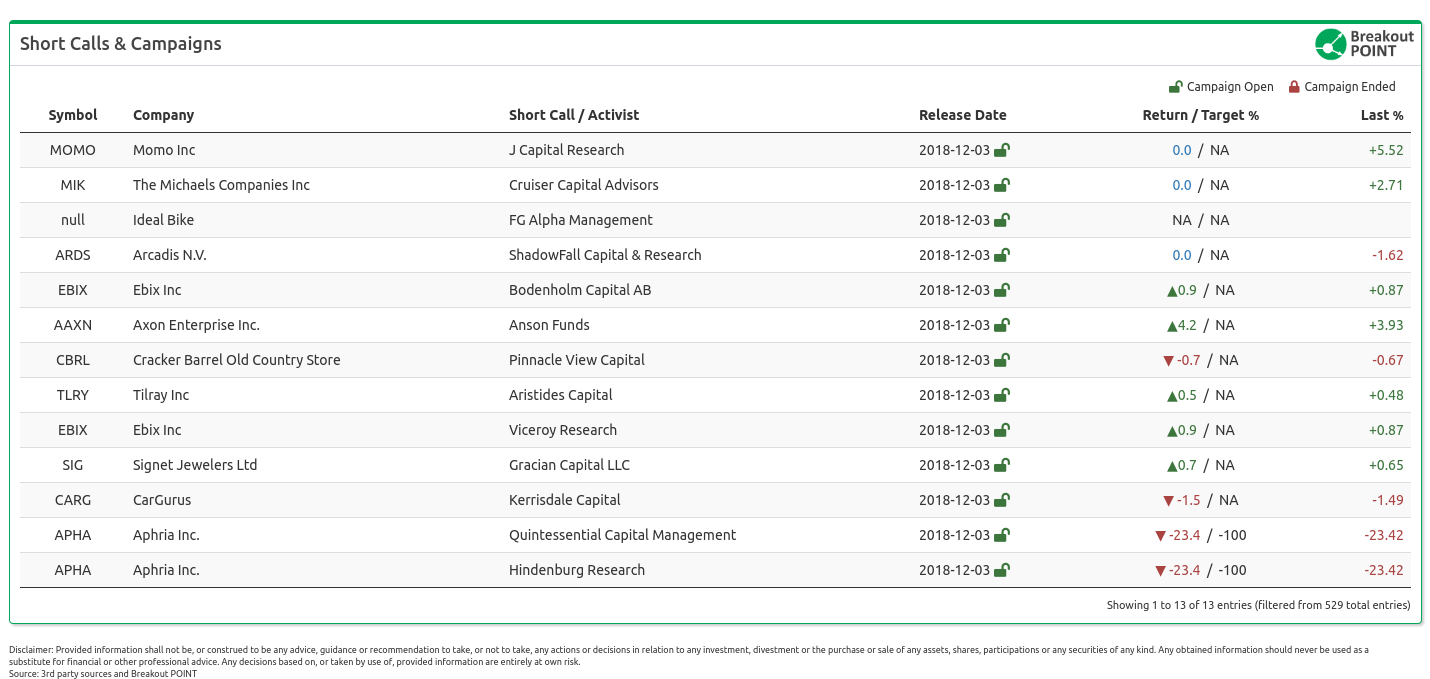 ---

---
Second Session
Aristides Capital pitches short in cannabis producer, Tilray (see also Business Insider article here). Tilray is also September 2018 short of Citron Research.
Carson Block of Muddy Waters talks about the amorality of investing and thinks that healthcare ss a sector in which one might find a lot of immoral companies. Also mentions Insys Therapeutics and several companies from helthcare sector (see also Business Insider article here and SA article here). Yahoo Finance's interview with Carson Block is here.
David Berman of Berman Capital talked about methodology for analyzing retail stocks.
Victoria Hart of Pinnacle View Capital pitches in presentation titled "Bah Humbug" three shorts including Cracker Barrel Old Country Store.
Third Session
Anson Funds pitches AXON Enterprise short. This is also a short of Aparecium Research from October 2017.
Mads Thamsborg from Bodenholm Capital is a second presenter today to pitch a short in Ebix. According to Gabe Bernarde from Viceroy Reserach both short pitches have very little overlap (see Bernarde's tweet here).
Matthew Earl from ShadowFall Capital & Research presents a short in Arcadis NV. Apparently, this is the only activist short targeting an EU company today.
FG Alpha Management's Dan David is the last presenter of the third session. Talks about movie "The China Hustle" (see about this documentary movie, that includes Dan David and a number of other short sellers, at Rotten Tomatoes here). Pitches short in Ideal Bike a Taiwan-based company.
Fourth Session
Spruce Point Capital presents a follow-up to their September 2018 Weis Markets short.
Cruiser Capital Advisors' short is Michaels.
J Capital Research pitches Momo short (see also SA article here). This is also a short of Spruce Point Capital from June 2018, this short has already reached target price set by Spruce.
Know what influential investors and activists do. Cancel anytime. Join Breakout POINT.
FAQ | Q: Can I publish parts of above data and analytics in an article? A: As long as you reference our work in your article - yes, you can.
FAQ | Q: Could you provide further related data and analytics? A: Sure, LET'S TALK and we'll try to help as soon as possible.
* Note: Presented short selling data is based on European net short position data which is disclosed to the public when short positions at least equal to 0.5% of company issued share capital.