Bybrook Capital holds 4 shorts >0.5% ("big shorts") in EU. Each of four targeted companies belongs to debt collection and servicing industry, but is from a different country.*
Such split of Bybrook's big shorts is consistent with views they publicly shared, including 'This is totally bonkers' presentation on the debt collection industry in 2017 (refs. The Daily Mail and FT). While Bybrook's big short in Arrow Global Group (1.92% short) goes back to September 2017, three more big bets against European debt collectors appeared in Q2-Q3 2018. These are:
a 1.01% short in B2Holding (Norway),
a 0.83% short in KRUK (Poland), and
a 0.64% short in Hoist Finance (Sweden).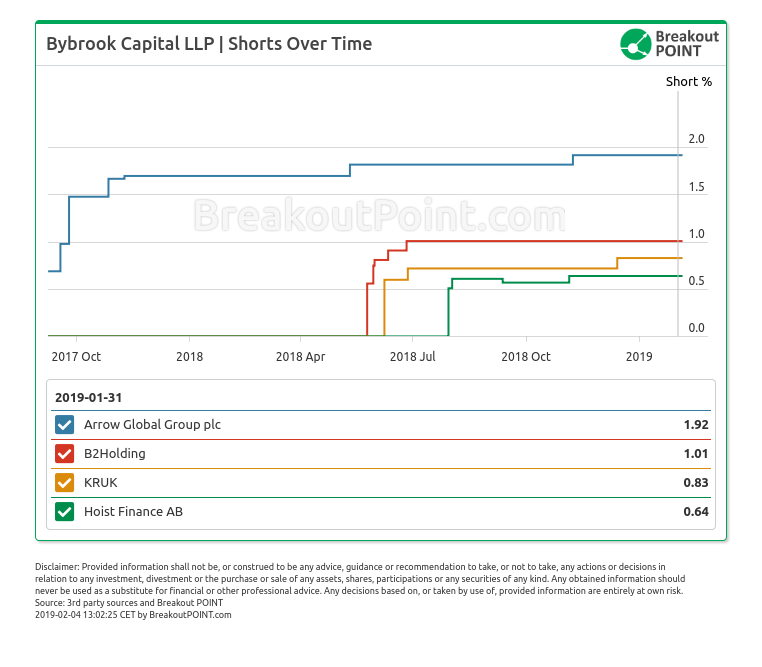 All four shorts have been kept unchanged in 2019, while the stocks are, as of today, up on YTD basis.
According to our records, besides Bybrook, one more hedge fund holds two big bets against debt collectors. This is Portsea Asset Management with short bets against Arrow Global Group (1.9% short) and B2Holding (1.45% short). Portsea also had big shorts in KRUK and Hoist Finance, but they were cut under 0.5% in the second half of 2018.
At 12.43%, Arrow Global Group has the highest overall short interest of these 4 companies, and is 2nd most shorted company in our overall UK records, with ten funds holding a big short. Interestingly, the big shorts in Arrow Global Group by Bybrook and Portsea are not only the biggest but are also the longest standing short positions.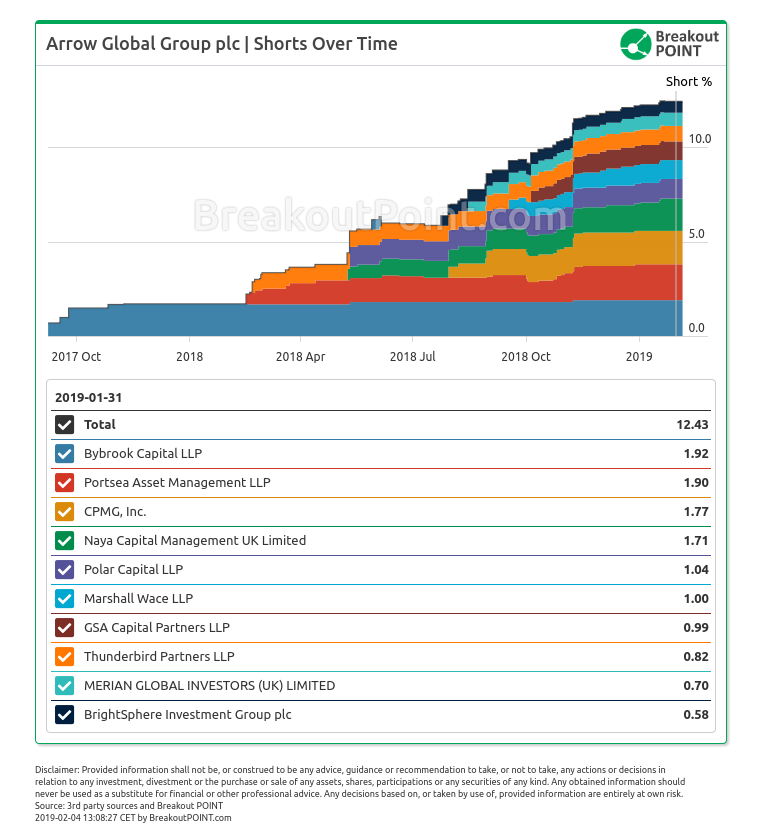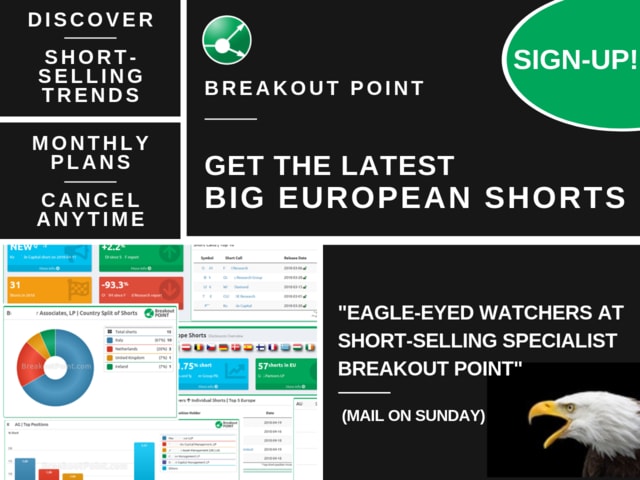 FAQ | Q: Can I publish parts of above data and analytics in an article? A: As long as you reference our work in your article - yes, you can.
FAQ | Q: Could you provide more related data and analytics? A: Sure, contact us and we'll try to help as soon as possible.
* Note: Presented short selling data is based on European net short position data which is disclosed to the public when short positions at least equal to 0.5% of company issued share capital.