Aston Martin and Amigo Holdings are among UK 2018 IPOs against which hedge funds (HFs) have opened significant short bets.*
According to "IPO Watch Europe Annual Review 2018" by PwC, 82 IPOs took place in London in 2018 (ref. PwC). A subset of 38 UK IPOs, which is shown in Fig. 4 of PwC's review, is in focus of our note. We look at short positions >0.5% ("big shorts") in these companies and at HFs holding the shorts.
According to our records and as of the latest short disclosures, big shorts are being held in five of these 38 companies. These are:
Aston Martin Lagonda Global Holdings (3 big shorts, total 2.94% short),
Amigo Holdings (1 big short, 1.42% short),
IntegraFin Holdings (2 big shorts, total 1.05% short),
Funding Circle Holdings (1 big short, 0.51% short), and
Quilter (1 big short, 0.5% short).
Short Selling in Aston Martin
While Carmignac Gestion (1.11% short) holds a big short almost since Aston Martin's IPO, the big shorts of BlackRock Investment Management (1.3% short) and Adelphi Capital (0.53%) first appeared in Dec'18. Soros' fund also had a big short in Aston Martin, but this short was reduced under 0.5% in late Nov'18.
Interestingly, according to the study by PwC, Aston Martin is not only one of Top 5 European IPOs in 2018 in terms of money value, but, as of 2018-12-31, also had the weakest relative % share price performance of 38 UK IPOs depicted in Fig. 4 of their study.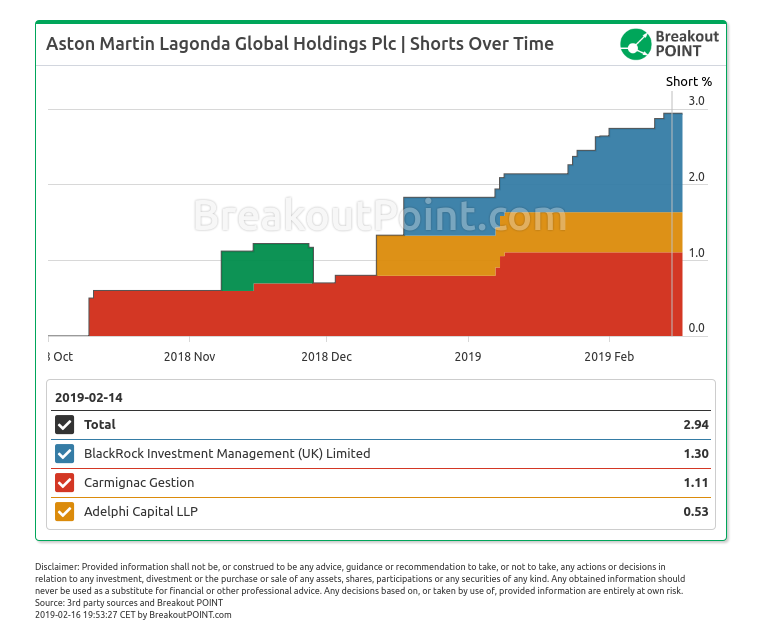 Oceanwood's big UK shorts
Oceanwood Capital Management is the only HF holding more than one big short in considered UK companies. They hold two big shorts in two UK loans-related companies, indicating potential bearish sector view at HF's side: a 1.42% short in Amigo Holdings (guarantor loans) and a 0.51% short in Funding Circle Holdings (peer-to-peer lending).
In our Oceanwood's short selling records, we also note three big shorts against Greek banks and a big short against a Spanish construction company.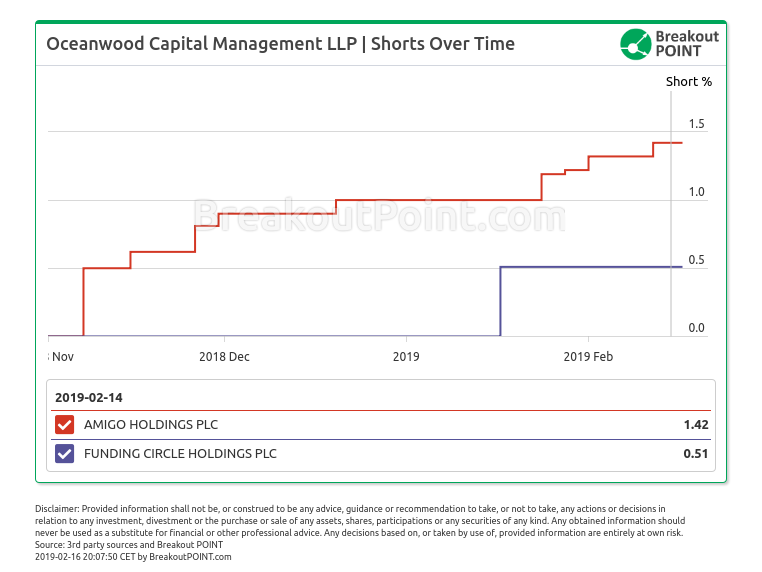 All about latest UK short selling activities by hedge funds is available for our members here.
Want to know what big players are short selling across EU? Join Breakout POINT.
FAQ | Q: Can I publish parts of above data and analytics in an article? A: As long as you reference our work in your article - yes, you can.
FAQ | Q: Could you provide more related data and analytics? A: Sure, contact us and we'll try to help as soon as possible.
* Note: Presented short selling data is based on European net short position data which is disclosed to the public when short positions at least equal to 0.5% of company issued share capital.