Since 2019 start two hedge funds (HFs) have been frequently increasing their bets against Greek banks.* Both these HFs have also historically been among the most active short sellers in Greece.
Especially a lot of recent short selling focus was on Eurobank Ergasias. Oceanwood Capital increased their Eurobank Ergasias short nine times in 2019. Since mid-January, this short went from 0.51% to 1.4%. Similarly, Lansdowne Partners added to this short five times in 2019 and short position went from 1.33% to 1.81% this year. This is also the highest total short interest that we, so far, recorded in this stock: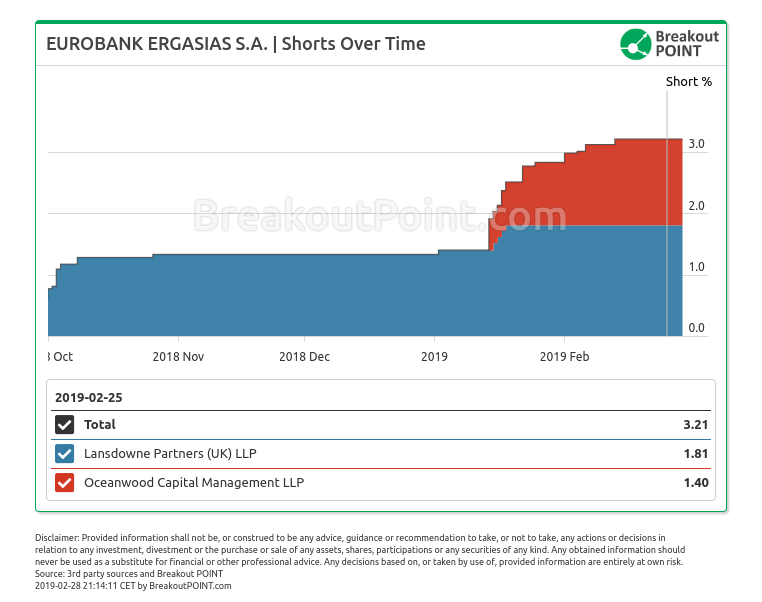 Similar, but less pronounced short interest increase also happened in Alpha Bank recently: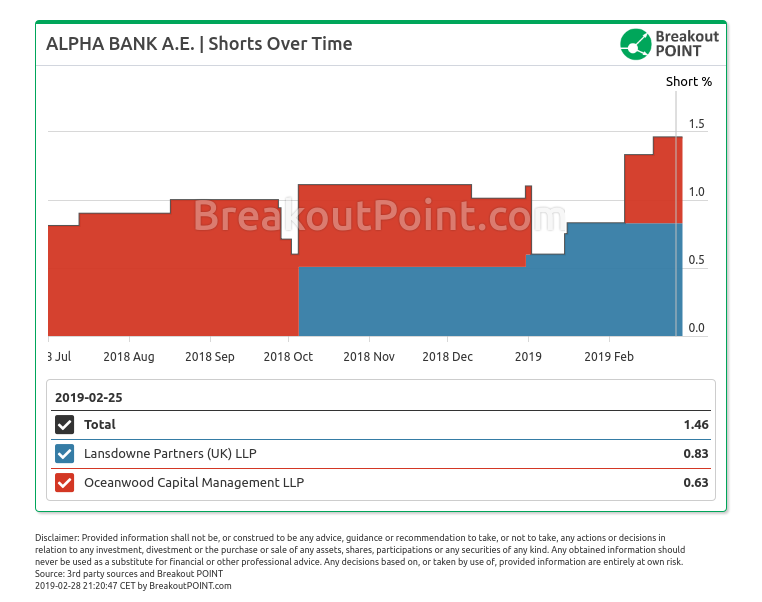 Besides shorts in Alpha Bank (0.83%) and Eurobank Ergasis (1.81%), Lansdowne also holds a 2.74% short in Piraeus Bank. On the other hand, Oceanwood has been building National Bank of Greece short since end of January and, as of the latest disclosures, this short is at 0.89%.
The only other HF currently holding a big short (short >0.5%) in a Greek bank is Marshall Wace with a 0.52% short in Piraeus Bank.
Banks stocks performance (measured as close on 28th of February vs close on 21st of January):
Alpha Bank: up about 33%,
Eurobank Ergasis: up about 40%,
National Bank of Greece: up about 72%, and
Piraeus Bank: up about 99%.
All about latest big shorts in Greece is available for our members here.
Want to know what big players are short selling across EU? Join Breakout POINT.
FAQ | Q: Can I publish parts of above data and analytics in an article? A: As long as you reference our work in your article - yes, you can.
FAQ | Q: Could you provide more related data and analytics? A: Sure, contact us and we'll try to help as soon as possible.
* Note: Presented short selling data is based on European net short position data which is disclosed to the public when short positions at least equal to 0.5% of company issued share capital.