We count 59 big shorts (shorts >0.5%) in EU banks in our records, with 22 of them targeting Italian banks. However, in terms of % short the most shorted bank is not an Italian bank, but an UK bank.*
UK's Metro Bank tops our list of the most shorted EU banks. Following recent negative news about Metro Bank, several hedge funds (HFs) have opened or increased their short bets. As of latest short disclosures, nine HFs are holding a big short against Metro Bank. The biggest short sellers in Metro Bank and simultaneously the biggest profiteers from recent drops are two well-known HFs: Odey Asset Management (3.28% short) and Marshall Wace (2.31% short). In our Top 10 list are also: three Italian banks, three Greek banks, two German banks and Spanish Bankia.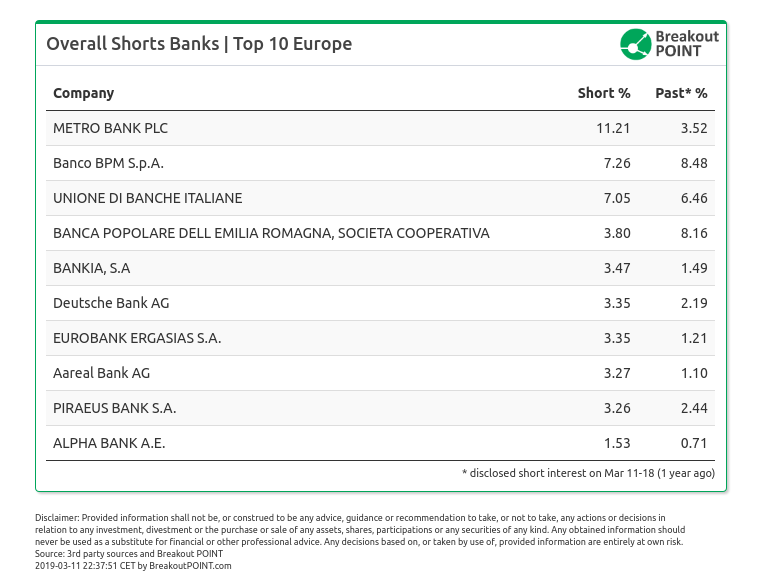 The most active short sellers in this sector are: Marshall Wace (11 big shorts) and Lansdowne partners (7 big shorts), while four HFs hold five big short bets against EU banks.
Marshall Wace has recently been decreasing shorts in Deutsche Bank (down from 1.9% in Jan) and Banco BPM (down from 4.32% in Oct'18), while increasing Metro Bank, UBI Banca and Credito Valtellinese shorts. Overall Marshall Wace remains by far the most active short seller with close to 180 big shorts in our EU records.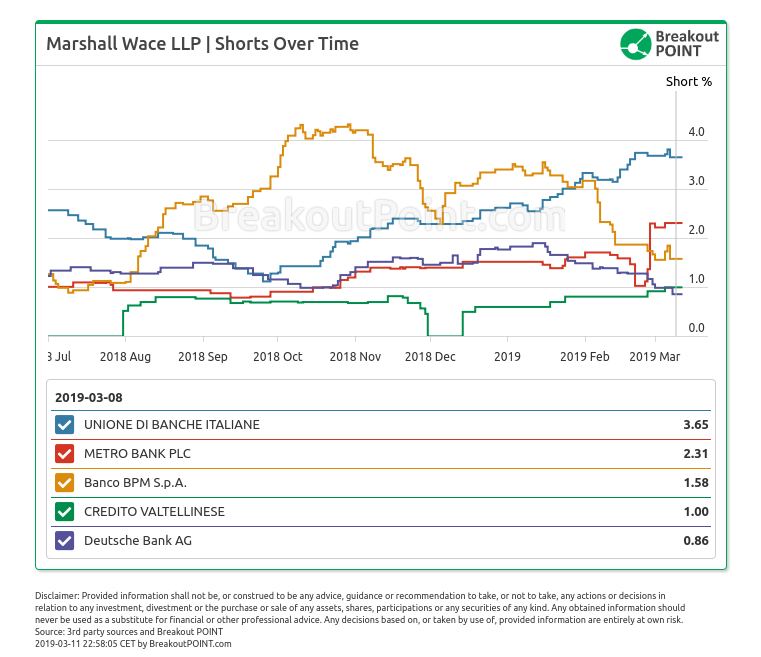 When it comes to Lansdowne Partners, one notable shorting trend have been Italian and Greek banks. E.g. a big short by Lansdowne in UBI Banca appeared for the first time in February this year, while short bets against Alpha Bank and Eurobank Ergasias have been increased multiple times in 2019. Out of seven EU banks big shorts by Lansdowne, three are in Italian and three are in Greek banks: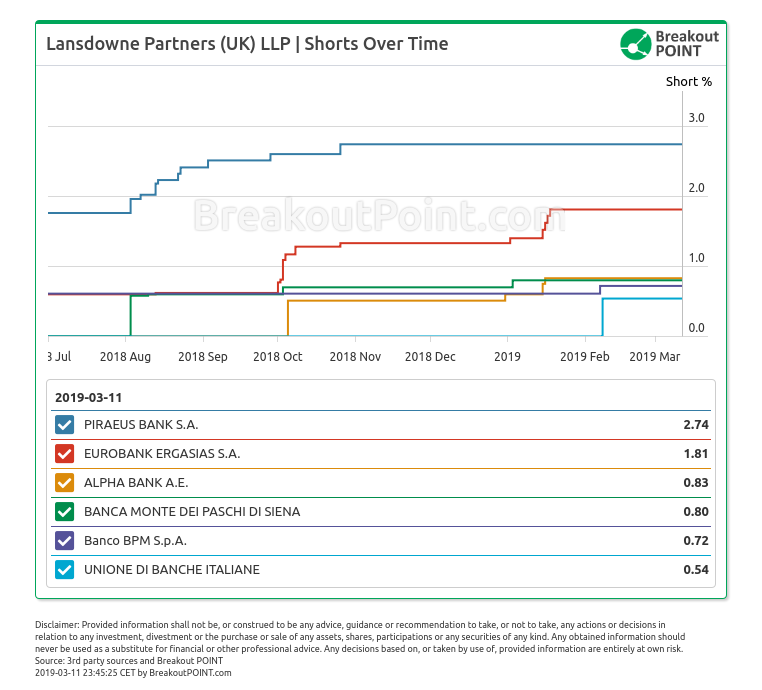 Famous quantitative fund AQR Capital holds five big bets against EU banks. Notably, in the recent months, AQR has been decreasing short positions in Deutsche Bank and Bankia, while increasing short in Banca Generali.
Another very notable HF when it comes to EU Banks shorts is Oceanwood Capital. According to our records, they have a very rare concentration of short positions in EU banks and lenders. Out of eight big shorts they currently hold in EU, seven are bets against EU banks and lenders. The only exception is a short in Spanish construction firm, Sacyr. Oceanwood is in particular active in their short bets against Greek banks and they have increased the best against Alpha Bank, Eurobank Ergasis and National Bank of Greece many times this year.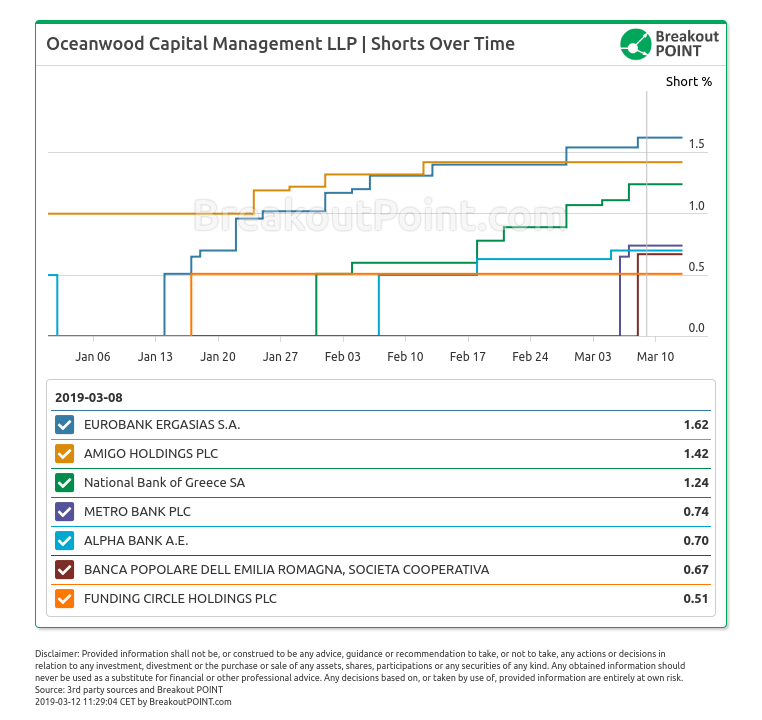 Don't want to miss the latest big short bets against European banks? Join Breakout POINT.
FAQ | Q: Can I publish parts of above data and analytics in an article? A: As long as you reference our work in your article - yes, you can.
FAQ | Q: Could you provide more related data and analytics? A: Sure, contact us and we'll try to help as soon as possible.
* Note: Presented short selling data is based on European net short position data which is disclosed to the public when short positions at least equal to 0.5% of company issued share capital. Presented data and analytics is as of available on 2019-03-11.