Marshall Wace increased their short position in Air France-KLM six times in six consecutive workdays. Interestingly, they almost doubled this short since the Dutch government stake became known.*
Marshall Wace's short position in Air France-KLM popped up on 2019-02-21 at 0.5%. On the day following announcement by the Dutch government, Marshall Wace boosted this short from 0.88% to 1.38% and then further to 1.6% on 2019-02-28. At a market cap of about €4.9b this translates to a short of about €78m.
Last week on Tuesday, it became known that Dutch government has built a stake in Air France-KLM and that it intends to match a 14% stake held by the French state (refs. FT: "Netherlands builds Air France-KLM stake to 'protect' interests" and "Air France-KLM row shows new-found Dutch taste for French statism").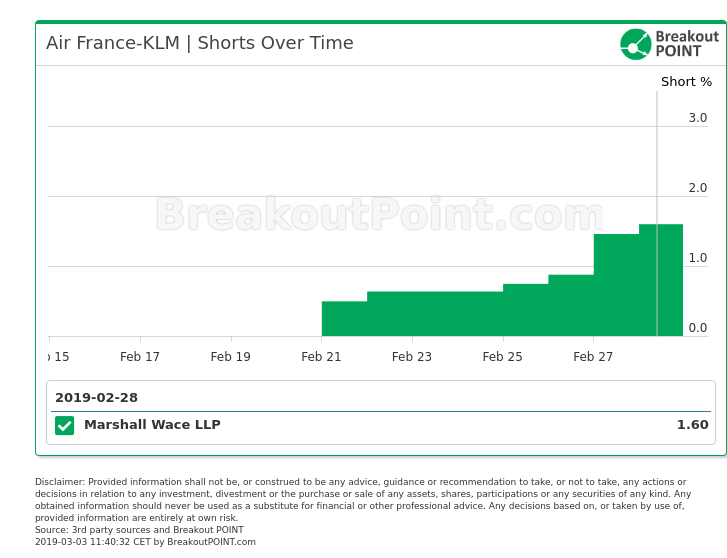 We rarely observe such frequent short position increases. We have not seen any other new big shorts (shorts >0.5%) in Air France-KLM in 2019 and, as of the latest disclosures, this is the only one. Note that AQR Capital reduced their big short in January 2019.
There is quite a bit of history of Marshall Wace shorting Air France-KLM and we have seen their big shorts several times already in the past. In terms of % their short peaked at 3.20% back in August 2016.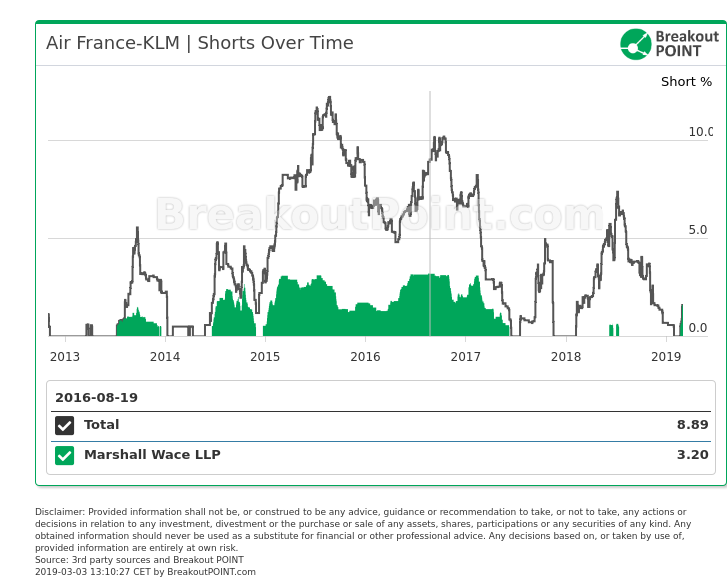 Marshall Wace holds one more big short in an EU airline group. This is a 0.77% short in International Consolidated Airlines Group S.A (IAG). Among IAG's subsidiaries/divisions are: Aer Lingus, British Airways, Iberia and Vueling. In terms of money value this short translates to about €106m at a market cap of about €13.88b.
Marshall Wace has been rather active past week, and they increased a number of short positions, including shorts in: Marks and Spencer, Metro Bank and Centrica. Overall, Marshall Wace remains the most active short seller in our EU records. Furthermore, according to our analytics, when it comes to how short positions are built or reduced, Marshall Wace belongs to a group of the most systemic hedge funds.
Want to know what Marshall Wace is short selling across EU? Join Breakout POINT.
FAQ | Q: Can I publish parts of above data and analytics in an article? A: As long as you reference our work in your article - yes, you can.
FAQ | Q: Could you provide more related data and analytics? A: Sure, contact us and we'll try to help as soon as possible.
* Note: Presented short selling data is based on European net short position data which is disclosed to the public when short positions at least equal to 0.5% of company issued share capital.