According to our records, this is the first time that five funds simultaneously hold a short >0.5% ("big short") in Thyssenkrupp and in percent terms these are the highest short selling levels since 2012 when our records start.*
As of the latest disclosures, five big shorts in Thyssenkrupp combine for a short interest of 4.09%. Assuming a market cap of about €8.5 billion, these five shorts translate to an about €347 million short position. This is much different versus one year ago when only Marshall Wace had a big short of 0.62%
Two of the five big shorts are held by well-known quant funds: AQR (1.09% short) and Capital Fund Management (0.8% short).
The biggest short holder in Thyssenkrupp, Marshall Wace (1.2% short), holds further 22 big shorts in Germany. Most notably, Marshall Wace holds several other DAX shorts: Daimler AG 0.59% short, Deutsche Bank AG 0.90% short, MERCK KGaA 0.60%.
Interestingly, in May 2018, activist fund Eliott said that it had a stake below 3% in Thyssenkrupp, while in a letter from December 2018, Eliott expressed doubts with regards to Thyssenkrupp's plan to split (ref. Reuters).
According to Breakout Point's records, within EU steel sector, Thyssenkrupp is second most shorted firm in percent terms, behind Swedish Outokumpu.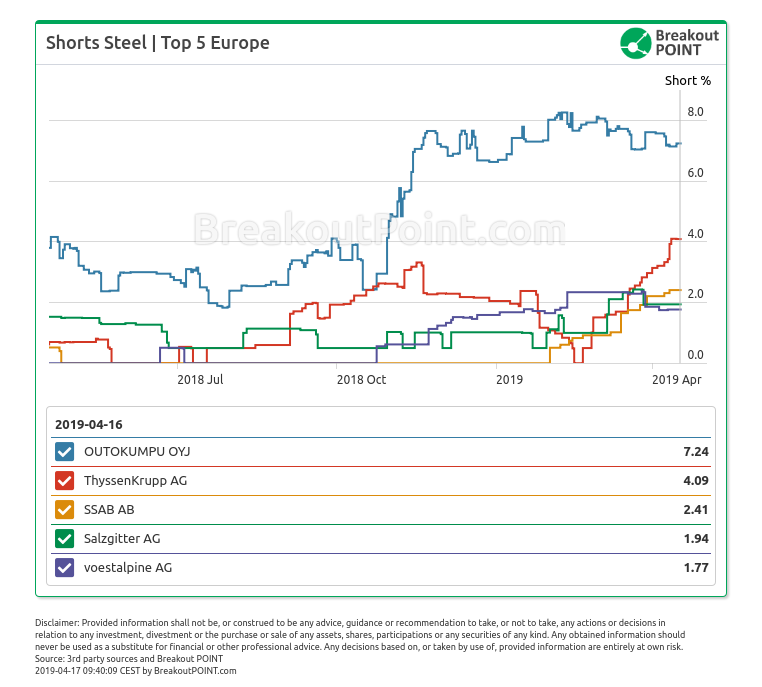 Update (media mentions of this note):
Don't want to miss the latest big short bets across Europe? Join Breakout POINT.
FAQ | Q: Can I publish parts of above data and analytics in an article? A: As long as you reference our work in your article - yes, you can.
FAQ | Q: Could you provide more related data and analytics? A: Sure, contact us and we'll try to help as soon as possible.
* Note: Presented short selling data is based on European net short position data which is disclosed to the public when short positions at least equal to 0.5% of company issued share capital. Presented data and analytics is as of available on 2019-04-16.