---
TL; DR: An about €287m short in BASF is the latest big short (short >0.5%) by Marshall Wace against DAX stocks. They currently hold about €1.1.6b in their six big DAX shorts. According to our records, since Bridgewater in Q1-2018, no one had so many big DAX shorts.*
---
Discover latest short selling trends by Marshall Wace now. Sign up for Breakout Point!
---
A 0.5% short in BASF on 2019-07-03 is the latest big short by Marshall Wace in Germany. At a market cap of about €57.5b, this 0.5% short translates to an about €287m short.
Short positions above €200m are very rare in our records and this is the first time that Marshall Wace appears with a big short in BASF. We have not seen a big short in BASF since Dalio's Bridgewater shorted it along a number of other DAX stocks in Q1-2018.
With 27 big shorts Marshall Wace is by far the most active short seller in Germany. This is much higher than 17 German big shorts we noted a year ago for them. With about €1.16b in six DAX shorts Marshall Wace also has the highest number of big bets against stocks from the German main stock index:
Daimler AG 0.68% short, about €357m at a market cap of €52.55b,
BASF SE 0.50% short, about €288m at a market cap of €57.5b,
MERCK KGaA 0.61% short, about €252m at a market cap of €41.3b,
Deutsche Bank AG 1.09% short, about €161m at a market cap of €14.8b,
Thyssenkrupp AG 0.86% short, about €65m at a market cap of €7.6b, and
Deutsche Lufthansa AG 0.53% short, about €39m at a market cap of €7.3b.
When it comes to EU Chemicals sector, Marshall Wace holds about €462m in four big shorts, which is higher number of shorts than any other fund in this sector.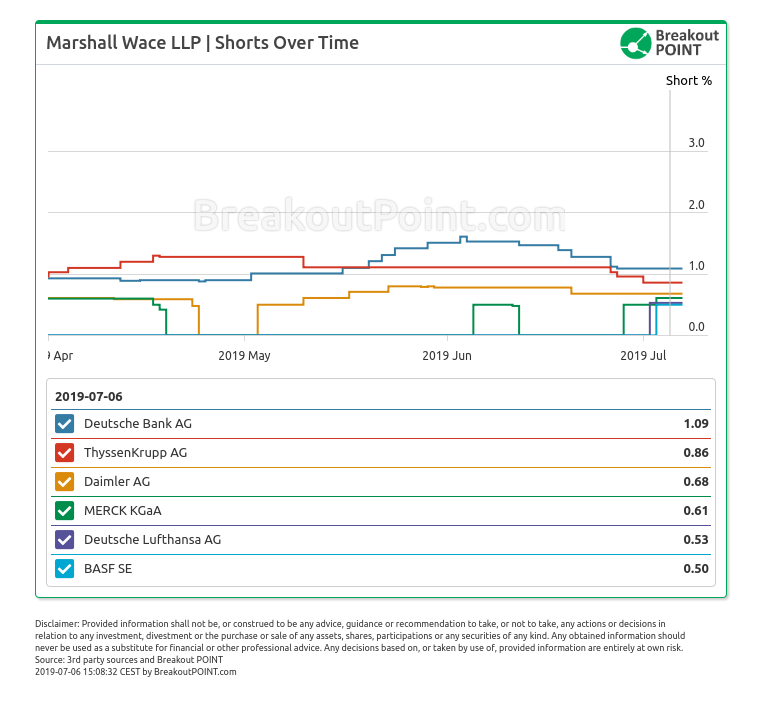 FAQ | Q: Can I publish parts of above data and analytics in an article? A: As long as you reference our work in your article - yes, you can.
FAQ | Q: Could you provide more related data and analytics? A: Sure, contact us and we'll try to help as soon as possible.
* Note: Presented short selling data is based on European net short position data which is disclosed to the public when short positions at least equal to 0.5% of company issued share capital. Presented data and analytics is as of available on 2019-07-05.