---
TL; DR: Egerton Capital profited from yesterday's 20.22% drop of NIO Inc stock by having a 0.52% short position. This is the only disclosed short position in NIO Inc in our records, thus, potentially making Egerton Capital the biggest winner of the plunge.*
---

---
UK's Egerton Capital is up estimated $3m on Tuesday with their short position in NIO Inc;
Egerton Capital (UK) LLP disclosed a 0.52% short in NIO Inc dated 2019-09-23;
This is the very first time that a hedge fund (HF) discloses a big short (short > 0.5%) in NIO Inc. Meaning also that, according to the public disclosures, this HF, potentially, profited the most from the plunge of NIO stock;
Timing by Egerton Capital could hardly be any better. China's Tesla competitor, NIO closed 20.22% lower yesterday, on 2019-09-24, following a larger-than-expected quarterly loss reported (ref. Yahoo! Finance);
Yesterday's price drop translates to an estimated gain of about $3m for Egerton Capital, assuming that they did not reduce their short position;
NIO Inc has been in significant short-selling focus and more than 20% of float have been recently reported short (ref. WSJ). However, no other HF reported a short position as big as Egerton Capital.
Egerton Capital is not among the most active short-sellers in our records. According to our analysis, besides NIO short, they also hold big shorts in two UK's firms, Fevertree Drinks and John Wood Group: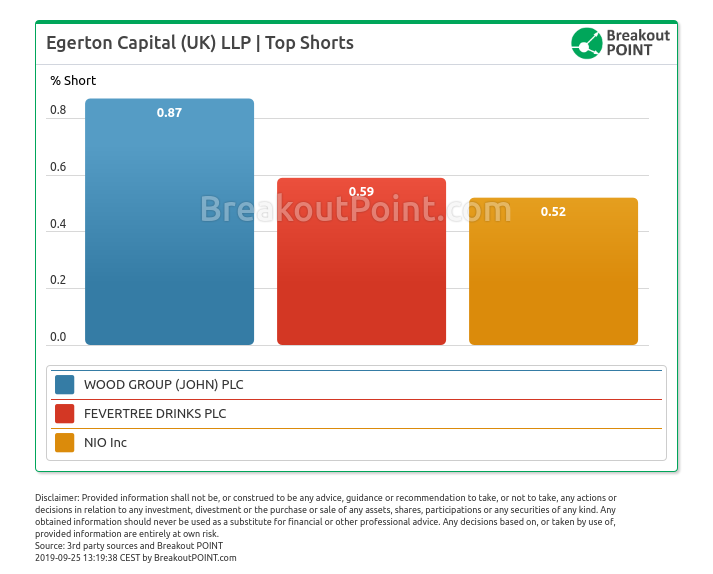 Get short-selling insights. Sign up for Breakout Point!
FAQ | Q: Can I publish parts of above data and analytics in an article? A: As long as you reference our work in your article - yes, you can.
FAQ | Q: Could you provide more related data and analytics? A: Sure, contact us and we'll try to help as soon as possible.
* Note: Presented short selling data is based on European net short position data which is disclosed to the public when short positions at least equal to 0.5% of company issued share capital. "Big short" refers to a short position above 0.5% of company issued capital. Presented data and analytics is as of available on 2019-09-24.