---
TL; DR: D1 Capital and Egerton Capital made big profits on Friday by short selling two Chinese firms listed in the US. Related stocks plunged, after media reported that, according to sources, US administration is considering delisting Chinese firms from US markets.*
---

---
Chinese firms listed on US exchanges were on decline on Friday, after it was reported that Trump's administration is apparently considering delisting such companies (ref. Reuters). However, US Treasury later said that there are no such plans 'at this time' (ref. Reuters).
There is indeed a considerable number of stocks in this category. We counted more than 170 Chinese firms listed on the three major US exchanges with a total market capitalization of more than $1.07 trillion. Nineteen of these firms IPOed in 2019.
On average, it is rather costly to bet against US-listed Chinese firms. We estimated an average borrow fee of about 34%, based on individual borrow fees that were shown to us on Friday. Needless to say, for some of the stocks borrow was not available. Furthermore, according to our calculations, 34% is about 4.5 times higher than an average borrow fee, when all stocks from the three major US exchanges are considered.
Big Profits for Short-Sellers
Friday was a great day for short-sellers that were betting against related stocks, and we looked closer at two big shorts by two well-known hedge funds (HFs).
UK's Egerton Capital is up estimated $5m since Monday with their 0.52% short position in NIO Inc (mkt cap about $1.8b), This is assuming they did not prematurely cut it on Friday. This was the first time that a HF disclosed a big short (short > 0.5%) in NIO. Thus, according to the public short position disclosures, it seems that this HF profited the most from the plunge of this stock. Egerton had many reasons to be happy about this short position even before Friday. China's Tesla competitor, closed 20.22% lower on Tuesday after a larger-than-expected quarterly loss was reported (ref. Yahoo! Finance). Stock closed at $1.75 on Friday which represents an about 42% decline on week-on-week basis.
Overall NIO short sellers made hefty profits this week, as this stock has been in significant short-selling focus for a while. The short interest of more than 20% of float has recently been reported (ref. WSJ). This is also reflected in high NIO borrow fees, last shown to us were above 40%.
D1 Capital profited even more by short selling HUYA Inc (mkt cap about $5.2b). We estimated that they are up about $8.5m since Monday on their 0.55% short position in this Chinese game live streaming company. D1 Capital seems to be on a roll, and we recorded their another big winner in our short-selling records this week. D1 Capital was holding the biggest short position in UK's publishing company, Pearson. This and several other so-called Tiger Cubs HFs gained after a profit warning related to weak US university sales was issued by Pearson.
Activist Short Sellers targeting US-Listed Chinese Companies
Activist short-sellers have been looking at U.S.-listed Chinese firms for a long while, in fact, for almost a decade now (ref. The China Hustle Presentation via YouTube). Their efforts were even a subject of a 2017 documentary movie "The China Hustle", that was called "the most important movie of 2018" in a review in Forbes.
So far in 2019, we recorded five major activist short reports focusing on Chinese companies listed on US stock exchanges. The most active was J Capital Research with three public reports: BeiGene (-13.5% since the report), Uxin (-17.7%), and Fanhua (+14%). Fanhua was also in the focus of GEO Investing in February. The best performing activist short campaign is also the oldest one. Bonitas Research published a report on Hexindai in January, with stock declining about 42% since then.
According to Breakout Point records, three of the ten companies with the biggest market cap were subject of the short calls in 2018. These are: Pinduoduo by Blue Orca Capital, TAL Education Group by Muddy Waters and JD.com by APS Asset Management (at Sohn Conference).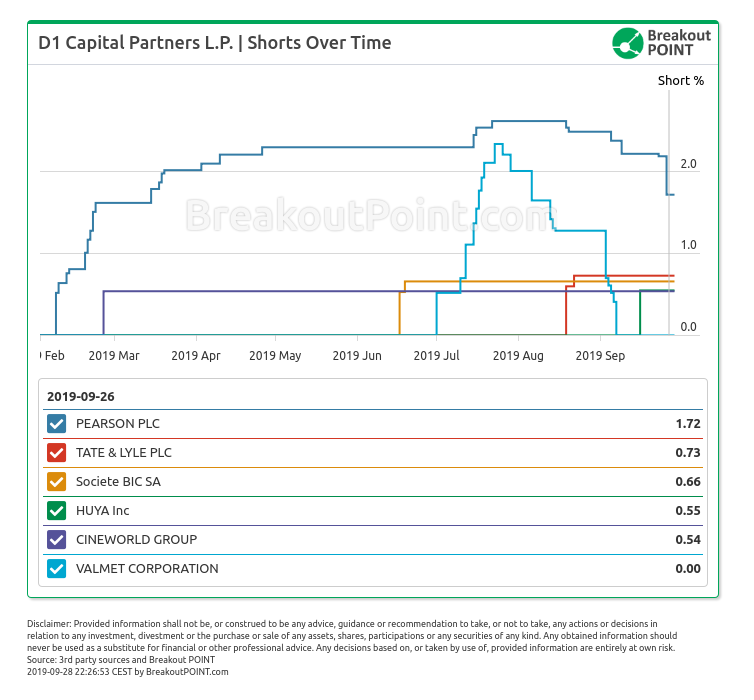 Get short-selling insights. Sign up for Breakout Point!
FAQ | Q: Can I publish parts of above data and analytics in an article? A: As long as you reference our work in your article - yes, you can.
FAQ | Q: Could you provide more related data and analytics? A: Sure, contact us and we'll try to help as soon as possible.
* Note: Presented short selling data is based on European net short position data which is disclosed to the public when short positions at least equal to 0.5% of company issued share capital. "Big short" refers to a short position above 0.5% of company issued capital. Presented data and analytics is as of available on 2019-09-27. BeiGene is incorporated in the Cayman Islands, but headquartered in China and thus included in considerations of this note.