---
TL; DR: Gladstone Capital has been reducing almost all of their EU big shorts in the past two weeks. This is in strong contrast to previous 3-4 months, during which we, almost exclusively, noted many increases in Gladstone's EU short positions portfolio*
---

---
Since September 6, we noted twenty short position reductions and no increases in the big shorts EU portfolio of Gladstone Capital. We rarely observe such rather synchronous activities across a short portolfio of a single hedge fund.
For example, short position in UK's online fashion retailer, ASOS has been cut four times starting on 2019-09-11 and short position went from 1.41% to 1.07%.
Ten of eleven Gladstone Capital's short positions, in our EU records, have been reduced. The only exception is their 0.72% short in Österreichische Post that has not been changed since 2019-08-01. Three big shorts have been cut below disclosure threshold in September, while eight are still above it. Short portfolio remains rather balanced, both country-wise and sector-wise, with three bets against UK firms, and two each in: EU Banking and EU Machinery, Equipment & Components sector.
Notably, Gladstone Capital is still holding the biggest short in Burford Capital. Burford was in focus of two recent activist short reports by: ShadowFall in July (down about 51% vs prior to the report) and Muddy Waters in August (down about 28% vs prior to the report). Gladstone's short in Burford first appeared in June, long before activist short-sellers reports, and, according to our records, was reduced for the first time on 2019-09-16, after seven consecutive increases.
Interestingly, two well-known European hedge-funds have also been reducing many of their big EU shorts in the past weeks, but to a somewhat lesser extent than Gladstone Capital.
Recent development of Italian and UK big shorts of Gladstone Capital: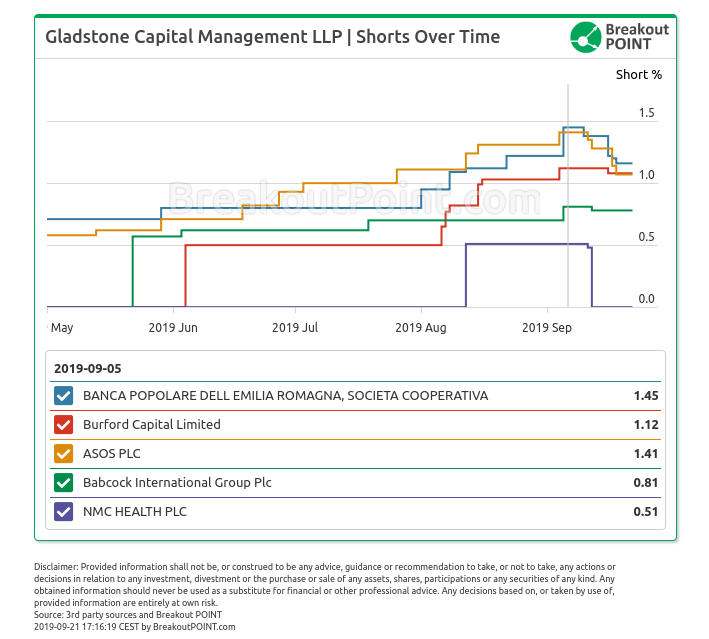 Get short-selling insights. Sign up for Breakout Point!
FAQ | Q: Can I publish parts of above data and analytics in an article? A: As long as you reference our work in your article - yes, you can.
FAQ | Q: Could you provide more related data and analytics? A: Sure, contact us and we'll try to help as soon as possible.
* Note: Presented short selling data is based on European net short position data which is disclosed to the public when short positions at least equal to 0.5% of company issued share capital. "Big short" refers to a short position above 0.5% of company issued capital. Presented data and analytics is as of available on 2019-09-20.