---
Busiest quarter in 2019 for activist short sellers: 49 major new short calls/campaigns in Q3;*
Best short calls (>$1b initial mkt cap): QCM, ON.MI -65.3%; ShadowFall, BUR -50.6%; Kerrisdale, CDNA -39.6%;
Best short calls (<$1b initial mkt cap): Emerson, 1573:HK -83.5%; White Diamond, SES -63%; Hindenburg, PRED -50.9%;
Very active and all targets down: Spruce Point (4 shorts, avg. -15%);
We highlight two controversial campaigns that attracted a lot of attention;
Citron's Q2 short in Jumia, delivered in Q3.
---

---
Activist short sellers had a very busy summer and, when it comes to the number of new short calls, Q3 tops previous two quarters. We tracked 49 new major short calls during Q3, while we recorded 36 in Q1 and 46 in Q2. On average, targeted stock dropped 12.5% following a short call/report, which is in strong contrast to an almost unchanged S&P 500 in Q3-19.
We recorded 36 shorts in US (avg. stock performance -11.3%). Same as in previous quarters, US tops our list of the most targeted countries/regions. Following US, are China (5 short calls) and Europe (4 short calls). Yet again, Healthcare sector dominates all sectors with 18 new short reports, with targets declining 15.4% on average.
Twelve of 49 short calls, which is about 1/4 of Q3 shorts, declined more than 25%. In terms of market cap, we've seen almost everything: companies as large as $80b and as small as $7m.
Top Activist Short Calls
As of end of Q3-2019, top 5 short calls in terms of percent stock drop are: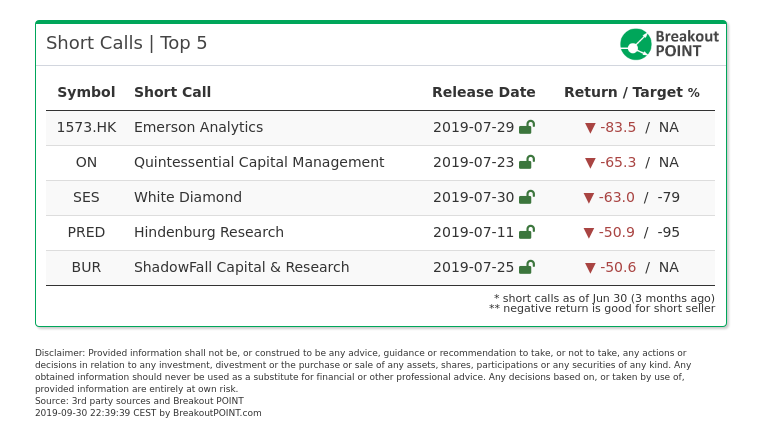 Top 5 short calls are geographically well-spread: two US, two EU and one HK/China. Also, these Top 5 were the only short calls, whose respective targets declined more than 50%, as measured at Q3 end.*
When looking at stocks above $1b in initial market cap, top 3 activist short calls are: Quintessential Capital Management (QCM), Bio-On -65.3%; ShadowFall, Burford Capital -50.6%; and Kerrisdale, Caredx -39.6%. By far, the biggest initial market cap was that of Shadowfall's target, about £3.6b. Note that Bio-On declined much further since Q4 start and, as of time of writing this note, is about 84% lower than prior to the report by QCM.
In sub $1b segment, top 3 activist short calls are: Emerson Analytics, Southern Energy Holdings Group -83.5%; White Diamond, Synthesis Energy Systems -63%; and Hindenburg Research, Predictive Technology Group -50.9%. According to our records, both Hindeberg's and Emerson's targets were above $0.9b, but under $1b, when campaigns were initiated.
Two activists appear twice in our Top 10. These are: Mako Research and our usual suspect that landed 4 of Top 10 spots in our H1 report, White Diamond.
Among notable activities by activist short-sellers that did not appear in the above list are:
Spruce Point with a very consistent performance in Q3. They published four new short reports. All targeted stocks declined since the report, with and average decline of 15%. Their best performing short is Penumbra (-25%), which Spruce targeted based on competition concerns;
Muddy Waters that, as elaborated below and same as ShadowFall, focused on Burford. More recently, Muddy Waters upped the way how they communicate and disseminate by producing, a greatly directed, short documentary "The Sceptic". This 12-minute documentary explores their experiences related to a 2015 activist short report that looked at a big French retailer (ref. The Sceptic).
Two Major Campaigns
Q3 saw two major short campaigns that attracted a lot of attention and caused a number of reactions and re-reactions.
First, it was Burford Capital (BUR) a target initiated by ShadowFall Fund. The short side of the argument was then supported further by none other than Muddy Waters (MW).
ShadowFall started to question BUR's accounting, especially around cash flow. MW came in with a whole host of other issues ranging from corporate governance to misrepresentation of financial performance. The stock collapsed quickly and at Q3 end stands 28% and 52% lower since initiations by MW and ShadowFall, respectively. Note: based on a tweet by MW, that pre-announced a UK short, but did not name it, some of the market participants apparently properly assumed it is Burford, leading to significant declines even before the publication of MW's report.
In the hopes of clarifying the situation, the company quickly fired back at MW, which started a back and forth that is ongoing to this day. Others, such as Caro-Kann Capital, have even joined the side of BUR by releasing a lengthy rebuttal to MW. The campaign is likely far from being closed.
Second controversial campaign, was a "Whistleblower Report" on General Electric (GE) by a company that includes Harry Markopolos, who was the Bernie Madoff whistle-blower. Mr. Markopolos has zeroed in on GE's allegedly insufficient insurance reserves and called the company "a bigger fraud than Enron".
Such claim on an $80 billion market cap did not leave other short-sellers without a reaction. Albeit, to some probably, a surprising one. Citron and John Hempton both have scrutinized the initial report and dismissed it. Citron also criticized agreement with a third-party that was mentioned in the disclaimer of the report and that includes potential compensation.
As of Q3-end, GE stock is pretty much unchanged versus prior to the report, erasing initial drop of about 15%.
Q2 Short that delivered in Q3
We also wanted to highlight a campaign whose success accelerated in Q3. It is none other than Citron's short call on Jumia (JMIA), the Amazon of Africa which IPOed in April. Just a month after the IPO, Citron released a report alleging JMIA is a fraud and a zero.
Initially, the stock relatively held its significant gains from the IPO but in the last few months the stock is getting closer to Citron's target. It is now down more than 75% since the report (mkt cap from about $2.6b to about $0.6b) and was still sliding recently. Just since mid-September, the stock has declined by more than 25%.
What's on Our Q4 Radar

Blue Orca eyeing UK: Back in May, founder of Blue Orca Capital said that Blue Orca's team is "actively scrutinising UK listed companies for potential targets" (ref. The Times). So far, they did not publish any related activist short reports. Perhaps they did not find any suitable targets in UK, or perhaps a short report will appear in Q4. Irrespective of that, one may expect that many short-sellers will be keeping an eye on UK stocks, especially having in mind that UK is due to leave EU at 23:00 GMT on 31 October 2019 (indeed?) .
U.S.-listed Chinese companies: This has been a kind of recurring theme for activist short sellers ever since 2010. Their efforts were even a subject of a 2017 documentary movie "The China Hustle", called "the most important movie of 2018" in a review in Forbes. We counted more than 170 Chinese firms listed on the three major US exchanges with a total market capitalization of more than $1.07 trillion and, on average, a 4.5 times higher borrow fee, than average when all stocks from these three exchanges considered. Chinese firms listed on US exchanges were on decline last week, after it was reported that Trump's administration is apparently considering delisting such companies. US Treasury later said that there are no such plans 'at this time' (ref. Reuters). Some Q4 follow-ups are possible.
High Valuations Down Under: A number of activist short sellers was probably taking a note of bearish views of Australia's hedge fund managers. While one called it "a golden age of short selling", another said that there "were probably 15 or 20 stocks on the S&P/ASX 200 that could fall 90 per cent and still be expensive'' (ref. AFR). We recorded four major short calls in Australia, so far, in 2019. Most notably, CIMIC, Australia's biggest construction company, declined about 38% since publication of a negative report by GMT Research.
---
Get our full report: campaigns that didn't deliver so far, small-cap short to watch in Q4 and more. Join Breakout Point!
---
Bagholder Quotes is a well-known, often entertaining Twitter feed that touches on our schadenfreude feelings. But, as one Twitter user put it, it is also "a valuable reminder to check your emotions and rationalizations, when you inevitably end up on the wrong side of a trade" (ref. Twitter). So, without further ado and with the help of Bagholder Quotes, here are three memorable Q3 quotes, related to stocks that activists had in focus:
"I got no other option but to hold until the next pump." $TEUMpic.twitter.com/pn472B4NbF

— Bag Holder (@BagholderQuotes) September 23, 2019
Note: Pareteum (ticker TEUM) is a June short of Marcus Aurelius Value (stock down about 62% since the report) and Viceroy Research (stock down about 49% since the report).
"Let's get everyone to enter an order to buy 100 shares at market 10 seconds before close." $AQMSpic.twitter.com/7wEhD7xbeB

— Bag Holder (@BagholderQuotes) September 7, 2019
Note: Aqua Metals Inc (ticker AQMS) is a 2017 short of The Friendly Bear (stock down about 90% since the report).
"Long story short - I'm realizing that I may not make money, but I'm willing to go down with the ship." $TSLApic.twitter.com/jDadYRF2eZ

— Bag Holder (@BagholderQuotes) August 27, 2019
---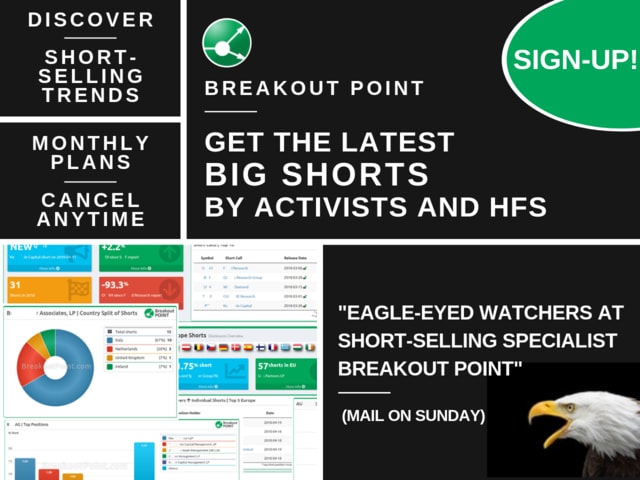 FAQ | Q: Can I publish parts of above data and analytics in an article? A: As long as you reference our work in your article - yes, you can.
FAQ | Q: Could you provide more related data and analytics? A: Sure, contact us and we'll try to help as soon as possible.
* Note: Presented short selling data is based on public activist short selling data that Breakout Point collected and compiled. Presented data is as of close on 2019-09-30. Our default methodology is applied, that measures % change in stock price versus the close prior to a short call. Negative returns, i.e. stock price drops, are good for the short seller. Follow-ups of recent reports by the same activist are not included when counting number of the new short calls.