Summary of talks by presenters at Sohn London 2019 conference (more about Sohn London here).
Contact us, if you are our client and would like more details about specific pitches.
Session One (12:30-14:00 GMT)
B. Baldwin from Trian Fund Management presented long idea on Ferguson plc. Main reasons revolve around attractive North American (NA) business, potential to increase market share in NA, and their belief that Ferguson is undervalued due to fact that, after UK business de-merger, 100% of of its EBITDA will be from NA. They also believe that Ferguson is mispriced due to minimal US analyst coverage, due to the fact that they are under-owned by US institutions and that they are UK-listed. Initial price: 6770p.
J. Ader from SpringOwl Asset Management presented long Playtech plc idea. They believe that Playtech is undervalued relative to its peers. SprinOwl has acquired just under 5% of Playtech' shares since mid-2018 and have made a number of recommendations to the management. They also believe that Playtech's core B2B gaming franchise is technologically superior to that of competitors. Initial price: 396.5p.
T. Eisenberger from Sikra Capital presented long idea revolving around shipping industry and impact of IMO 2020, regulatory change. They see opportunities in Star Bulk Carriers (SBLK, initial price: $9.73) and Scorpio Tankers (STNG, initial price: $31.19).
Idea Contest Winner presented also the first short idea which is short The RealReal (REAL). The short thesis mentions limited market opportunity for luxury resale market, weak scalabillity opportunities, as well as competitive landscape. Four investments catalysts were also presented. Initial price: $18.47, price target $10.8.
L. Macdonald from Allianz Global Investors pitched long Bloomsbury Publishing plc. This long thesis mentions their shift towards academic, professional and digital and also their resilience in sales of Harry Potter books which they publish. Initial price: 259p.
Session Two (14:45-16:00 GMT)
P. Taselaar from Lucerne Capital Management presented long Altice Europe idea which they call "FCF machine in the making". Current stock price about €5, Lucerne's price target about €15. Initial price: €5.42.
A. Langlois from Lombard Odier Asset Management pitched Air Products (APD) short focusing on current and projected carbon footprint of this company. The thesis lists key risks of coal gasifications projects. Lombard Odier projects that APD's CO2 emissions will grow from under 30 to above 100mT, thus tripling carbon footprint while other major companies are reducing their emissions. Ongoing societal and regulatory shift towards more environmentally friendly solutions and technologies represents also a trigger for this thesis. Initial price: $237.52.
P. Johannson from Bodenholm Capital pitched both long and short. Short idea is Koenig & Bauer where they see downside of 50% to 70% (Initial price: €32.28, price target €16.14). Bodenholm elaborated three legs to their short thesis: competitive leg, structural leg and accounting leg. On a competitive leg in firm's banknote printing business, they mention, what they believe is, unsustainable market share of 90% and expect a decline iof 30% y/y, due to move towards fully tendered business and success of competitor Komori. On a structural leg, they expect that, in sheetfed printing segment, competitor Heidelberger Druckmachinen's subscription model will negatively impact volumes and pricing at Koenig & Bauer side. They also raised several concerns on a accounting leg, most notably "magic EBIT generation" via reconciliations of questionable quality. Triggers to Bodenholm's short thesis are: expected 50% reset in earnings in 2020 and expectation that free cash flow will disappoint. Long idea is LivaNova and they see upside from 55%-120% over two years (Initial price: $76.62, price target $118.76).
Charity Speaker
Session Three (16:30-17:30 GMT)
F. Arbid from Amwal Capital Partners focused on an merger arbitrage opportunity: short Kuwait Finance House and long Ahil United Bank. Semi-efficient local markets and high participation of retail investors are mentioned as enablers to this strategy.
M. Larsson from Makuria pitched ICA Gruppen short. The short thesis emphasises that Lidl is growing in Sweden while ICA is closing the stores. Makuria also thinks that online shift is challenging and not profitable for ICA. Furthermore, Makuria believes that ICA is one of the most expensive food retailers and sees a downside of 75%. Furthermore, Makuria said that, in their view, ICA cannot cover its dividend through cash flow generation. Initial price: 425.9 SEK, price target 106.48 SEK.
C, Berjaj from CIAM believes that private equity has a strong interest in travel & tourism and believes Accor is perfect private equity candidate. They see 50% upside in a private equity takeover and offers more than 30% upside on a standalone basis. Initial price: €38.08, price target €49.5.
J, Hanbury from Odey Asset Management presented long Plus500. They believe that Plus500 offers significant competitive advantages and that it has strong fintech culture. Odey goes on to address main bear point: regulatory impact (they look at Japan as a positive precedent), quality of customer base (they note that 73% of customer >1 year) and risk management (point out that 85% of days H1 2019 were positive trading days). Initial price: 755.6p.
--- THE END ---
---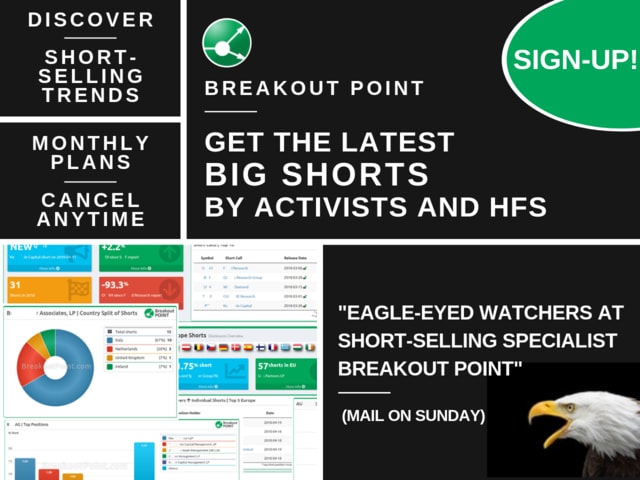 ---
FAQ | Q: Can I publish parts of above data and analytics in an article? A: As long as you reference our work in your article - yes, you can.
FAQ | Q: Could you provide more related data and analytics? A: Sure, contact us and we'll try to help as soon as possible.
* Note:Presented data and analytics is as of available on 2019-11-14. As initial price, daily close price on 2019-11-13 has been used.
The services and any information provided by Breakout Point or on the Breakout Point website shall not be, or construed to be any advice, guidance or recommendation to take, or not to take, any actions or decisions in relation to any investment, divestment or the purchase or sale of any assets, shares, participations or any securities of any kind. Any information obtained through Breakout Point and its services should never be used as a substitute for financial or other professional advice. Any decisions based on, or taken by use of, information obtained through Breakout Point and by its services are entirely at own risk.