TL; DR: Two of European 2019 mega-IPOs got in short-selling focus of UK hedge funds recently. One big short popped-up in each of these European unicorns in November. Since initial disclosures both shorts were further increased, while targeted stocks remained broadly unchanged.
---
This year's biggest European IPO (ref. DW), TeamViewer AG, appeared for the first time in our short-selling records with a 0.57% short by Naya Capital Management UK Ltd on 2019-11-04. Naya's short position, in this German developer and operator of online meetings and remote desktop access platform, was further increased to 0.65% on 2019-11-11. At a market cap of about €5b, this short translates to about €32.5m.
This is currently the only German big short by Naya and, actually, their first-ever German big short in our records. We count six active big EU shorts by Naya, with three of them against UK-firms. Recently, Naya reduced their bets against Casino Group, Ultra Electronics, and Aggreko, while, most notably, they added to their bets against Swedish JM AB and UK's Micro Focus.
One of biggest European 2019 IPOs, Trainline plc, got in short-selling focus of Ennismore Fund Managment that holds a 0.6% short position (about £12.5m at a market cap of £2.1b). This big short position appeared on November 7 at 0.53% and was increased to 0.6% short interest on November 15. Interestingly, earlier this month, a group of investors, led by KKR, cashed out by selling off their stake in this UK's online rail bookings firm (ref. FT).
According to our records, Ennismore's big short portfolio contains 14 big UK shorts, 5 German big shorts, while remaining 5 shorts are split among four EU countries. A notable 2019 winner has been their bet against Bio-On that plunged following an activist short report by Quintessential Capital Management (QCM) and Italian prosecutors' probe into false accounting and market manipulation. Besides betting against Trainline in November, we noted that Ennismore has recently been adding to one more UK big short, as well as, two IT-related German big shorts: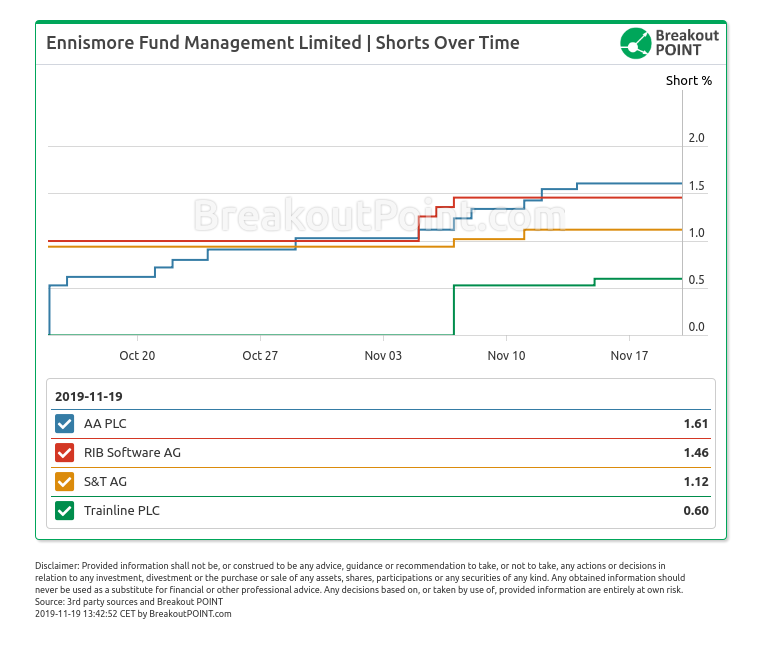 ---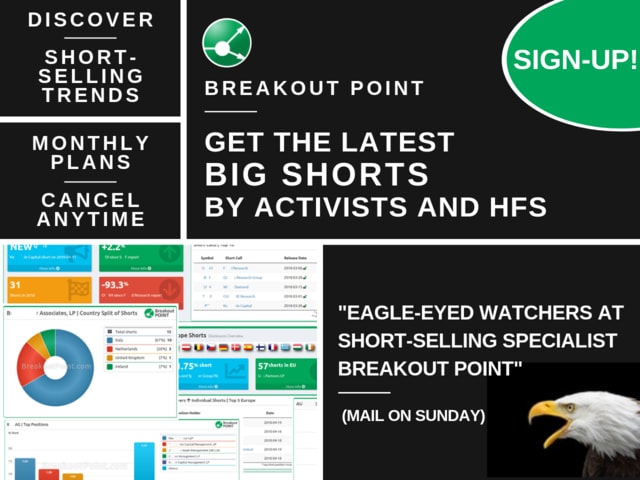 ---
FAQ | Q: Can I publish parts of above data and analytics in an article? A: As long as you reference our work in your article - yes, you can.
FAQ | Q: Could you provide more related data and analytics? A: Sure, contact us and we'll try to help as soon as possible.
* Note: Presented short selling data is based on European net short position data which is disclosed to the public when short positions at least equal to 0.5% of company issued share capital. "Big short" refers to a short position above 0.5% of company issued capital. "Mega-IPO" refers to an IPO that raised more than €1b, the size of IPO is also measured in these terms. Presented data and analytics is as of available on 2019-11-19.
The services and any information provided by Breakout Point or on the Breakout Point website shall not be, or construed to be any advice, guidance or recommendation to take, or not to take, any actions or decisions in relation to any investment, divestment or the purchase or sale of any assets, shares, participations or any securities of any kind. Any information obtained through Breakout Point and its services should never be used as a substitute for financial or other professional advice. Any decisions based on, or taken by use of, information obtained through Breakout Point and by its services are entirely at own risk.