---
As of the latest short disclosures, four entities hold a big short in EasyJet (mkt cap about £5.2b) for an aggregated short interest of 5.46%.
Holder of the biggest short position, famous quant fund, AQR has been rather steadily selling more shares ever since this position appeared on June 4. During the same period, stock prices moved up about 55%. Thus, resulting in considerable losses to the holder of a 2.71% short position in this UK-based low-cost airline carrier.
Short-selling interest in EasyJet is at multi-year highs in our records. Furthermore, this stock recently topped our most shorted EU airlines list. However, currently, three hedge fund heavyweights (Citadel, Marshall Wace and AQR), might not be pleased to be on board. Our estimations show that, combined, they are down about £25m on their EasyJet shorts since October 30 close, as the stock moved from about £12 to above £13.
Next important event is just two-weeks away. The release of the company's 2019 full year results is scheduled for November 19 and it remains to be seen how these short positions further develop around this date.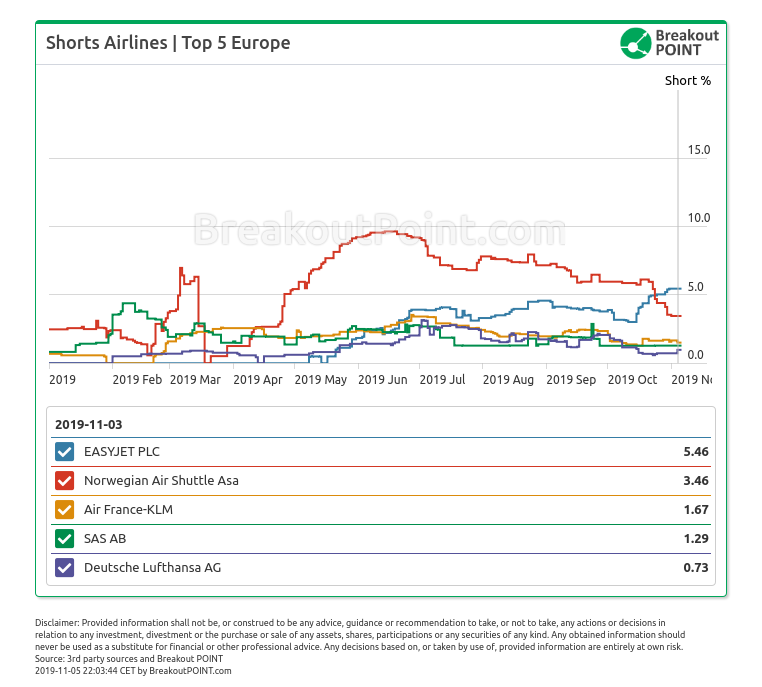 ---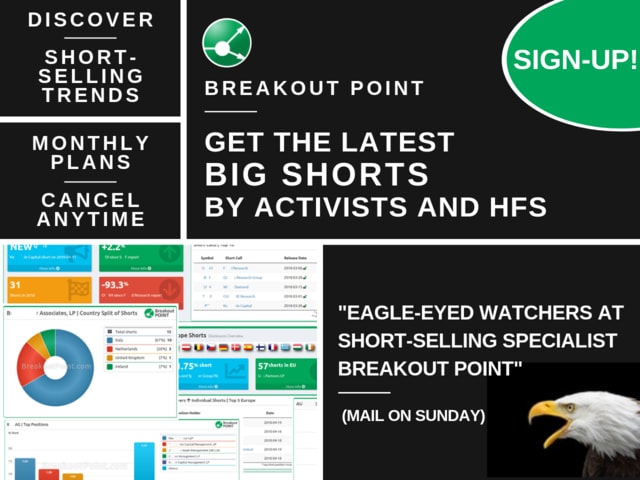 ---
FAQ | Q: Can I publish parts of above data and analytics in an article? A: As long as you reference our work in your article - yes, you can.
FAQ | Q: Could you provide more related data and analytics? A: Sure, contact us and we'll try to help as soon as possible.
* Note: Presented short selling data is based on European net short position data which is disclosed to the public when short positions at least equal to 0.5% of company issued share capital. "Big short" refers to a short position above 0.5% of company issued capital. Presented data and analytics is as of available on 2019-11-05.
The services and any information provided by Breakout Point or on the Breakout Point website shall not be, or construed to be any advice, guidance or recommendation to take, or not to take, any actions or decisions in relation to any investment, divestment or the purchase or sale of any assets, shares, participations or any securities of any kind. Any information obtained through Breakout Point and its services should never be used as a substitute for financial or other professional advice. Any decisions based on, or taken by use of, information obtained through Breakout Point and by its services are entirely at own risk.