TL; DR: Tilray short tops all short pitches presented at Kase Learning Shorting Conference one year ago. While Tilray is down about 81% since the presentation, four other stocks declined 40% or more.
---
Chris Brown from long-short firm Aristides Capital, argued last year at Kase Learning Shorting Conference that growing marijuana is a commodity business and mentioned Tilray's IPO lockup expiry on January 15, as a possible catalyst.
Tilray shares have plunged more than 80% since Aristides Capital's December 3 pitch, comfortably topping the 14 short pitches presented at last year's Shorting Conference and tracked by Breakout Point. However, Tilray has been, at times, a very expensive and hard borrow in the past 365 days and, at 2019 start, borrow fees even in excess of 800% were seen.
Five stocks declined 40% or more, while in total seven stocks are trading lower than year ago. Our records show that, one year later, six stocks are above the levels of where they been pitched as shorts.
On average, stocks pitched as shorts during last year's conference are now about 5% lower, while S&P 500 is up about 13% since then.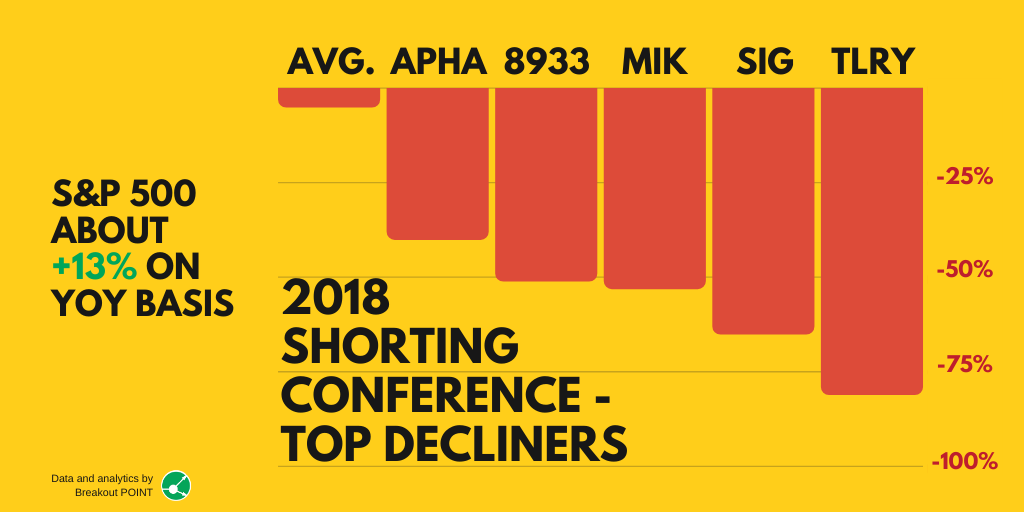 Gracian Capital's short, Signet Jewelers is down about 65%, while third-best performing short pitch is The Michaels Companies pitched by Cruiser Capital Advisors and the stock is down about 53%.
Interestingly, micro-cap Taiwan-based bicycle manufacturer and exporter Ideal Bike pitched as short by Dan David, veteran short-seller known from The China Hustle and founder of Wolfpack Research, halved in value since the pitch.
Another cannabis-related firm turned out to be a successful short. Quintessential Capital Management (QCM) and Hindenburg Research jointly pitched a short in Canadian marijuana producer, Aphria, alleging a number of major red flags related to firm's Latin American acquisitions. The shares have declined about 40% since this call, while, back in January, QCM effectively ended their short campaign by saying "With a new management team the company has a chance to a brighter future and we are accordingly moving on to new projects."
---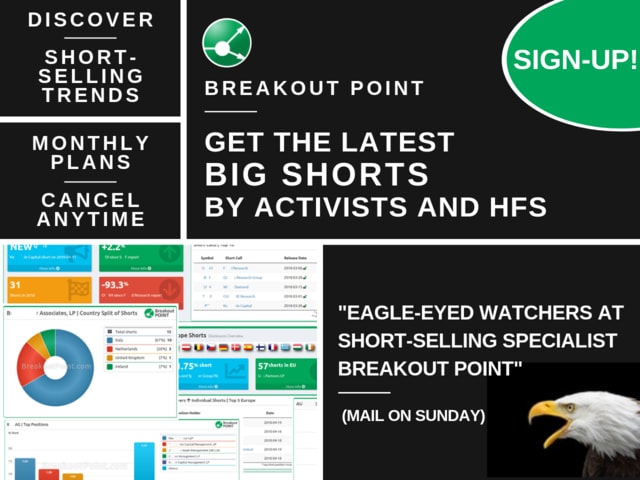 ---
FAQ | Q: Can I publish parts of above data and analytics in an article? A: As long as you reference our work in your article - yes, you can.
FAQ | Q: Could you provide more related data and analytics? A: Sure, contact us and we'll try to help as soon as possible.
* Note: Presented short selling data is based on European net short position data which is disclosed to the public when short positions at least equal to 0.5% of company issued share capital. "Big short" refers to a short position above 0.5% of company issued capital. "Mega-IPO" refers to an IPO that raised more than €1b, the size of IPO is also measured in these terms. Presented data and analytics is as of available on 2019-11-19.
The services and any information provided by Breakout Point or on the Breakout Point website shall not be, or construed to be any advice, guidance or recommendation to take, or not to take, any actions or decisions in relation to any investment, divestment or the purchase or sale of any assets, shares, participations or any securities of any kind. Any information obtained through Breakout Point and its services should never be used as a substitute for financial or other professional advice. Any decisions based on, or taken by use of, information obtained through Breakout Point and by its services are entirely at own risk.