---
Activist short sellers were very active around the globe in 2019 and made 177 major short calls. Targeted stocks are down 7.7% on average, which is less than in 2018 (avg. decline 12.7%), but, yet very remarkable, especially, having in mind that S&P 500 Index climbed about 29% this year;*
There were big winners. QCM added another zero onto their track record, Citron was proven right on Jumia and ShadowFall's and Muddy Waters' contentious Burford shorts are working out.
Best short calls (>$1b initial mkt cap): QCM, ON.MI -100%; Citron, JMIA -80.3%; Muddy Waters, INGN -67.3%; The Friendly Bear, HEXO -60.1%; ShadowFall, BUR -57%;**
Very active and very consistent in sub $1b segment: White Diamond (18 shorts, avg. -33.5%, best HSDT -88.6%).
There are plenty of 2019 targets that are on our radar for 2020, awaiting potential catalysts. Be it Citron's PTON short, the Friendly Bear's binary thesis on TWST or Wolfpack's QTT target dubbed 'China Hustle stock 2.0'.
---

Get 10% off in the first two calendar months with code "ByH8RLQ0" (limited availability). Join Breakout Point!
---
In 2019 we have registered and tracked 177 new major short campaigns which is about 18 percent more than 151 we recorded in 2018. On average, targeted stock dropped 7.7% following a short call/report, which is in strong contrast to about +29% for S&P 500 in 2019.
With 121 new short calls, US tops our list of the most targeted countries/regions. However, with an average stock performance of -5.7% in US, activists were not as successful as, for example, in Canada (7 new short calls, avg -27.8%), Australia (5 new short calls, avg -18.4%), UK (5 new short calls, avg -16.6%) and China (20 new short calls, avg -11.5%). Healthcare sector continues to attract activist short sellers and it accounted for about 35% of short calls: 62 new short calls with targets declining 13.9% on average.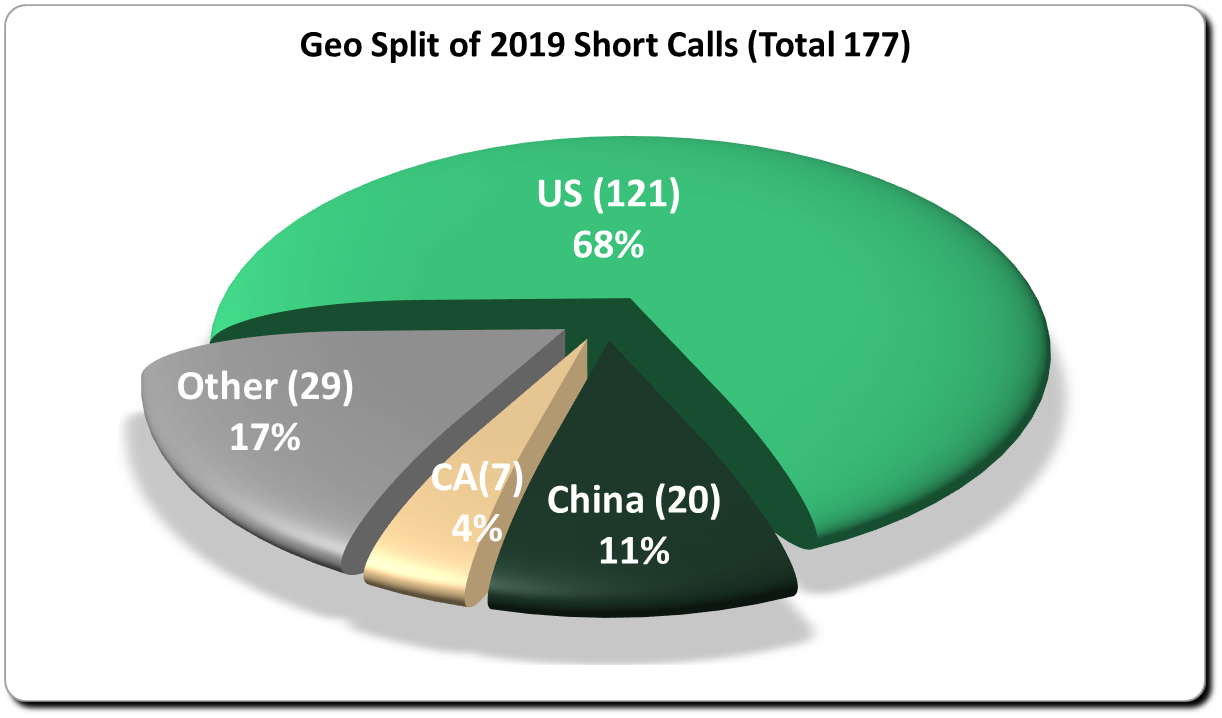 When it comes to initial market cap of targeted stocks we recorded companies as large as $100b and as small as few millions. We noted the average initial market cap of $5.1b. Our analysis also shows a significant difference of initial market cap when considering most and least successful short calls of 2019:
following 62 short calls, shares are now lower more than 20%. The corresponding companies had an average initial market cap of about $2.1b;
following 33 short calls, shares are now higher more than 20%. The corresponding companies had an average initial market cap of about $9.4b.
Top Activist Short Calls
According to Breakout Point records, Top 10 short calls in 2019 in terms of percent stock drop are: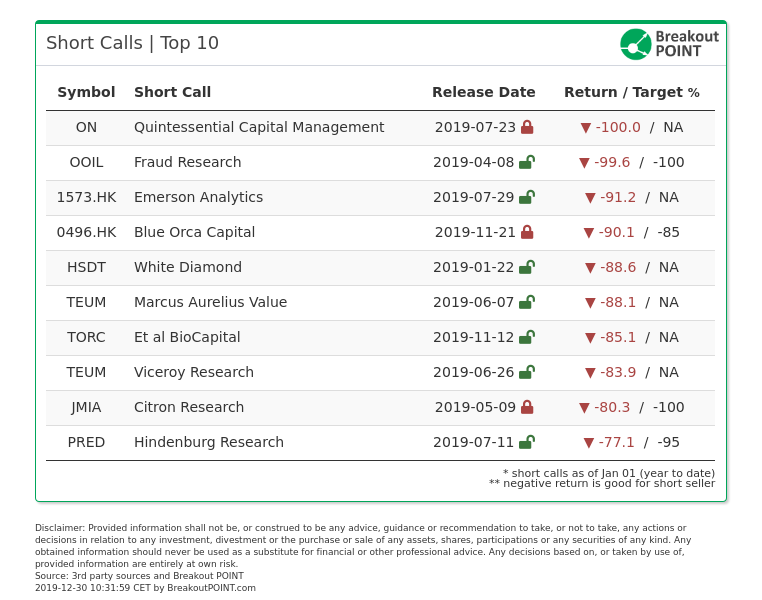 Besides six US companies, also two Chinese, and, each, one Italian and one well-known Nigerian 2019-IPO company managed to land a spot in this, for stocks very non-flattering, Top 10 list. Also, above Top 10 are the only 2019 short calls, whose respective targets declined more than 75 percent.
The year was also rather versatile when it comes to who was successful. Within Top 10, there is not a single activist short seller that appears more than once. However, in Top 20, our usual suspect, specialist in healthcare and sub $1b segment, US activist White Diamond, appears three times, while another US activist founded by ex-Glaucus partner, Blue Orca, has two such entries. Both had very formidable returns in 2019: White Diamond (18 short calls, avg stock decline 33.5%), Blue Orca (5 short calls, avg stock decline 20.6%).
When looking at stocks above $1b in initial market cap, top 5 activist short calls are: Quintessential Capital Management (QCM), Bio-On -100%; Citron, Jumia -80.3%; Muddy Waters, Inogen -67.3%; The Friendly Bear, HEXO -60.1%; ShadowFall, Burford Capital -57%. Mentioning Burford short should not go without acknowledging that the short side of the argument was supported further via August short report by none other than Muddy Waters (shares down about 36% since). Among these five, by far, the biggest initial market cap was that of Shadowfall's target, about $4.7b. Initial market caps of Bio-On and HEXO were just above $1b, while we marked corresponding values of Jumia and Inogen at about $2.6b and $3.7b, respectively.
In sub $1b segment, top 5 activist short calls are: Fraud Research, OOIL -99.6%; Emerson Analytics, 1573.HK -91.2%; Blue Orca, 0496.HK -90.1%; White Diamond, HSDT -88.6%; and Marcus Aurelius Value TEUM -88.1%. Note that TEUM is also a 2019 short of Viceroy Research.
Looking into companies that had market caps of about or above $10b at time of the short call, three short calls stand out: GMT Research, Cimic Group (CIM) -33.4%; Akram's Razor, Dropbox (DBX) -29.3%; and Citron Research, Peloton (PTON) -22.4%.
Focusing on 2019 Winners
QCM: Bio-On
An honorary first mention has to be QCM's short campaign focused on Bio-On, once a biotech unicorn listed on AIM. With this campaign, the short seller has been able to add another 100% decline to their track record.
This campaign had it all. Activist's allegations included: unfinished production plant, dubious product, JVs creating questionable revenues and questionable profit and a bank helping with all of this. The investigation into the conduct of the CEO and freezing of assets worth millions of euros by Italian prosecutors seems just like a little extra. The whole company collapsed within 5 months of QCM's initial report.
We would add that investors, who knew about the campaign, were still able to take advantage of the detailed research by QCM even after the main report was released as the shares have dropped at various points in time.
The other notorious campaign which needs to be highlighted was of Citron Research. The short seller had another active year with several reports, but Jumia (JMIA) ended up being the most successful new short of 2019 for the group headed by Andrew Left. Citron mentioned that they are not short anymore as shares were down about 80%.
They focused on this African version of Amazon as Citron allegedly saw fraudulent behaviour, especially when it comes to disclosure of various metrics.
Initially Citron faced quite a bit of backlash from shareholders and the management since it was a high-profile short of a recent IPO, but the quarterly results of Jumia and news about part of its sales force eventually drove the shares down. JMIA was subject of another notable report which, we believe, needs to be mentioned. Activist that is, in 2019, best known for very successful SAAS-related short calls, Akram's Razor, published a "JMIA Short Thesis" on 2019-06-05, but this short report is not directly included in our considerations due to its non-public nature.
ShadowFall and Muddy Waters: Burford Capital
Another contentious campaign was and, to a certain extent, still is Burford Capital (BUR) targeted by Muddy Waters and ShadowFall.
Muddy Water initiated the campaign targeting Burford because of its accounting regarding the pricing of their investments and their use of fair value which is allegedly misleading. The initial reaction of the share price was one of the most extreme we saw in 2019. It fell down as much as 66% on the day of the report. Since then it rebounded a bit but is still meaningfully lower than before the involvement of the short-sellers.
Muddy is still public about its short. As seen below the short seller mentioned that they will continue to do so in 2020.
Carson Block discussing #Burford$BUR.LN Friday - specifically, Bogart's bald-faced lie, his lame put down of Stormy Daniels, and Petersen claim, including questioning whether Argentina can satisfy in Pesos ~8 min long https://t.co/kyjoa5ZURg

— MuddyWatersResearch (@muddywatersre) December 16, 2019
Overall, Muddy Waters had a very global and interesting year, and three further additions to our recent Muddy Water's 2019 World Tour tweet are: faux awards ceremony, NMC Health short and intention to expand and add new strategies in 2020.
Potential catalysts for next year
Roughly 80 campaigns of 2019 now have a performance range of -20% to 20%. These give users of our platform plenty of possibilities to analyse, especially when several stocks are going to see possible catalysts in Q1 of 2020. In this section, and in addition to those we analysed few weeks ago for our clients, we summarize several of such short calls.
Citron's short of PTON, which is now over 20% down, might be supported by the expiry of lock-up of shares after the initially successful IPO. Will the insiders provide enough shares for the currently hefty short interest of more than 60% of float? We will see in March. Citron has a $5 target on PTON (now trading around $27 per share).
When it comes to a rather binary short thesis, we have Twist (TWST) on your radar. The Friendly Bear targted this biotech due to severe legal challenges connected to TWST's IP assets. If the company loses in court, it could see its whole business disrupted and potentially made worthless. The trial will happen in February 2020 giving the short campaign a clear catalyst.
Last but not least, Qutoutiao (QTT) should also be scrutinized as we head into the next year. Wolfpack targeted this US-listed Chinese company due to the allegedly severe red flags that should make QTT a 'China Hustle' stock 2.0. QTT is facing the common 'barrage' of allegations ranging from fraudulent cash position, insider-dealing to differences in SAIC reports and SEC filings. Muddy Waters agreed with Wolfpack and disclosed a short position as well.
However, the stock, with recent 40-50% borrow rates, is up about 18% so far, but Wolfpack sees the negative cash flow as a powerful trigger for the downside. This could already be visible in Q1. That being said, the management provided a delayed response to the report on the 27th of December, addressing some of the allegations. Wolfpack had this to say.
$QTT response today will be a costly mistake. Like most companies they ignore most important questions & skip to statements they think they can defend, except today's statements dig a deeper hole. Look forward to 2020 & the opportunity to show just how deep that hole is. #Wutong

— Wolfpack Research (@WolfpackReports) December 27, 2019
Revenue Growth and CVNA
Before we conclude, we thought we would also quickly look at one of the tougher short campaigns so far. We have in mind none other than Carvana (CVNA) which was recently up about 200% since short calls by Spruce Point and Advantage Investor.
While some parts of the thesis connected to this online used-car dealer were indeed visible in reality (mainly lack of scale), the stock seems to ignore these and races upwards. One might argue that it seems it is all about revenue growth regardless of profitability and the subprime car environment which is apparently showing increased delinquencies (more in this twitter thread).
This outcome gives investors interesting food for thought when it comes to timing and the proverbial jaguar in the tree comes in mind.
We look forward to tracking another busy year filled with latest short-selling campaigns and with that, we wish everyone a great start to the New Year.
---
Get 10% off in the first two calendar months with code "ByH8RLQ0". Sign up for Breakout Point!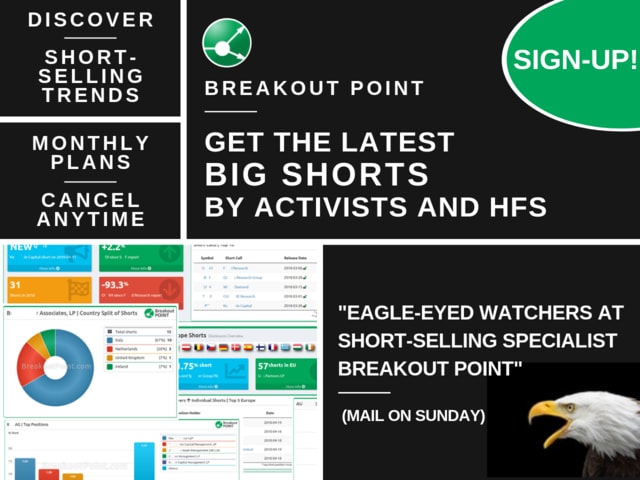 ---
FAQ | Q: Can I publish parts of above data and analytics in an article? A: As long as you reference our work in your article - yes, you can.
FAQ | Q: Could you provide more related data and analytics? A: Sure, contact us and we'll try to help as soon as possible.
* Note: Presented short selling data is based on public activist short selling data that Breakout Point collected and compiled. Presented data is as of close on 2019-12-27. Our default methodology is applied, that measures % change in stock price versus the close prior to a short call. Negative returns, i.e. stock price drops, are good for the short seller. Follow-ups of recent reports by the same activist are not included when counting number of the new short calls. Headquarter location and not listing location is taken into account when determining company's country.
** Note: JMIA was a subject of another notable report which we believe needs to be mentioned. Activist that is probably best known for very successful SAAS-related short calls this year, Akram's Razor, published a "JMIA Short Thesis" on 2019-06-05, but this short report is not directly included in our considerations due to its non-public nature. Muddy Waters is not the only activist that had Inogen in focus. Citron Research issued a report focusing on Inogen back in May'18 (stock above $170) and, several days after Muddy's report, a follow-up report in Feb'19 (stock around $140). However, Citron's report does not pop-up in our list of new 2019 reports, because the first Citron's Inogen report appeared in 2018.