This week, six EU regulators announced country-wide short selling bans in duration from one up to three months.
While Spain, France, Belgium, Austria and Greece announced bans in duration of about one month, Italian regulator, announced that this measure will be valid, unless revoked, for three months.
This is not the first time that such prohibitions are introduced across Europe and we captured a number of short selling bans since 2014. In some instances, they even lasted much longer than three months:
Short selling in Liberbank (CNMV, Spain) was initially banned for period 12 Jun 2017 - 12 July 2017, and subsequently extended twice. The first time until 12 September 2017 and the second time until 30 November 2017.
Short selling in BMPS (CONSOB, Italy) was initially banned for period 7 July 2016 - 5 October 2017 and then prolonged once until 5 January 2017.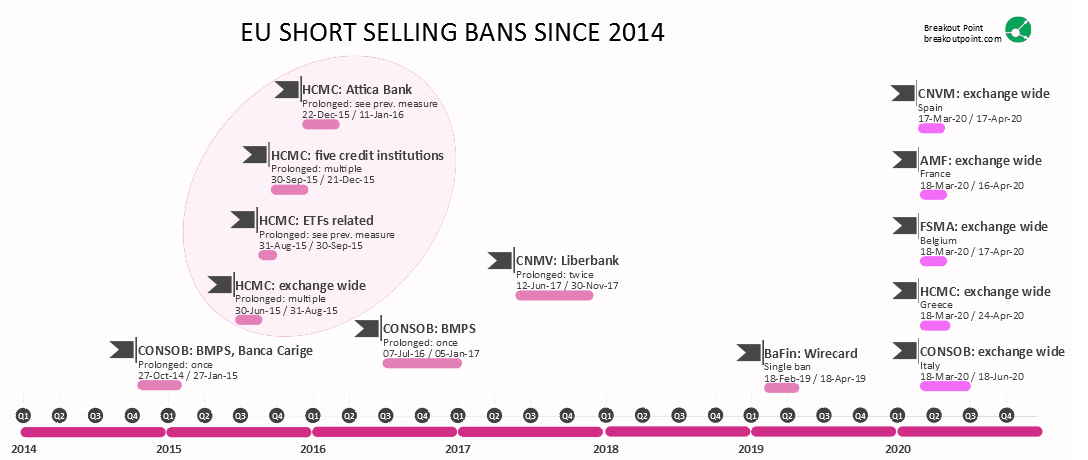 A mere ant and the elephants
Daniel Yu, founder of the famous activist short selling group, Gotham City Research, had this to comment about short selling bans:
Do short selling bans eliminate market declines? Short selling bans do not eliminate market declines - short selling activity volume is a mere ant compared to the selling activity volume coming from the elephants who are selling; often bans worsen the selling, as market participants who would otherwise prefer insuring their portfolios against further loss - by short selling - instead are forced to sell.
Do they increase market stability and reduce risks to the financial system? Short selling bans increase market instability and increase risks to the financial system, as market participants' ability to insure are banned.
What's left to do for those that are/were hedging their risks via short-selling in specific equity, but cannot do that anymore? They are forced to sell their long holdings, or forced to look for shorts - insurance - in other markets.
SEC, academic studies and hedging via short-selling
Back in 2008 SEC halted short selling in financial companies. Chairman of SEC, said, at the end of his tenure, that the biggest mistake of his term was to implement a three-week ban on short-selling bank stocks at the peak of the 2008 financial crisis (ref. CNBC).
Furthermore, academic studies provide evidence that banning short-selling "doesn't work" and a nice overview of several related studies has recently been provided in FT Alphaville. Thus, a valid question remains why the authorities resort to short-selling bans in spite of evidence that it is apparently not really effective.
Finally, to the point of hedging the risks or protecting other positions via short selling and inability to do so now, we would like to note that we rather regularly encounter short-selling disclosures that seemingly represent a part of a broader strategy. Two possible examples would be:
extensive short-selling in Vodafone that happened in March 2019 simultaneously with the launch of Vodafone's convertible bonds, and
a recent short disclosure, in which, an asset manager that handles all the investment activities for one company, disclosed a short position in the very same company.
---
Stay on top of activist short selling developments, join Breakout Point and get our Weekly Activist Short Selling Reports.
---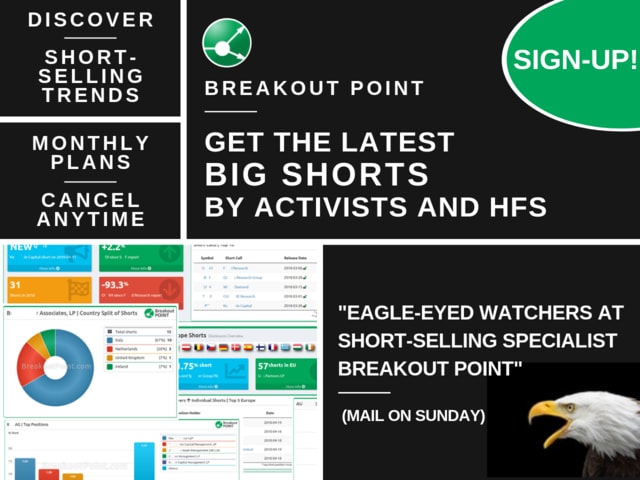 ---
FAQ | Q: Can I publish parts of above data and analytics in an article? A: As long as you reference our work in your article - yes, you can.
FAQ | Q: How can I get more related data and analytics? A: Join Breakout Point to benefit from unique short-selling insights.
* Note: Presented short selling data is based on European net short position data which is disclosed to the public when short positions at least equal to 0.5% of company issued share capital. "Big short" refers to a short position above 0.5% of company issued capital. Presented data and analytics is as of available on 2020-03-20 15:00h CET.
The services and any information provided by Breakout Point or on the Breakout Point website shall not be, or construed to be any advice, guidance or recommendation to take, or not to take, any actions or decisions in relation to any investment, divestment or the purchase or sale of any assets, shares, participations or any securities of any kind. Any information obtained through Breakout Point and its services should never be used as a substitute for financial or other professional advice. Any decisions based on, or taken by use of, information obtained through Breakout Point and by its services are entirely at own risk.