---
TL; DR: Intrum shares closed about 23% lower today, following a disclosure of a 0.5% short position by Muddy Waters Capital.*
---

---
Muddy Waters Capital disclosed a 0.5% short in this Swedish provider of credit management services and solutions (such as, debt collection and debt surveillance). Disclosed short position is dated 2020-03-20 and translates to about €6m at a market cap of €1.2b;
Intrum shares closed about 23% lower and have reached new multi-year lows today;
Intrum has been in considerable short selling focus throughout 2018 and 2019 and currently tops our list of the most shorted stocks in Sweden. Furthermore, with 11.22% short interest and according to our records, this is also the most shorted stock in business support services sector in EU;
As of time of writing this note, Muddy Waters did not publish a related report and we do not know if one will be published. In most of previous cases, such short disclosure were accompanied by activist short reports (Burford, Casino, IQE, Stroer). However, in case of Solutions 30, Muddy Waters did not publish a report and did not elaborate why they shorted this stock. They just commented: "Whose investors are better off - those who can evaluate our arguments, or those whose stock drops but they don't understand why?"(ref. Twitter). Disclosure of Solutions 30 short, was followed by an about 25% lower close on that day. Similarly, Muddy Water disclosed in October 2019 a short position in Corestate Capital Holdings, without elaborating why. The shares closed about 19% on the day when this short disclosure became public.
Muddy Waters is a ninth money manager holding a big short against Intrum. In March, we noted another new big bet against this stock, a 1.02% short position by Oceanwood Capital Management.
Development of short positions in Intrum AB: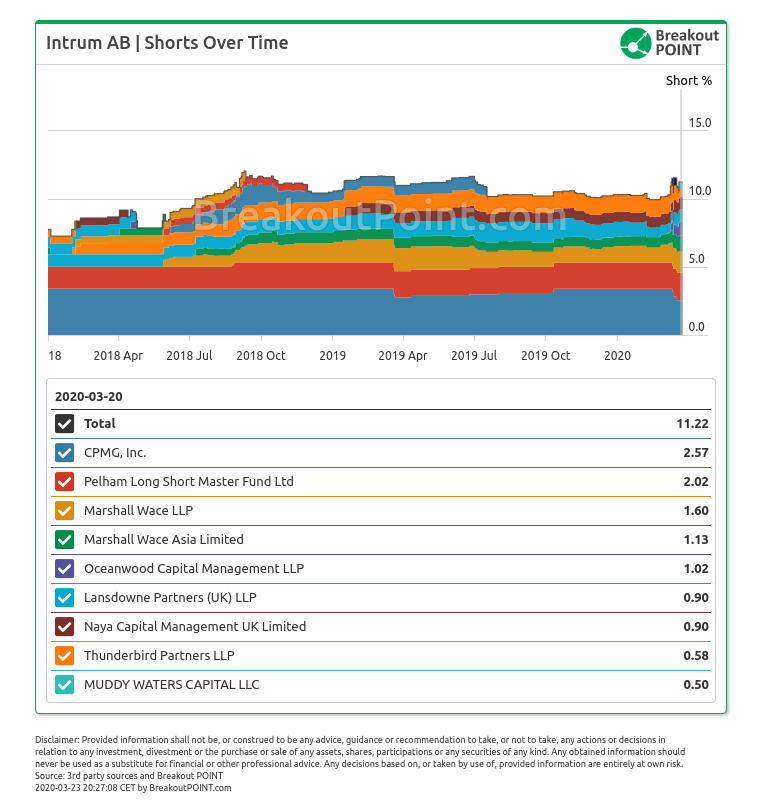 Stay on top of short selling developments. Sign up for Breakout Point!
FAQ | Q: Can I publish parts of above data and analytics in an article? A: As long as you reference our work in your article - yes, you can.
FAQ | Q: How can I get more related data and analytics? A: Join Breakout Point to benefit from unique short-selling insights.
* Note: Presented short selling data is based on European net short position data which is disclosed to the public when short positions at least equal to 0.5% of company issued share capital. "Big short" refers to a short position above 0.5% of company issued capital. Presented data and analytics is as of available on 2020-03-23.