---
37 new short positions by Bridgewater were disclosed today. All are bets against major EU companies, including, Unilever, SAP, BNP Paribas, Total, Adidas, and Danone. We estimated that, as of Monday's close, cumulative short position is worth more than whooping €10.5b.*
---
Bridgewater back with Big EU Shorts
We captured 37 new big shorts out of which ten are in Germany (ca. €3.2b short), five in Spain (ca €1.1b short), five in Netherlands (ca. €2b short), two in Italy (ca. €0.6b short), one in Finland, one in Ireland and 13 in France (ca. €3.7b short).
We estimated more than €10.5b of worth in these short bets, as of Monday's close. Among the biggest short positions of the world's largest hedge fund are a 0.66% short in Unilever (short about €812m at a mkt cap of €123b), a 0.59% short in SAP (short about €708m at a mkt cap of €120b) and 0.6% in Sanofi (short about €600m at a mkt cap of about €100b).
Sector split is diverse with most big bets against finance stocks: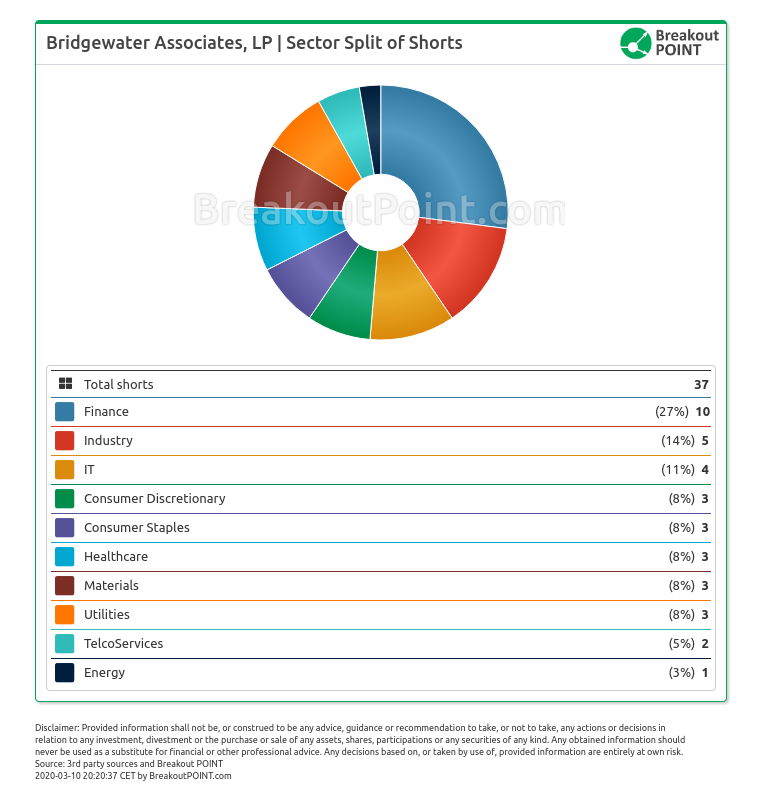 The fact that all these shorts appeared on a single day may indicate index-related activity. It is unknown to us to which extent these disclosures may be an outright short bet, and to which extent a hedge against certain exposure.
As reported by FT, Bridgewater's Pure Alpha and the more leverage fund, Pure Alpha II, declined 5.5% and more than 8%, respectively, in the first two months of 2020.
When it comes to magnitude of short selling, we don't recall any other money manager coming close to this. The most similar occurrence has also been by Bridgewater back in 2018.
What about 2018 shorts by Bridgewater?
In Q1-2018, Bridgewater disclosed more than 50 EU short positions (in Italy, Spain, Germany, France, Netherlands, UK,...), receiving a lot of media attention. For example, only in Germany 14 such shorts appeared. However, the last of these short positions were cut under 0.5% of issued share capital in July. According to our records, with exception of a short in Finland-based steel company, Outokumpu, Bridgewater did not hold significant European shorts until now.
Update 2020-03-11 15:45 CET: Slight % increases in eight of already disclosed positions and one new name crossed reporting threshold, so far today.
---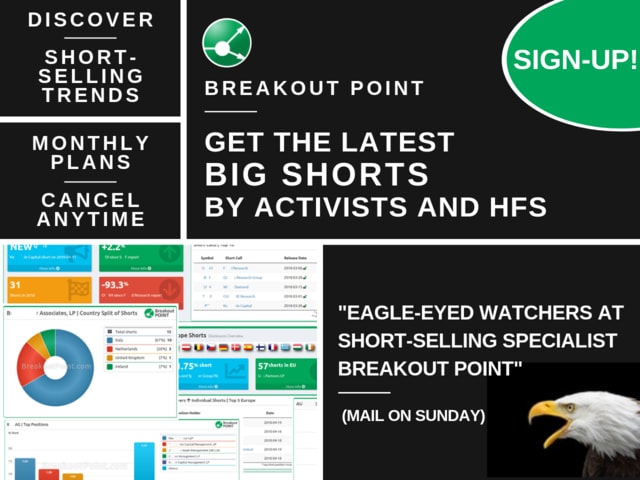 ---
FAQ | Q: Can I publish parts of above data and analytics in an article? A: As long as you reference our work in your article - yes, you can.
FAQ | Q: How can I get more related data and analytics? A: Join Breakout Point to benefit from unique short-selling insights.
* Note: Presented short selling data is based on European net short position data which is disclosed to the public when short positions at least equal to 0.5% of company issued share capital. "Big short" refers to a short position above 0.5% of company issued capital. Presented data and analytics is as of available on 2020-03-10 20:00h CET. Updated on 2020-03-11 08:00 CET with details about Bridgewater's performance.
The services and any information provided by Breakout Point or on the Breakout Point website shall not be, or construed to be any advice, guidance or recommendation to take, or not to take, any actions or decisions in relation to any investment, divestment or the purchase or sale of any assets, shares, participations or any securities of any kind. Any information obtained through Breakout Point and its services should never be used as a substitute for financial or other professional advice. Any decisions based on, or taken by use of, information obtained through Breakout Point and by its services are entirely at own risk.