---
Weekly short selling bits and pieces: "Send your resumes to Omaha," said Citron to Robinhood clients; Ouch for S&P futures bears; Wirecard HQ searched by German prosecutors.
This week, we recorded 4 new campaigns, with the targeted stocks trading 11.2% lower on average.
We highlight Grizzly's report on another China Hustle 2.0 stock which was presented during a virtual investment conference alongside other three ideas. The target, Hebron Technology (HEBT), is now down roughly 39%. Much of that downside occurred right after the conference.
As per usual, we also update readers on the developments at GSX as Grizzly Research released a follow-up report this week. They have accessed GSX's internal database and allegedly found actual enrolment numbers for each course. However, the stock is still heading higher and has shrugged off the report.
Finally, we look at the reply of CloudyThunder to another supposedly dubious Chinese business, Tianneng Power. The stock has surged this week on the back of supposedly positive news provided by the company.
---
Short Selling: Bits and Pieces
Citron vs Robinhoodies: This week, Citron tweeted negatively about two of the most popular stocks among Robinhood users. According to our records, scrutinising activities of Robinhood users is becoming en-vogue among activist short sellers. A number of short sellers is rather regularly flagging excessive stock price movements allegedly related to this group of retail clients. Citron flagged Genius Brands International Inc (GNUS) and American Airlines Group (AAL). On June 4, the day of the Citron's tweet, GNUS was as high as $11.73, which is about 226 times higher times than YTD low of $0.0516. The stock plummeted about 50% from that high, and is now 'only' about 114 times higher than YTD low. The fact that Hindenburg Research published a short report titled 'A Bagholder's Guide to Why We Think Genius Brands Will Be a $1.50 Stock Within a Month', a day after Citron's flag, did not help to about 141k Robinhood's users holding GNUS:
The Bears are down: As per below chart, the bears have entered this week with the highest level of short positions in S&P 500 futures in five years. Seemingly high conviction, meant also seemingly high suffering for the short sellers, as S&P 500 closed about 5 percent higher this week.
Short positions on S&P 500 futures are at the highest level in 5 years (and this was as of last week) h/t @daniburgz for chart pic.twitter.com/vLxUg2Ex20

— David Ingles (@DavidInglesTV) June 2, 2020
Wirecard HQ searched: After Friday's market close, it was reported that German prosecutors searched Wirecard offices, following a criminal complaint filed by BaFin for suspected market manipulation. The investigation is apparently targeting members of the board, and not the company. As of the latest European short disclosures, Wirecard is the second most shorted DAX company, behind Lufthansa.TCI Fund Management and eight other money managers are holding the biggest short positions in Wirecard: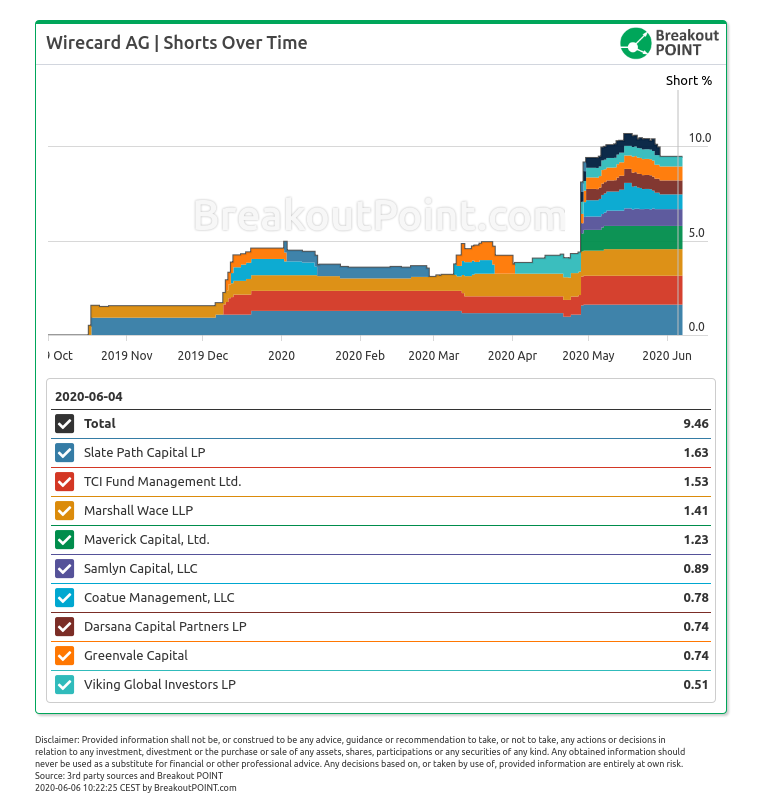 ---
The Grizzly factor?
It seems that the short-seller who started in 2019 with their campaigns is now increasingly influential and the market pays close attention to what they have to say about public companies.
This was visible this week with Hebron Technologies (HEBT) an alleged 'China Hustle 2.0' stock targeted by Grizzly. The initial report was given in the form of a presentation during the 2nd Contrarian Investor Virtual Conference hosted by the Contrarian Podcast, ValueWalk and Breakout Point.
In just about 20 minutes, Grizzly presented why they believe HEBT is allegedly an insider-enrichment scheme rather than a normal operating business. They described many supposedly undisclosed related-party transactions where the key insider, Bodang Liu, should have made a profit on dealing with HEBT at the expense of shareholders. This should violate SEC regulations. Previously GeoInvesting raised allegations in December of 2019.
During the conference, the stock was already down over 10% and ended lower by over 35% in just one day.
---

---
Here is a replay of the presentation.
Here is a video of our $HEBT presentation from yesterday @PodContrarian@BreakoutPoint@valuewalkhttps://t.co/mVi7ALH6pY

— Grizzly Research (@ResearchGrizzly) June 4, 2020
During the conference we also saw three other ideas being presented, all of them on the long side.
First, it was Jonathan Boyar of Boyar Value who presented Madison Square Garden (MSGE/MSGS), a set of companies which should be undervalued due to misperception by the market. The market should see both as having poor corporate governance and dubious business plans for the future. Boyar Value views this as false.
Moreover, both stocks should hold assets which should support Boyar's valuation which points to the significant upside over the next two to three years. MSGE should own a significant amount of land available for development. MSGS owns two sport franchises which are undervalued by the market.
Second, it was Andreas Aaen from Symmetry Invest A/S, a Danish-based L/S fund, who presented North Media A/S a mini conglomerate based in Denmark. Symmetry Invests believes the stock is undervalued due to the changes the company underwent. These supposedly went unnoticed by the market.
North Media should have improved its operations in the past three years and the only underperforming segment was sold. The holding company also owns a stock portfolio which has been appreciating in the past.
Finally, after Grizzly, it was David Neuhauser from Livermore Partners who presented two stocks. One O&G company, Vista Oil and Gas, which should be attractive due to their underlying assets in Argentina, their overall cost basis and the growth potential. The Argentinian asset should be even better than the Permian basis in the US. The other stock presented was Solgold, a copper and gold miner with similar attributes.
Both stocks should have a similar catalyst whereby large companies should be interested in acquiring the companies to further develop their assets.
(Get full weekly report and stay on top of activist short selling developments - Join Breakout Point).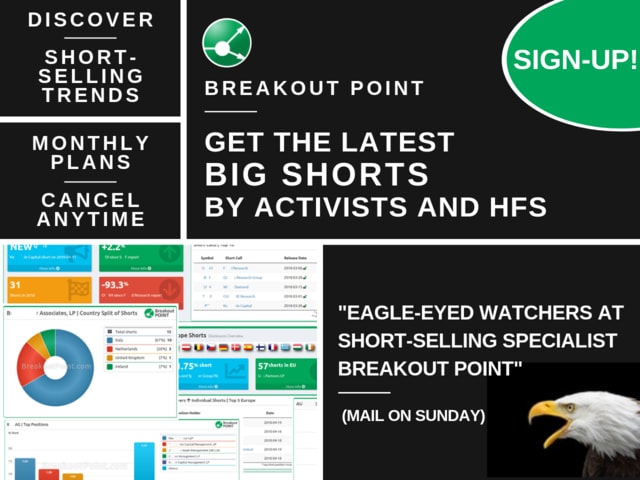 * Note: Presented data and analytics is as of available on 2020-06-06, UTC 12:00.
The services and any information provided by Breakout Point or on the Breakout Point website shall not be, or construed to be any advice, guidance or recommendation to take, or not to take, any actions or decisions in relation to any investment, divestment or the purchase or sale of any assets, shares, participations or any securities of any kind. Any information obtained through Breakout Point and its services should never be used as a substitute for financial or other professional advice. Any decisions based on, or taken by use of, information obtained through Breakout Point and by its services are entirely at own risk.