---
Weekly short selling bits and pieces: China updates short selling rules; iQIYI up in W25; Wirecard short interest spikes.
This week, we recorded two new campaigns, with targeted stocks trading 1.5% higher on average.
We highlight new short of Hindenburg and their success over at China Metal Resources which plunged over 80% in a single day.
We also focus on three large updates by Prescience Point, Aurelius Value and Night Market Research. The first is aimed at a potential accounting fraud. The second is going after a telehealth company which is now facing a flurry of lawsuits. The last is focused on a possible mini-clone of Valeant with an allegedly unsustainable business model based on supposed price gouging.
Finally, we cover the massive crash of Wirecard this Thursday and why some still believe it is a viable short.
---
Short Selling: Bits and Pieces
Short selling in China: As reported by Reuters, short-selling rules for ChiNext have recently been relaxed by Chinese regulators. The effort is for now limited to domestic investors. Head of Wolfpack Research, activist short seller that often focuses on Chinese firms, had this to say:
Without some form of freedom of speech, short selling cannot exist.
iQIYI up more than 37% this week: Recent target of Muddy Waters and Wolfpack, Chinese online video platform operator is up this week, after Reuters reported that Tencent aims to become its biggest shareholder. According to our records, of all stocks targeted by the activist short sellers in 2020, iQIYI was the best performing stock this week.
Wirecad short interest spikes: On Thursday, first day of Wirecard's plunge, disclosed short interest went from 8.7% to 15.2%. Among eight holders that were holding significant short positions prior to the drop, so far, only TCI and Slate Path did not report new short position deltas. Some of day-to-day reported deltas are unusually high, such as, 2.45% short position by Coatue, up from previous 0.62%. The regulatory framework requires disclosure of, not only short positions due to direct shares trading, but also those due to use of derivatives, such as options.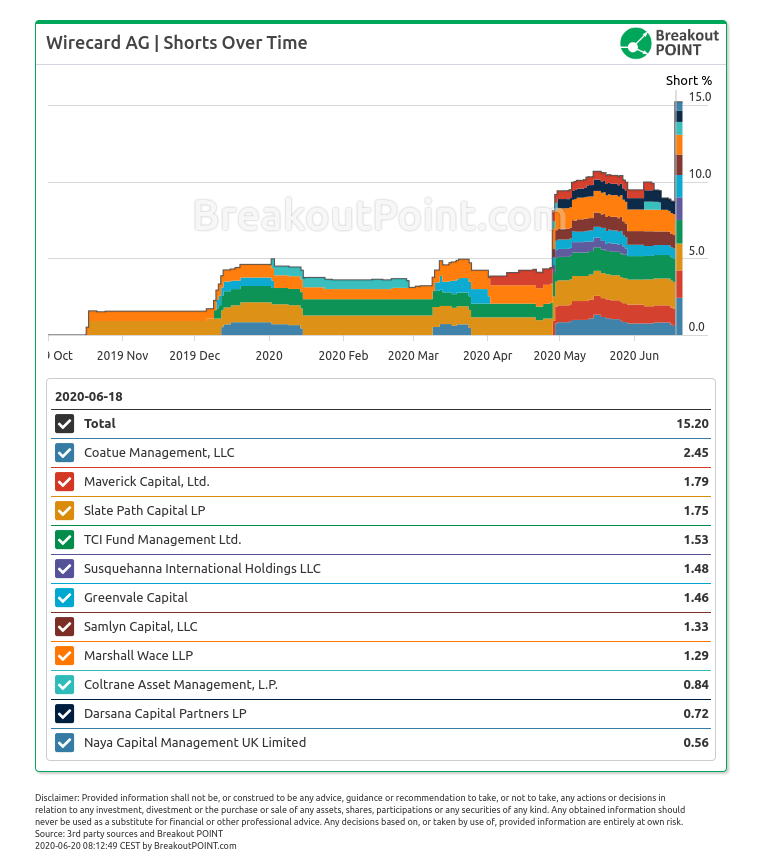 ---
---
Hindenburg sees another success
Wirecard was not the only stock that saw a massive crash. China Metal Resources was another company that collapsed. This was just several weeks after Hindenburg Research targeted this Hong Kong listed Chinese company.
The main allegations were predominantly tied to corporate governance. For example, the short-seller alleged China Metal once bought a four-month-old entity for $100m while the acquired company was leasing an empty factory.
Company recently announced delay of annual report, due to on-going work of EY, who is auditing China Metal. The auditor, also tied to Wirecard, said they are doing further due diligence on several items, with some of them previously mentioned by Hindenburg.
Just days after this came out the stock plunged by more than 80%.
We published our report on USD $1B market cap CMRU $1636.HK a little less than a month ago.

Last night, the stock plunged ~83% on 680x its avg. daily volume - days after the company announced its auditor, E&Y, was performing further due diligence on multiple issues we raised pic.twitter.com/JS1tgUcEuP

— Hindenburg Research (@HindenburgRes) June 16, 2020
As if this was not enough one of the directors also saw an apparent margin call which put further pressure on the shares. Finally, there could still be some leftover opportunity in China Metal as Hindenburg initially saw it as a zero.
While much smaller than Wirecard, it shows Hindenburg's record is strong and the market is likely to take increased notice of their activity.
If investors are impatient to read another report by Hindenburg they can do so this week as the short-seller targeted another Chinese-based company. This time it is Wins Finance Holdings (WINS), a $614m Chinese business lender.
This time the allegations are tied to a dubious share price action which saw the shares of WINS go over 700% in just span of few days. According to the short-seller, there does not seem to be any news that would support such a move. Moreover, WINS business seems to be inactive. Hindenburg visited their offices and found them abandoned. As per short report, the parent entity of WINS should be insolvent.
The report concludes this could be another zero. The shares are holding up so far.
(Get full weekly report and stay on top of activist short selling developments - Join Breakout Point).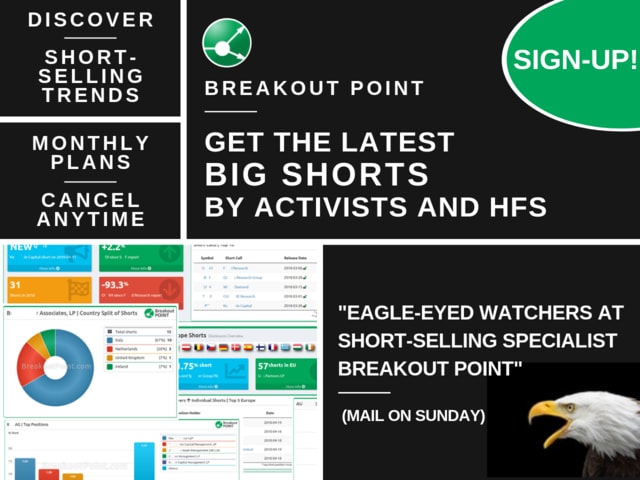 ---
FAQ | Q: Can I publish parts of above data and analytics in an article? A: As long as you reference our work in your article - yes, you can.
* Note: Presented data and analytics is as of available on 2020-06-20, UTC 10:00.
The services and any information provided by Breakout Point or on the Breakout Point website shall not be, or construed to be any advice, guidance or recommendation to take, or not to take, any actions or decisions in relation to any investment, divestment or the purchase or sale of any assets, shares, participations or any securities of any kind. Any information obtained through Breakout Point and its services should never be used as a substitute for financial or other professional advice. Any decisions based on, or taken by use of, information obtained through Breakout Point and by its services are entirely at own risk.