---
TL; DR: With Wirecard down as much as 71% today, we estimate that eight biggest short position holders are up as much as €800m.*
---

---
Today, Wirecard delayed again the publication of its eagerly awaited 2019 annual report, as Wirecard's auditor did not sign off its 2019 accounts due to missing $2.1b, sending shares as much as 71% lower. Today, shares recorded a low under €30, while yesterday's close was above €104;
This was a field day for Slate Path Capital, TCI and six other money managers, that, taking into account latest available short disclosures, were up, as much as, €800 today on their combined 8.7% short position in this German payments company;
If these big shorts are observed on its own, we estimate that today, three biggest short position holders, Slate Capital (1.75%), TCI (1.53%) and Marshall Wace (1.36%), are up as much as, €161m, €141m and €125m, respectively;
Today's events also seem to represent a long-awaited vindication for a number of critics, investigative journalists and activist short sellers that had their eyes on this DAX company for a number of years;
However, short sellers, historically, had anything but easy in Wirecard, even if we purely look at attempts to short-sell this name and, for a moment, disregard all other aspects of this book worthy saga. This tweet by head of Bronte Capital summarises it:
Wirecard is the biggest loser in the history of my firm.

We have been short a decade - and been forced to keep covering it by the relentless rise in the stock.

I wish I had never heard of it.

— John_Hempton (@John_Hempton) June 18, 2020
Development of short positions in Wirecard: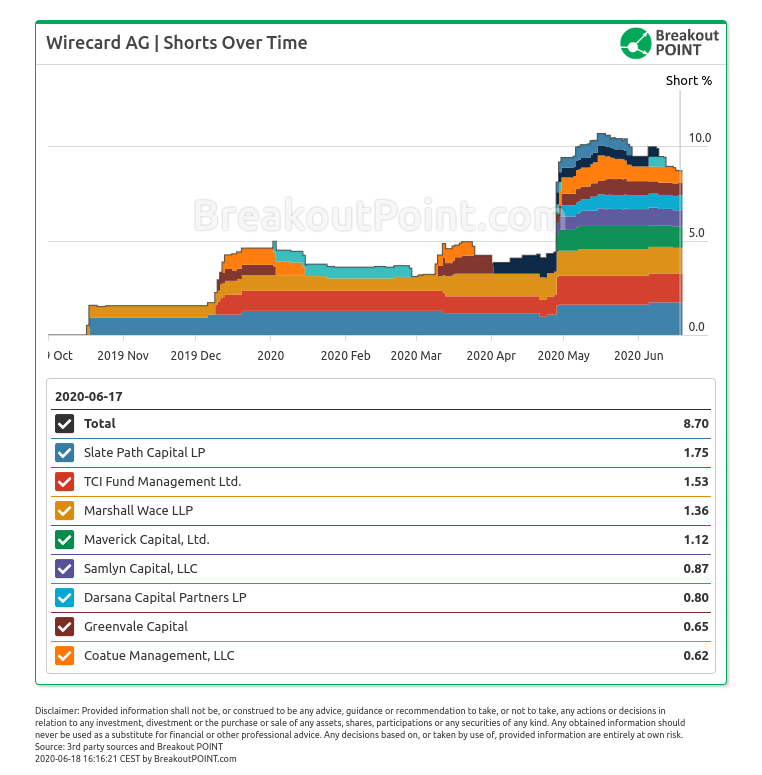 ---
Stay on top of short selling developments. Sign up for Breakout Point!
---
FAQ | Q: Can I publish parts of above data and analytics in an article? A: As long as you reference our work in your article - yes, you can.
FAQ | Q: How can I get more related data and analytics? A: Join Breakout Point to benefit from unique short-selling insights.
* Note: Presented short selling data is based on European net short position data which is disclosed to the public when short positions at least equal to 0.5% of company issued share capital. "Big short" refers to a short position above 0.5% of company issued capital. Presented data and analytics is as of available on 2020-06-18 15:00h UTC.