---
Weekly short selling bits and pieces: SEC and China Hustle 3.0; Worst 'short call' in Q2; Citron's report: now you see it, now you don't.
We highlight Hindenburg's take on a roll-up which has been previously targeted by Glasshouse Research and Citron. The short-seller believes that, as the M&A strategy is now being paused, the flaws in the model will come out and the stock should drop.
We also look at an update by J Capital targeting an Australian company which, as per activist short seller, could see further downside around August.
Another week brought also another report targeting a well-known US-listed Chinese online educator.
Finally, we highlight two major movers this week. Citron was happy, while Culper Research reiterated their initial thesis in the face of the shares going up and remain short.
---
Short Selling: Bits and Pieces
China Hustle 3.0? It seems that SEC is taking their China steps increasingly seriously. They are hosting an interesting webinar on the 9th of July which will feature Carson Block of Muddy Waters and Professor Paul Gillis who runs the China Accounting Blog. We run a related poll, and, have to add that, we would certainly buy a ticket to watch Muddy Waters at BaFin's roundtable:
After the SEC, which regulator is likely to invite @muddywatersre to a roundtable next?

— Breakout Point (@BreakoutPoint) July 2, 2020
Worst 'short call' in Q2: Since close on 1st of May, day when Elon Musk tweeted "Tesla stock price is too high imo", Tesla shares are up more than 72%. If this has been tracked as a short call in our database, it would have been among three poorest performing Q2 short calls. However, we doubt that this fact worries Mr Musk in the slightest. Actually, CEO of Tesla kicked off Q3 with series of tweets about SEC and short sellers.
Now you see it, now you don't: Citron published, but then pulled a bearish report on Cytodyn. On the day of the report, the shares of this multi-billion company hit a new multi-year high, but then plunged as much as 53% on intraday basis.
---
---
Big Movers
This week's major moves included a sharp downturn for Inovio (INO), Citron's short. The short-seller was partially vindicated as they did tweet INO would be back down soon after the substantial increase in share price several days ago. We highlighted the tweet last week in our weekly summary.
The other notable mover was CATS which was up more than 20%. CATS is a target of Culper Research who focused on the company due to allegations of questionable corporate governance and business model challenges. The shares jumped in the week most likely due to the company's PR saying that they have expanded their services to another 13 states. This, however, did not impress Culper who remain sceptical of the stock as per the below tweets.
It is now July 1, and Catasys $CATS remains without a national deal. If the Company is really set to exceed expectations, why was it just forced to amend minimum revenue and EBITDA covenants?https://t.co/9mmnBvgLKfpic.twitter.com/9iyO07sLg6

— Culper (@CulperResearch) July 1, 2020
Correct - $CATS covenants previously required a minimum $90M in 2020 revenues. That is now $90M of *2-quarter annualized* revenues, equating to just $63.5M in 2020 revenues, a massive break from the Company's previous claims. https://t.co/hJC4DC8Bz1pic.twitter.com/ZO7vHQsHqY

— Culper (@CulperResearch) July 1, 2020
---
New Campaigns
...
(Get full weekly report and stay on top of activist short selling developments - Join Breakout Point).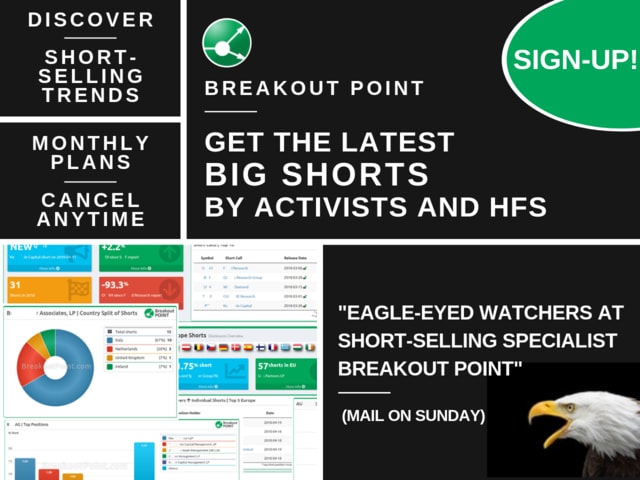 ---
FAQ | Q: Can I publish parts of above data and analytics in an article? A: As long as you reference our work in your article - yes, you can.
* Note: Presented data and analytics is as of available on 2020-07-04, UTC 10:00.
The services and any information provided by Breakout Point or on the Breakout Point website shall not be, or construed to be any advice, guidance or recommendation to take, or not to take, any actions or decisions in relation to any investment, divestment or the purchase or sale of any assets, shares, participations or any securities of any kind. Any information obtained through Breakout Point and its services should never be used as a substitute for financial or other professional advice. Any decisions based on, or taken by use of, information obtained through Breakout Point and by its services are entirely at own risk.