---
Weekly short selling bits and pieces: ESMA to conduct a peer review of BaFin; Chinese state TV expose vindicates parts of Wolfpack's QTT report; Boohoo declines and Lansdowne discloses a short.
We look at the recent lawsuit activity surrounding some of the released campaigns. From our experience, when the management starts to sue the short-seller, investors should pay increased attention to the campaigns.
We also highlight two big movers that have been going against the short campaigns recently. Both stocks are up on hopes on increased revenues and margins, while the allegations of the short-sellers are still outstanding.
---
Short Selling: Bits and Pieces
Peer review of BaFin: This week ESMA announced that they will conduct a peer reviewed assessment of German financial reporting system following Wirecard collapse. Valuable insights about this review, as well as several comments by BaFin and by Wirecard critics are available in Global Capital's piece "Reckoning begins for BaFin after it pursued Wirecard foes, not fraudsters".
QTT in focus of Chinese State TV : Back in December 2019, Wolfpack Research published a short report on Qutoutiao (QTT) that, among a number of issues, questioned advertising practices and related revenues. This week, a week-on-week drop of more than 25% and a partial vindication of Wolfpack's views happened after an expose on Chinese state TV, whose main points are summarised in Caixin Global:
"Qutoutiao was accused of selling dubious and suspicious ads containing false information or information that greatly overstated the effectiveness of relevant products. Also, the app was accused of hosting content that baited users to enter illegal sites such as gambling sites."
Boohoo declines further: On Monday shares in Boohoo lost nearly 18% after analysts at Bank of America published a note suggesting firm's UK growth could halve. Furthermore, on Saturday, The Times published an article that links Boohoo founder to laundering case. Interestingly, famous European money manager, Lansdowne that recently announced that they are planning to shift away from short selling, disclosed that they hold a 0.58% Boohoo short on Tuesday. This is a first new 'big short' of Lansdowne in our records since 2nd half of May.
---
An incoming flurry of lawsuits?
The recent weeks saw an increased number of lawsuits and law firms being mentioned by companies which have been targeted by short-sellers.
The most recent action was by Ideanomics (IDEX), an EV-related US-listed Chinese company, which has been successfully targeted by Hindenburg Research and JCapital Research due to IDEX's claims about their business which both short-sellers see as allegedly fraudulent.
As the stock has plunged from its recent highs, IDEX is now more than 55% lower since the reports, the management has released this tweet mentioning services of a law firm.
We have received Hindenburg's letter, and we would like to state we do not owe them a response. That said, we have retained a top-ranked Am Law 200 global law firm to advise us and deal with short-selling campaigns.

— Ideanomics (@ideanomicshq) July 9, 2020
Hindenburg quickly responded and said that they will continue to work on the company.
We welcome it. We're not surprised to see $IDEX hide behind legal threats instead of addressing a single issue we've raised.

We have continued our work and plan to release more evidence. https://t.co/WVp2RtJRcL

— Hindenburg Research (@HindenburgRes) July 9, 2020
As far as we could check, so far, the only lawsuits launched against IDEX were by its shareholders due to the allegations raised by the short-sellers.
Just a few days before IDEX, Applied Therapeutics (APLT) also said to take a formal action against Biotech Research Partners who have focused on this $680m biotech due to allegations of multiple red flags in APLT's Phase 2 trial of the company's key assets. The press release, which became public just five days after the report, even talks about hiring a former federal prosecutor.
While Biotech Research Partners have not responded to the threat, the short-seller received support from Muddy Waters who released the below tweet questioning APLT's threat.
Looks like the company decided to answer this for me (usually this type of response means the short report was close to the bone and accurate). Anyway, thanks for the help guys. $APLThttps://t.co/PJs0w7P9uApic.twitter.com/1lvsl8UiDj

— MuddyWatersResearch (@muddywatersre) July 6, 2020
The famous short-seller also later pointed out sales of one of APLT's insiders and said that they are tempted to go short.
$APLT - These are the guys threatening legal action over the anonymous short report last week. Still no position, but boy, it's tempting! https://t.co/hrPOYXu3T3

— MuddyWatersResearch (@muddywatersre) July 10, 2020
As with IDEX, APLT's press release seems to be so far only a threat as we could not locate an actual lawsuit being filed against Biotech Research Partners.
However, probably the most curious case is NovaGold (NG), which actually already filed a lawsuit. This mining company sued J Capital Research ("JCap") who released a report about NG in late May. The report mainly talked about NG's key project in Alaska which is supposedly not viable. Moreover, JCap also believes the management of NG has been obfuscating the cost of the project and has supposedly routinely misled investors about the prospects of this venture.
NG has replied several times to JCap and at the end of June decided to file a lawsuit as they seek damages from JCap because of its report. The stock did go down after the report as is now down more than 20%. The case has been filed in Eastern District of New York with the case number 20-cv-2875.
In the initial complaint, NG is mainly focusing on two aspects of JCap's research. The first is JCap's language around the cost of NG's project. The company believes the short-seller has falsely claimed the management has been misleading investors. This is mainly focusing on two numbers used in NG's filings.
The other aspect of the lawsuit is about the overall feasibility of the project. The company attacks JCap for its language used in the report and points out several places where the short-seller is allegedly wrong. To a good extent, the company seems to be arguing by mentioning the project's feasibility study.
It will be interesting to follow the docket and potentially learn even more about NG and its operations. As for JCap, they might try and pursue the Anti-SLAPP defence (free speech defence). However, the New York district's law differs from other states in the US (such as California). We will see if this lawsuit does end up showing something different to the others already fought and mostly won by short-sellers.
---
Big Movers
...
(Get full weekly report and stay on top of activist short selling developments - Join Breakout Point).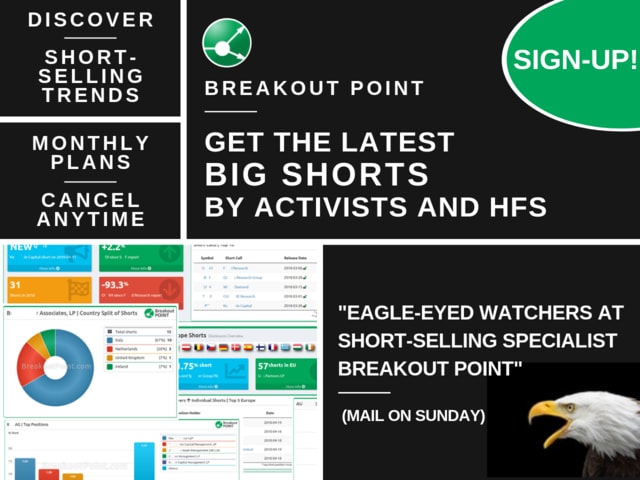 ---
FAQ | Q: Can I publish parts of above data and analytics in an article? A: As long as you reference our work in your article - yes, you can.
* Note: Presented data and analytics is as of available on 2020-07-18, UTC 12:00.
The services and any information provided by Breakout Point or on the Breakout Point website shall not be, or construed to be any advice, guidance or recommendation to take, or not to take, any actions or decisions in relation to any investment, divestment or the purchase or sale of any assets, shares, participations or any securities of any kind. Any information obtained through Breakout Point and its services should never be used as a substitute for financial or other professional advice. Any decisions based on, or taken by use of, information obtained through Breakout Point and by its services are entirely at own risk.