---
Short selling bits and pieces: Jim Chanos says this is 'the golden age of fraud'; 'Retail Bros' and 'Activist Shorts' universes collide; Long-awaited auditor's review is out.
This week we recorded 4 new campaigns, with targeted stocks trading 5.9% lower on average. We have passed the 100th campaign of 2020 mark this week.
We highlight new short of Hindenburg who targeted a Canadian listing worth over $1bn despite, what activist considers to be, glaring red flags around its business model and corporate governance. It is allegedly a stock promotion scheme.
We also look at Tesla earnings and scrutinize the new development in an ongoing conflict between short-seller and a European bitcoin-focused fintech.
---

---
Short Selling: Bits and Pieces
Golden age of Fraud? Jim Chanos called the current period 'the golden age of fraud' in FT interview. Also, FT revealed that Chanos pocketed $100m from Wirecard short. In the same article, Chanos talked about auditors:
"When people ask us, who were the auditors, I always say 'Who cares?' Almost every fraud has been audited by a major accounting firm."
Long-awaited auditor's review: Trading in Best World International is suspended since 9 May 2019. PwC's full report on Best World International is finally out, and a summary of the key issues can be found in The Business Times: "PwC review uncovers questionable deposits, potential breaches of law". Bonitas Research and Valiant Varriors published short reports back in April 2019.
'Retail Bros' vs 'Activist Shorts' This week we have seen the 'retail-bros' captain Dave Portnoy face Wolfpack Research. The short-seller targeted Microvision (MVIS) which is long of Davey Day Trader. The conflict escalated with Portnoy accusing Wolfpack of manipulation, and Wolfpack quickly tweeting back:
You're for two things 1) Dave 2) Portnoy, so just shut up already you're not fooling anyone. We've been publishing the truth for over a decade while you were playing with your pepperoni. https://t.co/w6rDnibBTy

— Wolfpack Research (@WolfpackReports) July 22, 2020
---

---
Big Movers
This week we have seen Silvercorp continue to make new multi-year highs. This share price action was mainly driven by the news that the mining company was able to move forward with one of its properties and find gold on the property. While this might be positive, we wanted to rceall that Silvercorp was targeted by Hindenburg in April of this year alongside New Pacific Metals.
The core of the allegations was tied to New Pacific mine in Bolivia. The company apparently lost access to the property. This should strike a strong blow to the mining company's prospects and affect Silvercorp due to its part ownership of the New Pacific. Initially, the short-seller saw 45% downside for Silvercorp. The stock is now up over 100% since Hindenburg's report.
Another stock that has been rising despite strong allegations by the short-sellers is Sorrento Therapeutics (SRNE), COVID-19 related biotech. Despite three reports by three short-sellers which pointed out the alleged promotional messages by the company and supposedly dubious nature of the COVID-19 cure, the stock continued to march higher. This was likely mainly because of the news that FDA cleared SRNE for Phase 2 for the cure.
---
New Campaigns
...
(Get full weekly report and stay on top of activist short selling developments - Join Breakout Point).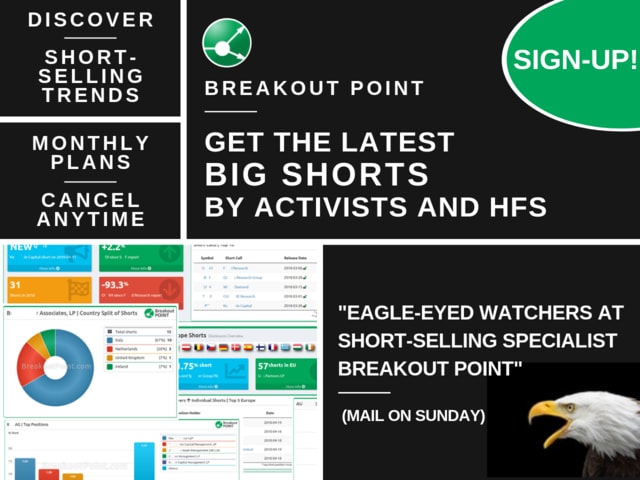 ---
FAQ | Q: Can I publish parts of above data and analytics in an article? A: As long as you reference our work in your article - yes, you can.
* Note: Presented data and analytics is as of available on 2020-07-18, UTC 12:00.
The services and any information provided by Breakout Point or on the Breakout Point website shall not be, or construed to be any advice, guidance or recommendation to take, or not to take, any actions or decisions in relation to any investment, divestment or the purchase or sale of any assets, shares, participations or any securities of any kind. Any information obtained through Breakout Point and its services should never be used as a substitute for financial or other professional advice. Any decisions based on, or taken by use of, information obtained through Breakout Point and by its services are entirely at own risk.