---
Short selling bits and pieces: Short selling and ESG; PAA Research in Barron's; Insiders vs Retail Investors.
This week, we recorded one new major campaign. This is only second report by this activist short seller that had their inagural report in May
We highlight this week's new campaign as it is proposing a straightforward short thesis with interesting supporting evidence. The catalysts are present and clear.
Finally, we look at a peculiar answer of a CEO of a medical device company when asked about investigations by insurance companies into their pricing.
---

---
Bits and Pieces
Short selling and responsible investment: This recent study by AIMA looks at role of short selling in ESG. It uses carbon footprinting as an example to illustrate how short selling could create positive impacts for the wider markets. Fraud or bad corporate governance would have also been nice examples next to this.
PAA in Barron's: Bradley Safalow of PAA Research, for whom the famous short seller Cohodes said, "He's the best," discussed four of their short picks in more detail. Also mentioned in this piece is that, since 2010, PAA picks:
outperformed the market by 50% on his longs and 30% on his shorts since 2010.
On August 11, Bradley from PAA Research will be presenting a new idea at Contrarian Investor Virtual Conference.
Insiders vs Retail Investors: As per below tweet, Moderna's Chief Medical Officer sold every single share he owned of the supposedly promising biotech in search of vaccine against COVID-19:
$MRNA more form 4s lol, CMO has now sold every share he owns!! Yes every single share.

— Eric Wood (@elkwood66) July 29, 2020
On a related note, Muddy Waters had this to say about long side investing in biotech:
My 6 y.o. son asked if he could help me invest. I said "You've got a good vocabulary and are decent at basic math, but you only read at a 1st grade level. You're really only qualified to invest in biotech - long side." https://t.co/Gjgouz38Ui

— MuddyWatersResearch (@muddywatersre) July 27, 2020
---

---
Big Movers
While Genius Brands International Inc (GNUS) plunged further and reached Hindeburg's price target, this week was tough for one of other recent Hindenburg's shorts. Facedrive (FD), a company which is allegedly more of a stock promotion than a real business according to the short-seller, has risen over 30% since the initial report. This happened without a response by the company and a follow-up by Hindenburg, so will be an interesting stock to watch in W32.
Another stock that has been quietly creeping up is Caanan (CAN), which was targeted first by Aurelius Value before the COVID-19 downturn and then by White Diamond Research in the middle of May. The short-sellers targeted the company due to its dubious fundamentals such as ongoing losses and corporate governance. The campaigns were both ultimately successful as the stock is down over 50% since then. However, it seems that the price of bitcoin which has been increasing recently might be prompting another rally in the stock. This was the exact reason why White Diamond targeted the stock after Aurelius Value. Thus, investors might be interested in scrutinizing what is going to happen.
---
Canadian REIT troubles?
This week we have recorded an interesting campaign by...
...
(Get full weekly report and stay on top of activist short selling developments - Join Breakout Point).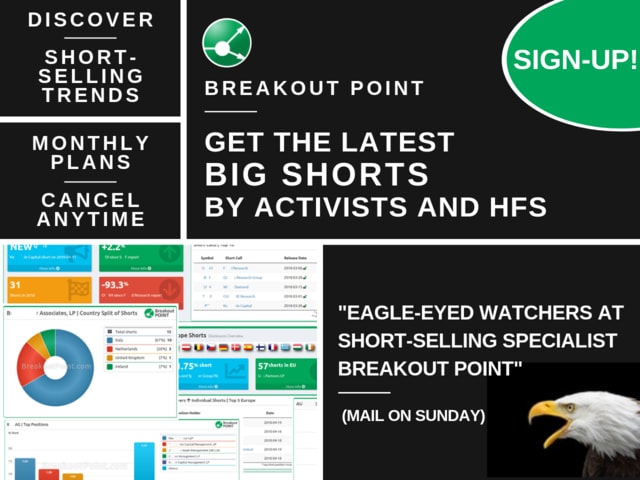 ---
Save time and ask us for independent short thesis verification. Get our custom support. Contact Breakout Point!
---
FAQ | Q: Can I publish parts of above data and analytics in an article? A: As long as you reference our work in your article - yes, you can.
FAQ | Q: Could you provide more related data and analytics? A: Sure, contact us and we'll try to help as soon as possible.
* Note: Presented data and analytics is as of available on 2020-08-01, UTC 12:00.
The services and any information provided by Breakout Point or on the Breakout Point website shall not be, or construed to be any advice, guidance or recommendation to take, or not to take, any actions or decisions in relation to any investment, divestment or the purchase or sale of any assets, shares, participations or any securities of any kind. Any information obtained through Breakout Point and its services should never be used as a substitute for financial or other professional advice. Any decisions based on, or taken by use of, information obtained through Breakout Point and by its services are entirely at own risk.