---
This week, we recorded five new activist short reports, with targeted stocks trading 9.5% lower vs prior to the reports.
Most of short calls were published during a virtual conference we co-organised. Some of the notable ones include a fresh short thesis on a well-known pet insurer and a new China Hustle 2.0 target.
We also highlight some of the biggest recent movers. One of the best performers for the short sellers was a struggling cinema chain which might see further challenges and a Muddy Waters short which reacted to earnings. The biggest losers for the short sellers were tied to two biotechs which seemingly did not showcase any material news.
---
Bits and Pieces
BaFin staff and Wirecard trading: Another twist in Wirecard story has been provided after Reuters reported that BaFin staff "bought and sold Wirecard shares in ever higher volumes as the payments company edged towards collapse". Wirecard shares had a number of volatile trading periods, such as, around BaFin's short selling ban. For the sake of transparency, it would be interesting to see more related data.
Wolfpack's Impact: Chinese-based US-listed Netflix-like service iQiyi dropped after it was revealed that SEC is investigating fraud allegations. This has been prompted by April's report of Wolfpack Research. Wolfpack's allegations revolve around inflating revenue and user numbers. In spite of this week's drop, iQiyi is trading about 15% higher than prior to the short sellers report.
$IQ announces SEC investigation and internal review of its accounting practices following our report in April of this year https://t.co/o5PVAHCFZ3pic.twitter.com/gR7EOOw7sb

— Wolfpack Research (@WolfpackReports) August 13, 2020
Robinhood Popularity API shuts down: About a week after announcing this, Robinhood's API, which provided popularity data, ceased operation. This data was popular not only with journalists and momentum investors, but also with short sellers, who frequently applied reverse Robinhood swarming strategies. The good news is that there are a few great alternatives and proxies for Robinhood's popularity data, eg our Retail Flows plan provides real time retail sentiment, estimates retail flows and positioning, and alerts about activities of VIP retail investors.
---

---
Big Movers from Contrarian Conference
---
This week's virtual Contrarian Conference hosted by us, Contrarian Podcast and ValueWalk was full of new short ideas. The presenting guest were seasoned short-sellers such as Wolfpack or PAA Research.
One of the most interesting presentation was by PAA Research. Bradley Safalow talked about a relatively well-known short, Trupanion (TRUP), a $2.2bn pet insurance company. He targeted the stock especially because of the recent reaction to TRUP's Q2 results which has propelled the shares to new all-time highs.
According to the short-seller, this is unreasonable as the total addressable market is still being overstated by bullish investors. Moreover, TRUP is now allegedly becoming uncompetitive as their policies are expensive and they cannot match new entrants into the space.
Finally, despite years of revenue growth, the company is still unprofitable which supposedly shows TRUP's business model is not easily scalable.
Due to this, Bradley sees TRUP trading below $10 per share eventually.
One observant question during the presentation was what Brad sees as a near-term catalyst for the thesis. This was asked because TRUP has been in the crosshairs of short-sellers for a while now, yet the shares have continued to appreciate. Our platform is showing a campaign by The Capitolist from 2017. Other authors have targeted the stock on Seeking Alpha. Bradley, however, said that the slowdown in the growth of policyholders in the next few quarters should act as a strong enough catalyst despite the apparent resilience of TRUP to similar allegations.
So far, TRUP has been selling off after the major rally. The stock is down 11.5% since Bradley's pitch.
Another in-depth report was presented by J Capital Research who targeted STARR Surgical, a US-listed Chinese-based company due to classic allegations seen in many 'China Hustle 2.0' stocks. Anne Stevenson-Yang was mainly talking about STAR's relationship with its distributors and booked revenue.
We think $STAAR's China sales are overstated by at least 33%. That would mean NONE of STAAR's profit actually exists. Read our report at https://t.co/I4QvrhEG1mpic.twitter.com/MajrS9Irzx

— J Capital (@JCap_Research) August 11, 2020
She alleges STARR inflated their numbers through supposedly fake distributors. She also questioned STAR's business in Switzerland as official statistics put doubt on STAR's reported numbers from the area.
Due to the allegations of possible inflated revenue, J Capital sees material downside as restatements might be needed. The stock dropped as much as 10% on the first day of the report and is now down about 8.5%.
Lighthaven Capital also contributed and presented short idea targeting Energous Corp. (WATT) due to allegations of the inefficiency of their core product, wireless charging technology. According to the short-seller, the company is supposedly not closer to getting the tech approved and be it a consumer success.
Thus, the recent share price which was boosted by supposedly immaterial news should eventually return to the previous trading range of below $1 per share. WATT is not a new target as several short-sellers have written about the situation at the company in around 2017 for similar reasons.
The last short idea was presented by Wolfpack Research who targeted Remark (MARK), a sub-$200m tech company due to allegations of improper disclosure about their subsidiaries, products and corporate governance.
The main claim of Dan David, who was presenting for the firm, was that MARK's share price was supposedly pumped by the management notes about their new thermal temperature camera business. While it might seem such business could boom in COVID19 era, this short-seller believes MARK is actually using a potentially unreliable third-party product which they just rebranded.
At the same time, Wolfpack also pointed out supposed red flags in corporate governance such as CEO's debts to Las Vegas casinos and improper proxy voting procedures. MARK commented and called Wolfpack's research "misleading and sloppy".
The presentation was as thoroughly researched as entertaining and we recommend watching it below.
1/ We are short $MARK because we believe it is defrauding investors and customers alike. Its thermal kit appears to be relabeled from Hikvision, a blacklisted Chinese SOE. $MARK doesn't own KanKan in China and had its Sharecare stake repossessed in Jan '20 https://t.co/5Wp4euZwJC

— Wolfpack Research (@WolfpackReports) August 11, 2020
This is because the short seller could not leave out the fact that MARK was mentioned many times by Dave Portnoy. Thus, the Wolfpack vs Portnoy saga continued as he reacted to Wolfpack's thesis on Twitter.
How many times have I said MARK is the #WOAT? Dan David just wants you and all of America to go broke. I want you to get rich with me #DDTGpic.twitter.com/6kO0EANITq

— Dave Portnoy (@stoolpresidente) August 12, 2020
It could be that this is not the last episode.
Looks like @stoolpresidente took a bath on $MARK before closing the position

At the very least Davey has less conviction here than @WolfpackReports

(As an aside, our conference keeps getting mentioned in these pieces, which is nice) pic.twitter.com/kZqIT6RDmb

— Contrarian Investor Podcast (@PodContrarian) August 14, 2020
Finally, it is worth pointing out that Quintessential's Gabriel Grego was also presenting at the conference but this time with an activist long idea. He delivered an interesting positive report on Sun Corporation which is listed in Japan.
This is an old Japanese holding company undergoing changes which were spurred by the shareholders. Last year they voted out the old management which was allegedly slow to unlock the value of Sun's main asset, a mobile cybersecurity business. This part of the business is apparently growing fast and maintains a distinct edge over others in the space. The company should also get rid of its legacy pachinko business which should further help the earnings. QCM sees uplisting to NASDAQ as a final catalyst for the whole business.
...
(Get full weekly report and stay on top of activist short selling developments - Join Breakout Point).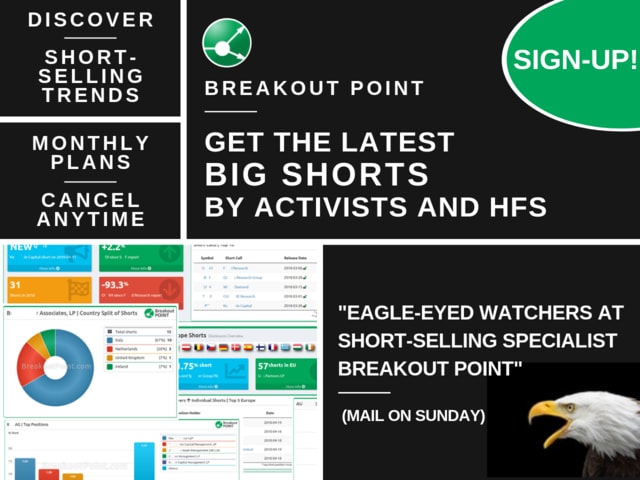 ---
FAQ | Q: Can I publish parts of above data and analytics in an article? A: As long as you reference our work in your article - yes, you can.
FAQ | Q: Could you provide more related data and analytics? A: Sure, join Breakout Point and start benefitng from our services.
* Note: Presented data and analytics is as of available on 2020-08-15, UTC 12:00.
The services and any information provided by Breakout Point or on the Breakout Point website shall not be, or construed to be any advice, guidance or recommendation to take, or not to take, any actions or decisions in relation to any investment, divestment or the purchase or sale of any assets, shares, participations or any securities of any kind. Any information obtained through Breakout Point and its services should never be used as a substitute for financial or other professional advice. Any decisions based on, or taken by use of, information obtained through Breakout Point and by its services are entirely at own risk.