---
In W34 we have registered six new short calls. Targeted stocks trade on average 6% lower, with a recent retail favourite, targeted by two short sellers, performing worst and trading about 33% lower.
Perhaps the most interesting campaign this week was by Spruce Point Capital who step out of their usual style and targeted a short filled with supposed corporate governance red flags. Spruce sees 100% downside.
We also keep an eye on the upcoming catalysts in a recent German-listed short target which recently started to climb back up after losing over 30% after the initial report.
---
Save time and ask us for independent short thesis verification. Get our custom support. Contact Breakout Point!
---
Bits and Pieces
Upcoming short of Viceroy: A first short report post Wirecrad collapse is expected by Viceroy Research. Viceroy announced that they will be in communications blackout until the publication of this report. So far this has been communicated by Viceroy's analyst in a tweet:
"50+ pages, money laundering, binary options scams, undisclosed related party transactions and screwing over small businesses, taxpayers, and charities."
Short-selling Down Under: VGI Partners founder and portfolio manager Rob Luciano recently commented:
"In a world of endless money printing and government stimulus, the traditional short selling approaches may not work as effectively as they had done before."
More on why this well-known Australian short seller, best known for Slater & Gordon and Corporate Travel Management shorts, cut their short exposure from 47% to only 9% is in this Business News Australia's article.
Portnoy asks Wolfpack to look into a stock: The most prominent retail investor again mentioned activist short sellers, specifically Wolfpack Research. This time, however, Dave Portnoy actually asked Dan David of Wolfpack Research to look into Marathon Patent Group Inc (MARA), a stock he had recently removed from his portfolio after stock prices had fallen.
Looks like it's time to start shorting stocks, @stoolpresidente - that's where the big boys play. The long side is for amateurs. https://t.co/mOhYgFLHZEpic.twitter.com/57DOyweGCb

— Wolfpack Research (@WolfpackReports) August 21, 2020
---
Need retail flows and sentiment? Robinhood's API, which provided popularity data, recently ceased operation. This data was popular not only with journalists and momentum investors, but also with short sellers, who frequently applied reverse Robinhood swarming strategies. The good news is that there are a few great alternatives and proxies for Robinhood's popularity data, eg our Retail Flows plan provides real time retail sentiment, estimates retail flows and positioning, and alerts about activities of VIP retail investors.

---
Big Movers
---
New Campaigns
Spruce Point targets an alleged zero in the making
This week we have seen one of the most active short-sellers step out of its usual style and target GFL Environment (GFL), a $6bn environmental roll-up. The short-seller targeted the stock due to allegations of serious corporate governance lapses as well as aggressive accounting which obscures real leverage.
Most importantly, the detailed report believes that two new acquisitions...
(Get full weekly report and stay on top of activist short selling developments - Join Breakout Point).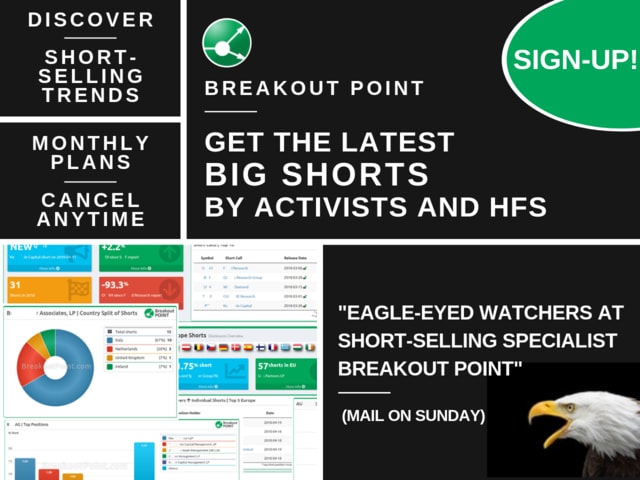 ---
FAQ | Q: Can I publish parts of above data and analytics in an article? A: As long as you reference our work in your article - yes, you can.
FAQ | Q: Could you provide more related data and analytics? A: Sure, join Breakout Point and start benefitng from our services.
* Note: Presented data and analytics is as of available on 2020-08-22, UTC 12:00.
The services and any information provided by Breakout Point or on the Breakout Point website shall not be, or construed to be any advice, guidance or recommendation to take, or not to take, any actions or decisions in relation to any investment, divestment or the purchase or sale of any assets, shares, participations or any securities of any kind. Any information obtained through Breakout Point and its services should never be used as a substitute for financial or other professional advice. Any decisions based on, or taken by use of, information obtained through Breakout Point and by its services are entirely at own risk.