---
This week we have registered two new major short campaigns with targeted shares trading on average 5.8% lower.*
The most interesting campaign of this week is Grizzly's comeback to the scene. The short-seller targeted what is supposedly another China Hustle 2.0 zero which is allegedly facing major challenges in the wake of the COVDI19 pandemic.
We also look at the major movers this week which include two COVID19 plays. One seems to have fallen from grace, the other might be picking up steam despite the existing allegations.
Finally, we scrutinize the response of Blink to Culper's campaign. The CEO is trying to explain his past track record, while the short-seller is saying nothing has changed.
---
Bits and Pieces
Ban it like South Korea: Six months of short selling ban were seemingly not enough, so South Korea extended ban for another six months.
Big Short 2.0: Good read in NYT about how Apollo Global Management made north of $100 million in 2020 by shorting the CMBX 6 and other commercial real estate securities. NYT story revolves around US shopping malls, while we at Breakout Point have been observing and flagging a number of big bets against European shopping malls in 2020. Woodson Capital stands out in our records when it comes to European big shorts in this sector: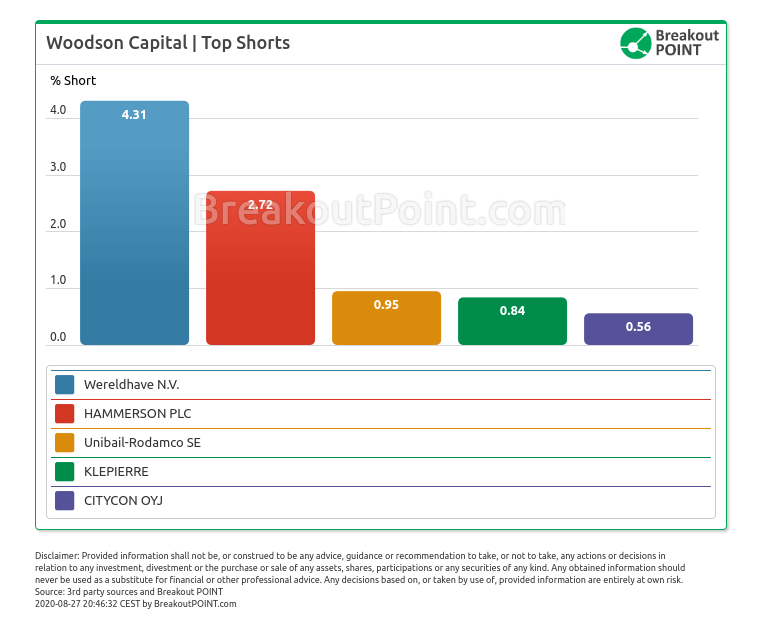 Special message to short sellers: This message by CEO of Sorrento Therapeutics earned instant spot in our list of most peculiar responses to short sellers (Note: Sorrento is a short of Hindenburg, Viceroy and J Capital):
BREAKING NEWS

President & CEO of Sorrento Therapeutics has a message to those who tried to manipulate $SRNE stock

100+ PHDs working on COVID-19
The manufacturing facility is impressive

... "I'm giving them a fair warning shot. Just cover yourself, don't ruin your family" pic.twitter.com/LlZ2pjTp0V

— RagingBull (@RagingBull) August 25, 2020
---
Need retail flows and sentiment? Robinhood's API, which provided popularity data, recently ceased operation. This data was popular not only with journalists and momentum investors, but also with short sellers, who frequently applied reverse Robinhood swarming strategies. The good news is that there are a few great alternatives and proxies for Robinhood's popularity data, eg our Retail Flows plan provides real time retail sentiment, estimates retail flows and positioning, and alerts about activities of VIP retail investors.

---
Big Movers
---
New Campaigns
Grizzly Comes Back with Alleged Chinese Zero
One of the most notorious short-sellers behind the GSX Techedu saga came out this week with allegations against another Chinese company. This time it is a $1.5bn consumer lender, Lexfintech Holdings (LX), listed in the US. The allegations were mainly connected to the core business of the company.
According to the short seller, LX's business supposedly will soon implode due to...
(Get full weekly report and stay on top of activist short selling developments - Join Breakout Point).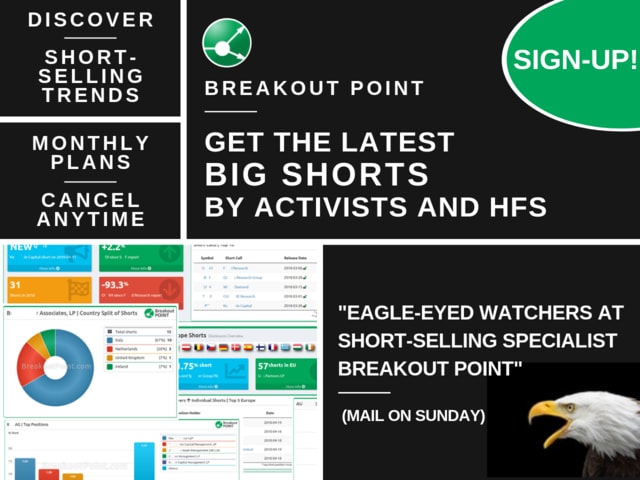 ---
FAQ | Q: Can I publish parts of above data and analytics in an article? A: As long as you reference our work in your article - yes, you can.
FAQ | Q: Could you provide more related data and analytics? A: Sure, join Breakout Point and start benefitng from our services.
* Note: Presented data and analytics is as of available on 2020-08-27, UTC 12:00.
The services and any information provided by Breakout Point or on the Breakout Point website shall not be, or construed to be any advice, guidance or recommendation to take, or not to take, any actions or decisions in relation to any investment, divestment or the purchase or sale of any assets, shares, participations or any securities of any kind. Any information obtained through Breakout Point and its services should never be used as a substitute for financial or other professional advice. Any decisions based on, or taken by use of, information obtained through Breakout Point and by its services are entirely at own risk.