---
This week we have registered five new activist short campaigns, with targeted shares trading 3.6% lower.
Hindenburg delivered a short report on a well-known EV start-up. The report included strong claims of fraudulent behaviour. Financial Times corroborated some of the evidence.
We also highlight a new report on a perennial Chinese short which is now under SEC investigation. The report poses a simple question based on straightforward research of public employee data.
Lastly, we scrutinize the weekly movers, we look at Nikola-related stock that has been moving up as well as one China Hustle 2.0 candidate which also traded up.
---
Bits and Pieces (Nikola Edition)
QCM to founder of Nikola: One might be only entitled to such a bold statment if one has a track record as QCM. QCM had this to say to founder of Nikola:
Look us up. Then sell your shares.
Retail investors and Nikola: The most famous retail investor in the world, Dave Portnoy, mentioned that he likes Nikola, but does not have her in his portfolio. We recorded a record retail investors swarming a few days ago: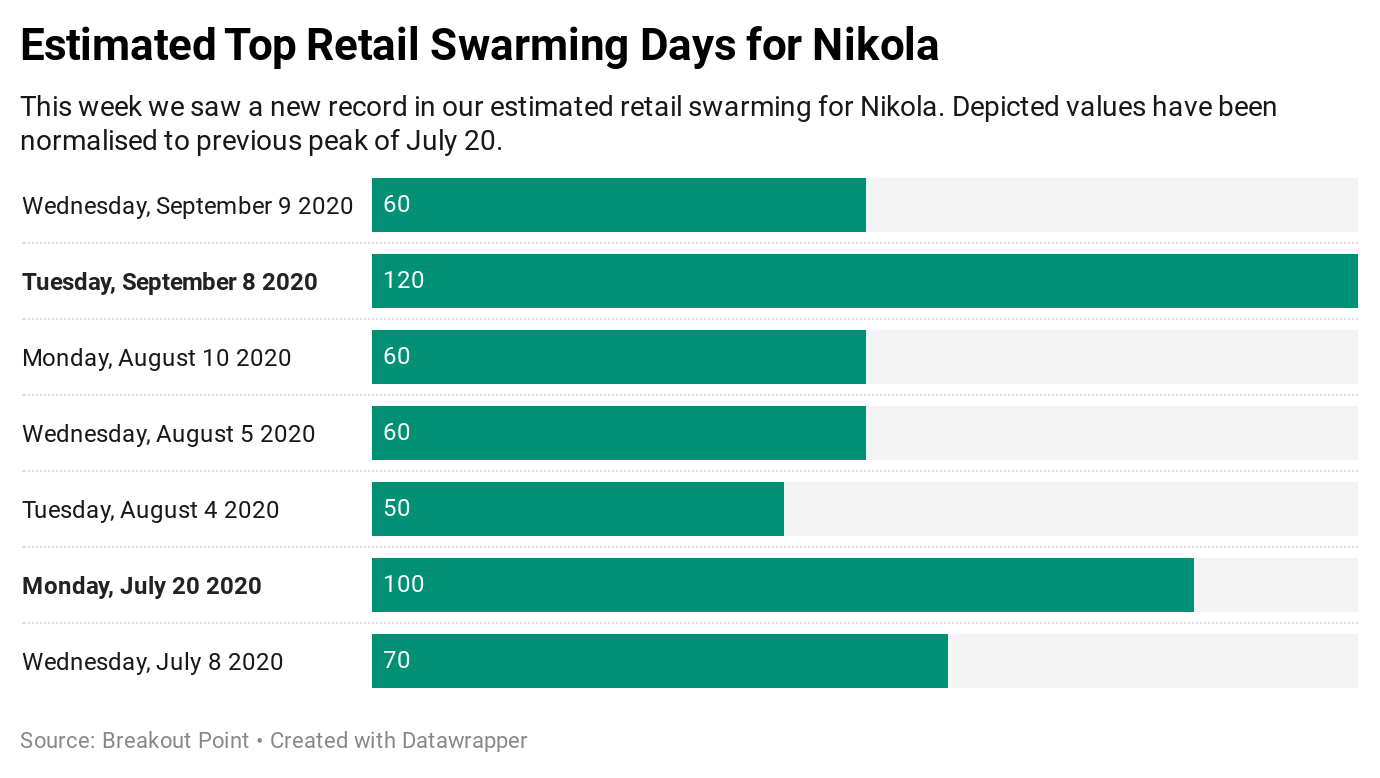 ---
Need retail flows and sentiment? Robinhood's API, which provided popularity data, recently ceased operation. This data was popular not only with journalists and momentum investors, but also with short sellers, who frequently applied reverse Robinhood swarming strategies. The good news is that there are a few great alternatives and proxies for Robinhood's popularity data, eg our Retail Flows plan provides real time retail sentiment, estimates retail flows and positioning, and alerts about activities of VIP retail investors.

---
Big Movers
This week we have seen a number of activist short targets going up. One of the interesting movers was Workhorse Group (WHKS), a short of Hindenburg. The company is similar to Nikola Inc (NKLA) in that it also deals with trucks and alternative energy. The shares have risen by about 20% in the past five days. This was seemingly mostly on the back of NKLA's news of the GM contract.
Hindenburg targeted WHKS in July due to allegation that WHKS is unlikely to be able to win a USPS contract, a crucial contract for WHKS which would legitimize the operations and validate the supposedly dubious intellectual property assets. Since Hindenburg's report, WHKS shares are up over 45%. The short-seller saw 50% downside.
The other stock that has been moving in an adverse way is Hebron Technologies (HEBT). This China Hustle 2.0 candidate is a short of Grizzly Research from early June. While the campaign was able to reap quick success as the stock collapsed over 40% on the day of the release, it seems for now the shares found a new life and have stabilized.
This could be based on hopes that the new management team, which was appointed a few days ago, will somehow make use of the supposedly questionable asset base of the company. Given the serious nature of Grizzly's allegations, this stock remains on our list of closely followed stocks.
---
Nikola takes the heat
On Thursday, Hindenburg took a shot at this $16bn EV start-up focused on trucks due to allegations of...
(Get full weekly report and stay on top of activist short selling developments - Join Breakout Point).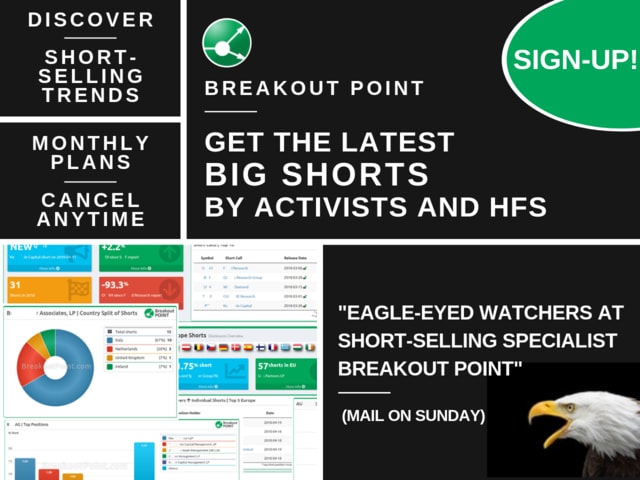 ---
FAQ | Q: Can I publish parts of above data and analytics in an article? A: As long as you reference our work in your article - yes, you can.
FAQ | Q: Could you provide more related data and analytics? A: Sure, join Breakout Point and start benefitng from our services.
* Note: Presented data and analytics is as of available on 2020-09-14, UTC 10:00.
The services and any information provided by Breakout Point or on the Breakout Point website shall not be, or construed to be any advice, guidance or recommendation to take, or not to take, any actions or decisions in relation to any investment, divestment or the purchase or sale of any assets, shares, participations or any securities of any kind. Any information obtained through Breakout Point and its services should never be used as a substitute for financial or other professional advice. Any decisions based on, or taken by use of, information obtained through Breakout Point and by its services are entirely at own risk.