---
This week we have registered five new major short campaigns, with targeted shares trading 14.3% lower.
The most important report this week was probably Viceroy's re-entry to German markets and alleging one German company is an accounting fraud. We scrutinize how the company is trying to defend itself and look at share prices.
We also look at new short of Citron Research. The seasoned short-seller saw the shares of a recent IPO quickly decline by over 45% in just a couple of days.
---
Bits and Pieces
Nikola's founder in Motion: On this Monday, Nikola's founder "proposed to voluntarily step aside" as Executive Chairman and from the Board. The company's board accepted this proposal and appointed new board member. This follows Hindeburg's short report and a peculiar company's response that included this widely discussed clarification:
Nikola admits the truck wasn't driving under its own power, but the joke is on us because they never said it was.

Technically said it was "in motion." pic.twitter.com/hS9CZwhFcy

— Collin McLelland (@FracSlap) September 14, 2020
As of Friday's close, Nikola is down about 19% since Hindeburg's report but has been trading as much as 37% lower in premarket on Monday following Milton's resignation.
Great week for Odey and Gladstone: We estimated that Odey and Gladstone were up as much €10 million each after Grenke plunged following Viceroy's short report.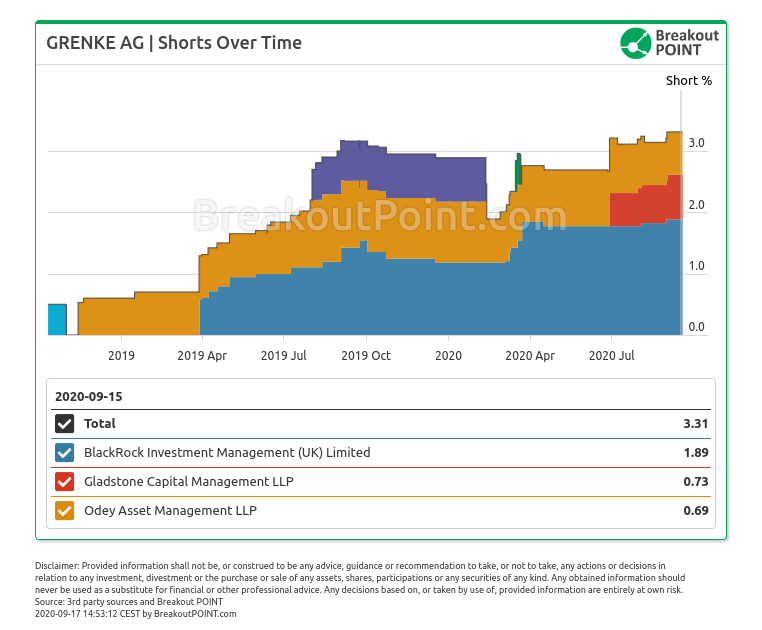 Year of Activist Shorts in Germany: Our below chart does not even take Wirecard collapse into account, as it only considers short reports initiated in 2020. Germany is a clear outlier in our records when it comes to success of activist short sellers in 2020.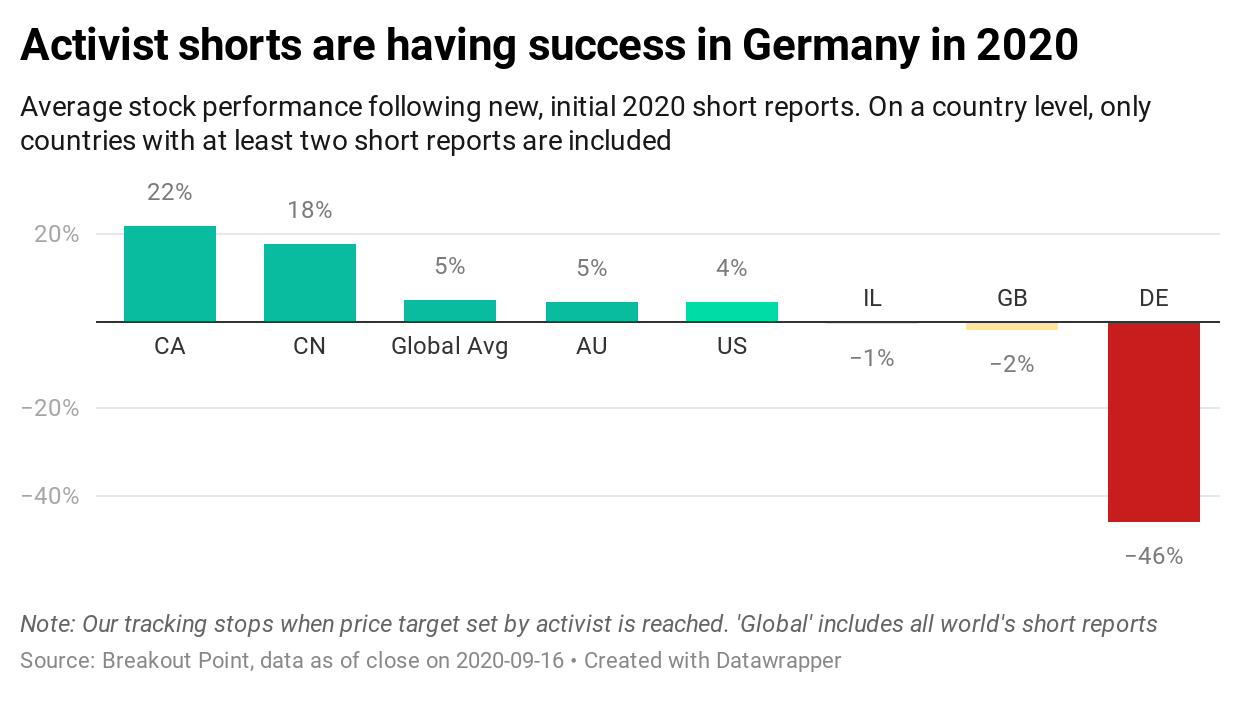 ---
Need retail flows and sentiment? Robinhood's API, which provided popularity data, recently ceased operation. This data was popular not only with journalists and momentum investors, but also with short sellers, who frequently applied reverse Robinhood swarming strategies. The good news is that there are a few great alternatives and proxies for Robinhood's popularity data, eg our Retail Flows plan provides real time retail sentiment, estimates retail flows and positioning, and alerts about activities of VIP retail investors.

---
Big Movers
While Grenke declined about 39.6% in W38, another company declined even more. This is the latest Citron's target, Nano-X Imaging LTD (NNOX), a recent IPO of a device-orientated healthcare company which is worth around $1.5bn. The short-seller focused on this company due to allegations of stock promotion not based on reality.
Most importantly, the report believes the company never showed any scientific paper suggesting the product works as claimed. The company says it produced a novel digital X-ray source. Citron is sceptical.
Moreover, as per Citron, the company has low R&D spend compared to other major players trying to innovate in this space. Supposedly NNOX also did not get even the most simple clearance from FDA. Third-party valued NNOX's technology at $0.14 per share.
Finally, according ot the short seller, many of NNOX's purported customers raise red flags. Citron alleges that some are dealing with other products than healthcare and X-rays, others have dubious headquarters while they apparently should purchase over $20 million in NNOX's products in the future.
Due to all this, the shares are worth zero according to Citron. The shares have sold-off rather quickly and are now down about 45.5% since the report. The company so far released only a short statement saying the report was wrong.
It will be interesting to keep an eye on the developments as the business of NNOX seemed to be vulnerable to Citron's claims. According to the short seller, they have yet to receive full authorization to sell the product. Thus, the IPO which valued the company at billions of dollars has seemingly created a significant amount of expectations which the company will have to fulfil.
Another short report hits Germany
The most significant new campaign this week was probably the return of Viceroy to Europe. The short-seller targeted what was then a $3bn European leasing company called Grenke (GLJ) listed in Germany. They targeted the company due to allegations of accounting...
(Get full weekly report and stay on top of activist short selling developments - Join Breakout Point).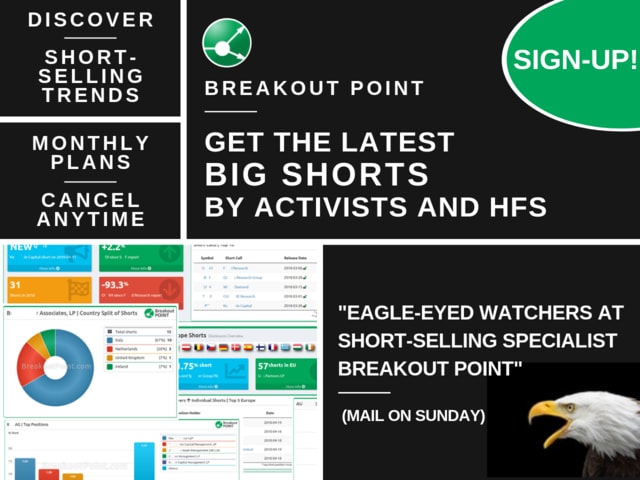 ---
FAQ | Q: Can I publish parts of above data and analytics in an article? A: As long as you reference our work in your article - yes, you can.
FAQ | Q: Could you provide more related data and analytics? A: Sure, join Breakout Point and start benefitng from our services.
* Note: Unless otherwise stated, presented data and analytics is as of available on 2020-09-19, UTC 10:00.
The services and any information provided by Breakout Point or on the Breakout Point website shall not be, or construed to be any advice, guidance or recommendation to take, or not to take, any actions or decisions in relation to any investment, divestment or the purchase or sale of any assets, shares, participations or any securities of any kind. Any information obtained through Breakout Point and its services should never be used as a substitute for financial or other professional advice. Any decisions based on, or taken by use of, information obtained through Breakout Point and by its services are entirely at own risk.