---
This week we have registered two new major short campaigns. Compared to prior to the reports, AtriCure shares are trading 5.4% lower, while Sunnova Energy shares are trading 6.6% higher.
We highlight a short of Kerrisdale Capital. The medical company was also a target of Culper Research almost exactly one year before. Culper's allegations failed to produce the supposed downside, instead, the shares are up about 40%.
We also look at further events in the developing stories of Grenke and Boohoo as short-seller reiterate their allegations.
---
Bits and Pieces
101 of short-selling by NASDAQ: Beyond explaining what short selling is, this nice brief note by Phil Mackintosh, Nasdaq Chief Economist also contains several interesting insights:
Small-caps and mid-caps have the highest average short selling interest. This is correlated with our observations that small-caps and mid-caps are most often targeted by the activist short sellers.
There is a cluster of stocks at about $10, with many of them being SPACs. This is correlated with repeated interest of activist short sellers into SPACs, for example, as recently mentioned by QCM in FT.
More about SPACs and QCM: Great recognition for QCM and their work on Akazoo in the SEC complaint against this SPAC.
SEC just filed fraud charges against Akazoo S.A. $SONG

Congrats @QCMFunds! The SEC credits the short report in its complaint.https://t.co/xQ8QGwrDQp

— Nate Anderson (@ClarityToast) September 30, 2020
Big shorts in S&T: Ennismore and Adelphi were among money managers profiting from declines in S&T AG. Company mentioned that "UK based analyst firm has issued a short recommendation", the shares declined. However, the short recommendation has been of non-public nature. Valiant disclosed a 1.08% short position few days after the events.
---
Big Movers
This week we have seen Blink Charging (BLNK) clocking yet another positive week for its shares. The company has now completely rebounded from the short-term downside created by campaigns of Culper and Mariner Research. Both short-sellers targeted this company due to alleged dubious corporate governance, misleading comments by management and poor fundamental outlook.
It seems the market only needed few positive press releases by the company (such as new cooperation in New York), to push the shares up. It will be interesting to see how this stacks up against another quarterly report in the next two months.
One other stock which had interesting stock price action to say the least is Nikola (NKLA). After a series of damning allegations out of which many ultimately came true, the shares are relatively resilient. They are still down about 42% since the report by Hindeburg Research but in the past week they rebounded more than 23%. This is despite the fact that fresh new claims are still coming out such as the allegation that the company outsourced the design of its truck to a third-party.
Also, Marc Cohodes seemed to have reiterated his rather bullish stance:
Nikola: The Bears Think They Are Smarter Than Jeff Ubben (NASDAQ:NKLA) | Seeking Alpha I would take Ubben on his worst day against these clowns... https://t.co/YNA6oTvTcg

— Marc Cohodes (@AlderLaneeggs) October 1, 2020
Lastly, on Friday, Nano-X Imaging (NNOX) jumped 56%. This jump followed company's announcement it will demo its product in late November. The product was the point of contention between the two sides. Muddy Waters and Citron believe the product will be a flop and is not going to work. Even before the market opened on Friday, our retail flow and retail sentiment analysis showed that NNOX is one of the handful of stocks with strong positive retail interest.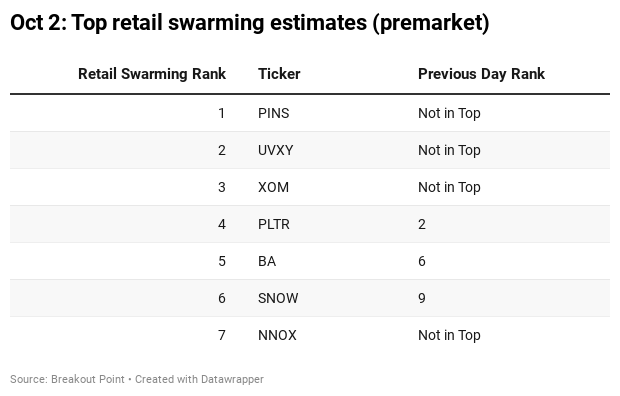 ---
Need retail flows and sentiment? Robinhood's API, which provided popularity data, recently ceased operation. This data was popular not only with journalists and momentum investors, but also with short sellers, who frequently applied reverse Robinhood swarming strategies. The good news is that there are a few great alternatives and proxies for Robinhood's popularity data, eg our Retail Flows plan provides real time retail sentiment, estimates retail flows and positioning, and alerts about activities of VIP retail investors.

---
New Campaigns
....
(Get full weekly report and stay on top of activist short selling developments - Join Breakout Point).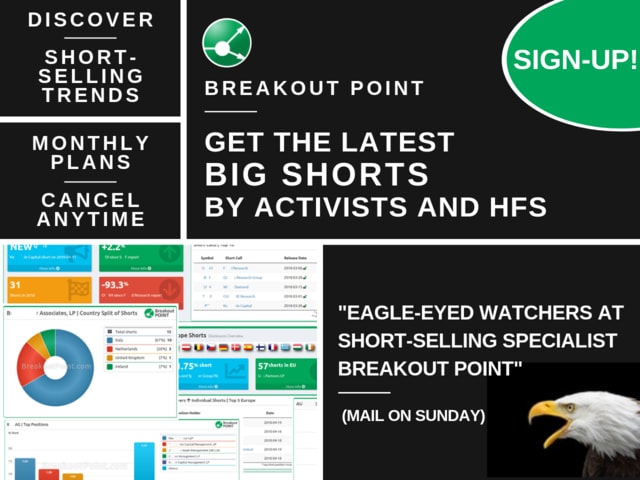 ---
FAQ | Q: Can I publish parts of above data and analytics in an article? A: As long as you reference our work in your article - yes, you can.
FAQ | Q: Could you provide more related data and analytics? A: Sure, join Breakout Point and start benefitng from our services.
* Note: Unless otherwise stated, presented data and analytics is as of available on 2020-10-02, UTC 22:00.
The services and any information provided by Breakout Point or on the Breakout Point website shall not be, or construed to be any advice, guidance or recommendation to take, or not to take, any actions or decisions in relation to any investment, divestment or the purchase or sale of any assets, shares, participations or any securities of any kind. Any information obtained through Breakout Point and its services should never be used as a substitute for financial or other professional advice. Any decisions based on, or taken by use of, information obtained through Breakout Point and by its services are entirely at own risk.