---
This week we have registered five new short campaigns and a number of follow-up short reports.
We highlight a new short of Fuzzy Panda who targeted an alleged Nikola 2.0. The campaign was received with mixed reactions from both the market and other short-sellers.
We also look Night Market Research (NMR) campaign into FuelCell Energy, another tech company in focus of short sellers. NMR alleged the company lost two of its awards without disclosing it to investors. The company responded, and the short seller claims the response confirmed their findings.
Lastly, we scrutinize what is happening in Europe as we have seen updates to three campaigns.
---
Bits and Pieces
XPO Logistics again in focus: Company that was in focus of Spruce Point in December 2018, got in focus of a report by XPO Global Union Family. A summary of this report which alleges workers abuse can be read here.
USCC on China Hustle: The U.S.-China Economic and Security Review Commission (USCC) added this year a detailed warning to their regular list of U.S.-listed Chinese companies. Mentioned risks are:
lack of transparency (Luckin Coffee case is mentioned here),
VIEs have no legal standing in China, and
national security risk of US-listed Chinese companies.
Short sellers profit in Cineworld: Adelphi Capital profited the most from this week's declines in Cineworld with their 2.07% short. This hedge fund has been running one of the most Covid-focused short portfolios in our records, with, among others, shorts in commercial real-estate companies and Lufthansa.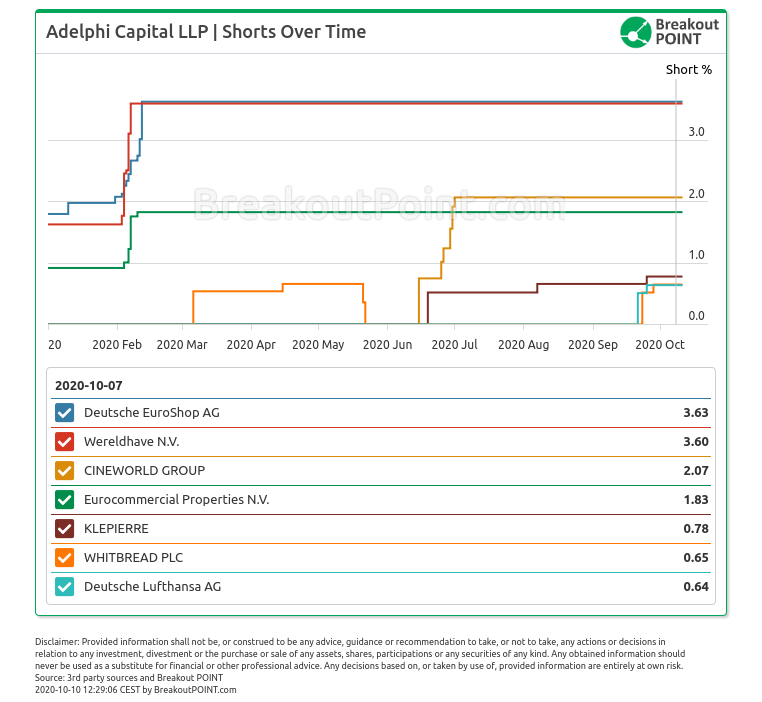 ---
Big Movers
This week we have seen two stocks engage in a rapid ascent which goes against the claims of the campaigns targeting them.
First, it was JinkoSolar (JKS), which is a solar company based in China but listed in the US. The stock was the target of Bonitas who alleged JKS is a classic China Hustle 2.0 stock with signs of fraudulent behaviour and fake accounts.
However, since JKS reported their positive earnings at the end of September the stock is racing higher. They are now up over 150% since Bonita's initial report in early March of this year. While the earnings have likely created some logic for upward movement it is peculiar to see JKS shares continue to move higher weeks after the report. There does not seem to be any fundamental news to support such moves. Some on twitter speculated about a short-squeeze, while some mentioned boosting interest of retail investors in solar companies.
In any case, it will be interesting to keep tracking the stock since it is up so much after strong allegations of fraud.
The second stock we saw rally hard this week was Alphatecs (ATEC), a $600m MedTech company. This was originally targeted by White Diamond Research due to allegations of poor business prospects due to a supposedly weak product offering. While the campaign did hit its initial target of 50% downside due to COVID-19 March downturn, it might be worth revisiting the thesis and identifying whether the new fundamental developments somehow go against it.
This is mainly because the stock has now recovered and even surpassed its share price at the time of the report's release. This move was supported by pre-earnings release about revenue growth. At first glance, it seems the original thesis might be impaired, but perhaps some of the claims are still outstanding.
---
New Campaigns
Nikola 2.0?
Fuzzy Panda came back after a year-long hiatus and released a new report that made a lot of people talk. The short-seller targeted Workhorse Group (WKHS), a $2.54bn EV vehicle manufacturer, due to allegations of misleading disclosure and dubious product efficiency.
Most importantly, the short-seller shares several stories which allegedly point to...
(Get full weekly report and stay on top of activist short selling developments - Join Breakout Point).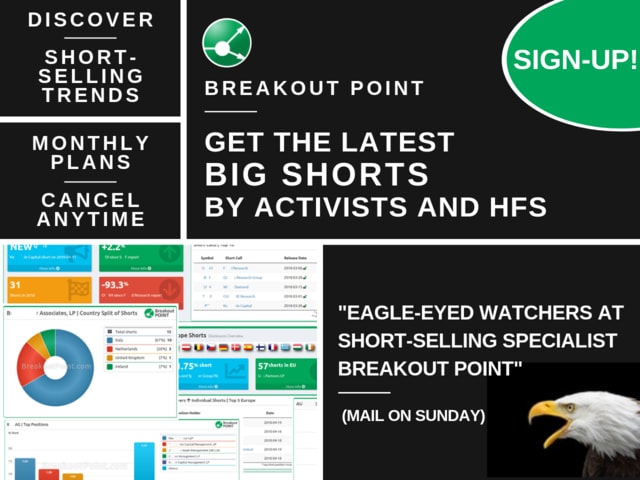 ---
FAQ | Q: Can I publish parts of above data and analytics in an article? A: As long as you reference our work in your article - yes, you can.
FAQ | Q: Could you provide more related data and analytics? A: Sure, join Breakout Point and start benefitng from our services.
* Note: Unless otherwise stated, presented data and analytics is as of available on 2020-10-10, UTC 22:00.
The services and any information provided by Breakout Point or on the Breakout Point website shall not be, or construed to be any advice, guidance or recommendation to take, or not to take, any actions or decisions in relation to any investment, divestment or the purchase or sale of any assets, shares, participations or any securities of any kind. Any information obtained through Breakout Point and its services should never be used as a substitute for financial or other professional advice. Any decisions based on, or taken by use of, information obtained through Breakout Point and by its services are entirely at own risk.