---
This week, we recorded two new major activist short campaign. With that we recorded 143 major short campaign in our 2020 records.
Hindeburg published an in-depth report targeting another Canadian-based tech company alleging misleading disclosure and dubious business model. Hindenburg's research report drove the stock over 30% in a single day.
We also look at Fuzzy Panda's short of Workhorse as the short-seller kept commenting on the developments. We also look at Wolfpack Research's updates related to INSP.
Lastly, we scrutinize the positive share price action seen in one of Hindenburg's previous short ideas. The stock is now up over 270% since the initial report, while the original claims might still have merit.
---
Bits and Pieces
Big Short Big Delay: Rare fine for a delayed short disclosure has been announced this week by UK financial regulatory body. The corresponding short in Premier Oil was as big as 16.85%, and was a part of a more complex strategy that involved company's debt. FCA fined Asia Research and Capital Management Ltd (ARCM) £873,118 for breaches of short selling disclosure rules. We occasionally note that short positions are disclosed with a delay, but in terms of the delay's extent and percentage of short positions, this has been a rather unique event in our records.
GSX and Short Sellers: No other company has been a subject of more short selling reportsthis year than GSX Techedu. WSJ had a look at GSX:
One of the most underreported market anomalies this year is the short of $GSX. We spoke to a dozen inventors on both sides of the trades and tried to decipher the stock's gravity-defying performance. https://t.co/VSAoHX2bKi via @WSJ@xieyuxy

— Jing Yang (@jingyanghk) October 12, 2020
Four New Short Reports on Oct 22: Four new short focused ideas are expected on Thursday at the Contrarian Conference we co-organise. The conference will feature the following well-known presenters:
Grizzly Research
Glasshouse Research
Bucephalus Research
White Diamond Research
---

---
Big Movers
This week we have seen two of previous Hindenburg targets move in opposite directions.
First, it was Workhorse (WKHS), an EV company slide by about 165 in the past few days. This is because of news which seemed to have supported claims of Fuzzy Panda, a short-seller who targeted WKHS last week. Roth Capital downgraded the stock on increased uncertainty that the company will be able to win the all-important USPS deal.
Roth downgrading $WKHS to neutral...ouch!

nice to see someone on the sell-side started reading our report over the weekend https://t.co/8JP52MydJH

— FuzzyPanda (@FuzzyPandaShort) October 13, 2020
Moreover, Fuzzy tweeted they are receiving new information which will be showcased in an update report soon.
Hindenburg targeted the company in the summer and alleged similar claims to Fuzzy Panda. So far the stock has been rather resilient.
The second stock we want to mention is NexTech (NEXCF), a target of the short-seller from early February of this year. Hindenburg targeted them due to alleged promotional behaviour by the insiders. This supposedly obfuscated the fundamentals of the business. Initially, the short-seller saw success as the company scrambled to respond. However, it now seems the shares have caught a second chance and are up over 270% since Hindenburg's call.
What changed? According to some, not much. Allegedly, the company continued to publish promising press releases, but revenue has still stayed minuscule compared to the market cap of over $400m now. They were able to raise about $12m in cash from investors which gives them breathing space, but some of the original claims might still well be true.
---
Hindenburg comes back
This week we have seen Hindenburg targeting Loop Industries (LOOP), a $318m Canadian-based tech company, due to allegations of an inefficient product based on the hype created by the insiders. This is the first new report of Hindenburg after their impactful report on Nikola Inc.
Most importantly, the report believes LOOP's revolutionary way to recycle plastics does not work. The company...
(Get full weekly report and stay on top of activist short selling developments - Join Breakout Point).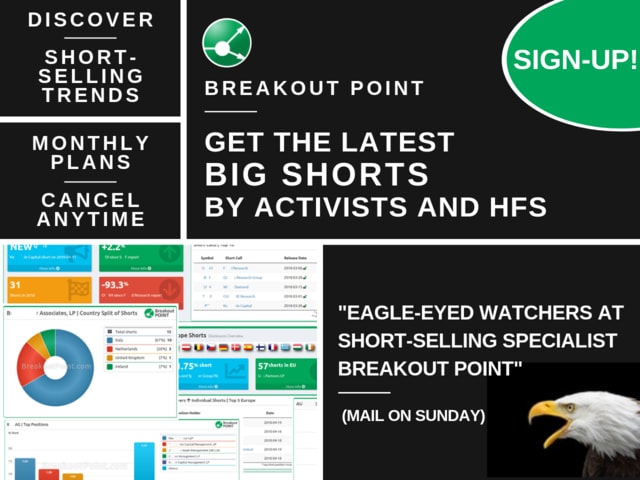 ---
FAQ | Q: Can I publish parts of above data and analytics in an article? A: As long as you reference our work in your article - yes, you can.
FAQ | Q: Could you provide more related data and analytics? A: Sure, join Breakout Point and start benefitng from our services.
* Note: Unless otherwise stated, presented data and analytics is as of available on 2020-10-16, UTC 12:00. Updated: 2020-10-17, UTC 12:00 to account for second major short campaign.
The services and any information provided by Breakout Point or on the Breakout Point website shall not be, or construed to be any advice, guidance or recommendation to take, or not to take, any actions or decisions in relation to any investment, divestment or the purchase or sale of any assets, shares, participations or any securities of any kind. Any information obtained through Breakout Point and its services should never be used as a substitute for financial or other professional advice. Any decisions based on, or taken by use of, information obtained through Breakout Point and by its services are entirely at own risk.