---
This week we have registered four new major activist campaigns.
All of them came from a conference which we have co-hosted. We highlight the must-know details from the event.
We also look at this week's share price action in GSX and ALGN.
Lastly, we look at the recent developments in Boohoo and Grenke.
---
Bits and Pieces
EY on Wirecard: EY provided a very interesting statement in this in-depth WSJ article titled "String of Firms That Imploded Have Something in Common: Ernst & Young Audited Them":
"It was ultimately the work of EY Germany that exposed a fraud expertly designed to circumvent all the checks and balances"
This is probably a very good occasion to re-visit this great story: "Wirecard and me: Dan McCrum on exposing a criminal enterprise".
Auditors and Fraud Detection: Within the latest proposal, UK regulator is pushing auditors to do more to recognise fraud:
NEW: UK auditors will be required to detect frauds in a newly-unambiguous accounting standard being plotted by the industry's watchdog

The plans see the UK move ahead of international accounting standards in the wake of Wirecard and Patisserie Valeriehttps://t.co/yLkXx9loof

— Tabby Kinder (@Tabby_Kinder) October 21, 2020
Great week for Kuvari: Kuvari Partners had a great week with their largest % short on our records, a 1.87% short in Network International Holdings. This United Arab Emirates-based payment solutions provider fell as much as 24% compared to Friday's closing price. This occurred in the week when PayPal announced that it would allow users to pay through Bitcoins.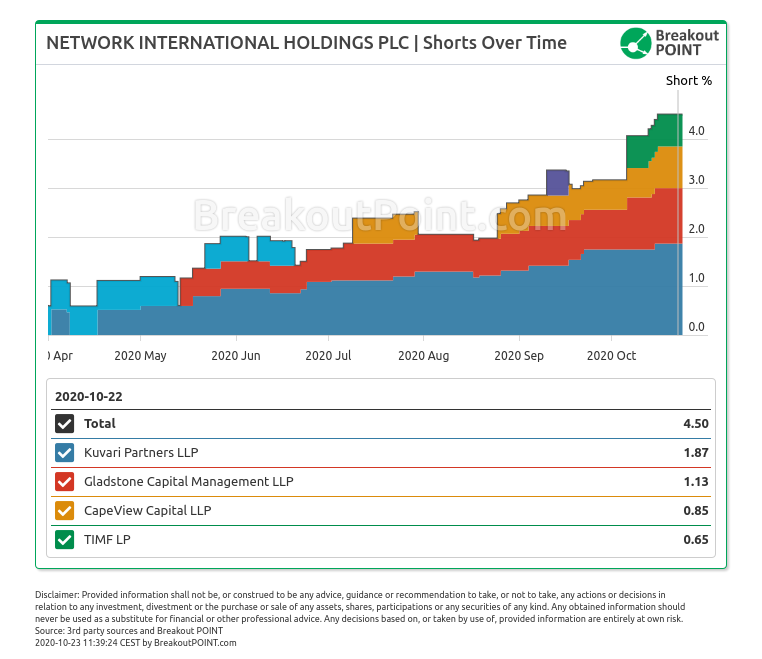 ---
Need retail flows and sentiment? Robinhood's API, which provided popularity data, recently ceased operation. This data was popular not only with journalists and momentum investors, but also with short sellers, who frequently applied reverse Robinhood swarming strategies. The good news is that there are a few great alternatives and proxies for Robinhood's popularity data, eg our Retail Flows plan provides real time retail sentiment, estimates retail flows and positioning, and alerts about activities of VIP retail investors.

---
Big Movers
This week we saw volatile price actions on both sides of the aisle. The longs had celebrated earnings release of Align Technology (ALGN) and prompted a one-day rally of over 30%. The company has exceeded expectations and investors likely believe the trend will continue. ALGN is short of Spruce Point who alleged the company will eventually be pressured by the entrance of new competition which is using cheaper and more available solutions.
Initially, the short-seller saw 55% downside from the current prices, but so far the stock has moved against the thesis and the stock is up over 145%.
On the other hand, the shorts saw somewhat of a respite in GSX Techedu (GSX), the notorious China Hustle 2.0 which fell 30% on Wednesday morning. The reason for this is relatively murky. Grizzly Research noted in our conference that they do not know the exact single factor which caused the slide. There were sell-side reports which downgraded the company and possible rumours that the company is guiding increased losses as per below.
With the Nomura downgrade today, it's very clear to me that the $GSX narrative from the company itself, has changed. They are now claiming that large losses are forthcoming, due to "marketing mistakes". Whether or not you believe them is now irrelevant. pic.twitter.com/UfAJWmu1zB

— Diogenes (@WallStCynic) October 22, 2020
We will see what happens the next with this stock that saw the highest number of short reports in 2020.
---
New Campaigns
All of this week's campaigns come from the Contrarian Investor Conference. Four presenters have introduced their new short ideas.
The event was kicked off by Bucephalus Research who presented on a Spanish-listed road company due to allegations of cash flow issues and accounting gimmicks. In the classic fashion of Bucephalus, the report was focused on supposed managerial tricks which try to improve the façade of the company's financials.
The report pointed out that in reality two subsidiaries of the company are allegedly not doing well and are unlikely to alleviate the company's issues with cash flow. One of those subsidiaries was Cimic, an Australian construction company. Cimic was previously covered by GMT Research. The short-seller launched similar claims to Bucephalus.
The market did...
(Get full weekly report and stay on top of activist short selling developments - Join Breakout Point).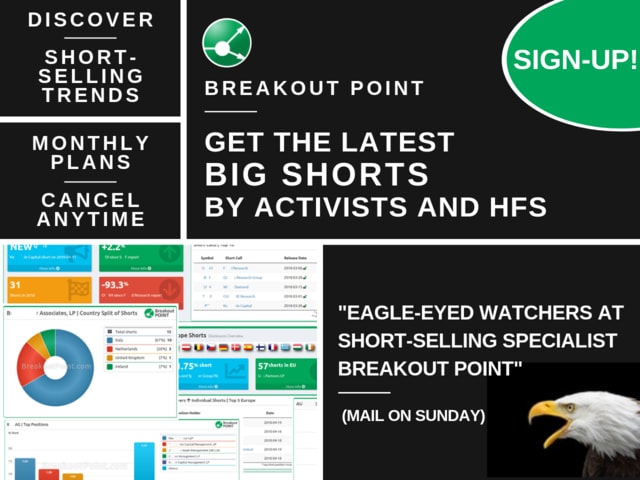 ---
FAQ | Q: Can I publish parts of above data and analytics in an article? A: As long as you reference our work in your article - yes, you can.
FAQ | Q: Could you provide more related data and analytics? A: Sure, join Breakout Point and start benefitng from our services.
* Note: Unless otherwise stated, presented data and analytics is as of available on 2020-10-23, UTC 12:00.
The services and any information provided by Breakout Point or on the Breakout Point website shall not be, or construed to be any advice, guidance or recommendation to take, or not to take, any actions or decisions in relation to any investment, divestment or the purchase or sale of any assets, shares, participations or any securities of any kind. Any information obtained through Breakout Point and its services should never be used as a substitute for financial or other professional advice. Any decisions based on, or taken by use of, information obtained through Breakout Point and by its services are entirely at own risk.