---
This week we have registered one new major activist short campaign.
Blue Orca delivered a strong report on an Australian-based company with significant exposure to China. The company responded on Monday.
We also track developments in two short campaigns announced at investment conferences we co-hosted. One seems to have Teflon-like ability to fend of strong allegations but the other plunged following earning release.
Finally, we note a new chapter in GSX saga, titled 'The Auditor'. We also note start of trial of two former executives of biotech company MiMedx. MiMedx company fought and ultimately lost a fierce battle with some of the best known short-sellers.
---
Bits and Pieces
Muddy Waters and France: French media speculated this week that Muddy Waters is preparing a new short report on a France-listed company. As far as we could see, Muddy Waters did not comment about above speculations, so it remains to be seen if the upcoming report will indeed focus on a French stock. At Breakout Point we constantly monitor unusual and rare short position disclosures and have recorded three such new shorts in France this week.
Retail Spike in Apple: Over at retail investors universe, we noted a huge spike of positive retail interest in Apple on Friday. We estimated higher retail swarming only around the magical stock split day: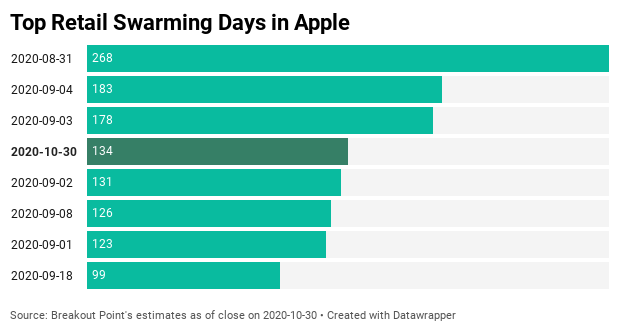 Great Q4 start for activist short sellers: Shares of all twelve major new short reports we recorded in October are trading lower vs prior to the report. The average post-initiation decline is 16.7%, while the S&P 500 index has fallen by about 2.7% in October. Hindenburg Research, Fuzzy Panda Research, Bonitas Research, White Diamond Research and GlassHouse Research occupy top five spots: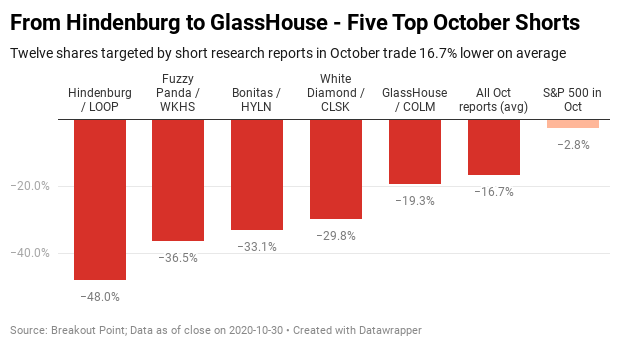 ---
Need retail flows and sentiment? Robinhood's API, which provided popularity data, recently ceased operation. This data was popular not only with journalists and momentum investors, but also with short sellers, who frequently applied reverse Robinhood swarming strategies. The good news is that there are a few great alternatives and proxies for Robinhood's popularity data, eg our Retail Flows plan provides real time retail sentiment, estimates retail flows and positioning, and alerts about activities of VIP retail investors.

---
Big Movers
This week we have seen Kerrisdale facing continued share price appreciation in Mirati Therapeutics (MRTX). The biotech is now up 130% since the short-seller's initial report. Kerrisdale targeted the company due to allegations of the inefficacy of MRTX's key asset. While Phase 1 data seemed promising, the activist alleged that the drug should eventually fail. The rest of the pipeline is also supposedly unappealing.
The market has so far rejected the claims due to MRTX's continuous stream of likely positive news about their drug tests. While Phase 2 results were not fully disclosed, the company hinted towards efficacy and FDA application in the first half of next year.
Given the clear catalysts ahead, it might be worthwhile to keep a close eye on the developments.
On the other hand, GlassHouse Research had a reason for celebration. The short-seller targeted Columbia Sportswear (COLM) during Contrarian Conference we co-hosted. They targeted the company due to allegations of inventory problems created by COVID19 and other accounting issues.
On Thursday, COLM reported their earnings which partially confirmed the thesis as per below tweets.
$COLM inventory still a major problem at the company; inventory increased 8% to $771.7mm, compared to sales falling by 23%.

Big problem.

— GlassHouse Research (@GlassH_Research) October 29, 2020
Columbia "double-speak" continues on Q3 call... "retailers will be ready buy inventory in strong numbers in Q4", but then guidance shows revenues well under estimates... $COLM

— GlassHouse Research (@GlassH_Research) October 29, 2020
The stock was actually up in the days after the release of the report, but lost more than 22% on Friday. Initially, the short-seller saw roughly 51% downside. Thus, there could still be further relevent share price movements as Q4 numbers are digested by the market.
The developments so far also provide slight vindication for GlassHouse as the report was criticized by several other short-sellers such as Marc Cohodes.
---
Blue Orca aims at Australia
The short-seller came out with their third report of the year which targeted a $5.71bn Australian-based roll-up of online recruiting platforms due to allegations of fake business and bloated valuation.
Most importantly, the short-seller believes the Chinese part of...
(Get full weekly report and stay on top of activist short selling developments - Join Breakout Point).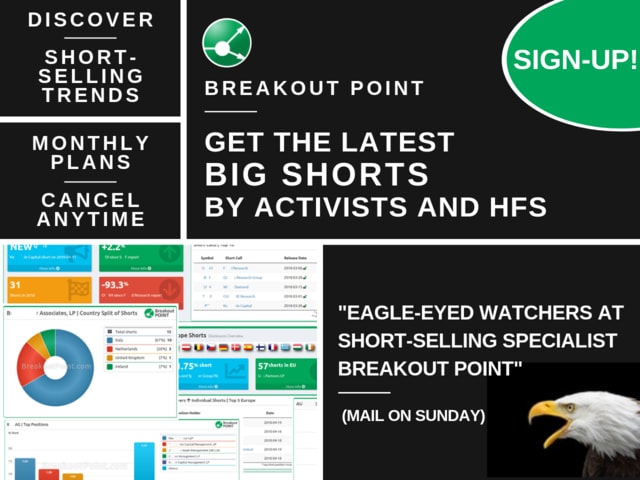 ---
FAQ | Q: Can I publish parts of above data and analytics in an article? A: As long as you reference our work in your article - yes, you can.
FAQ | Q: Could you provide more related data and analytics? A: Sure, join Breakout Point and start benefitng from our services.
* Note: Unless otherwise stated, presented data and analytics is as of available on 2020-10-31, UTC 12:00.
The services and any information provided by Breakout Point or on the Breakout Point website shall not be, or construed to be any advice, guidance or recommendation to take, or not to take, any actions or decisions in relation to any investment, divestment or the purchase or sale of any assets, shares, participations or any securities of any kind. Any information obtained through Breakout Point and its services should never be used as a substitute for financial or other professional advice. Any decisions based on, or taken by use of, information obtained through Breakout Point and by its services are entirely at own risk.