Today on October 13 we are seeing the following stocks with unusual positive retail interest estimates;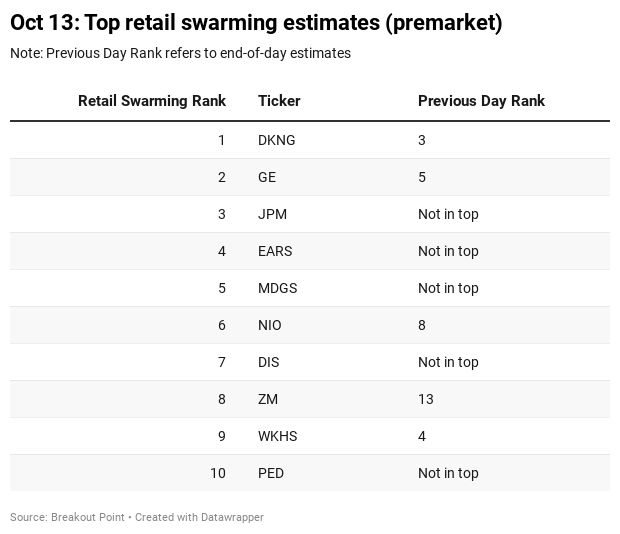 Positive Sentiment Highlights
Today's notable new entrants in the list include JP Morgan Chase (JPM) and Disney (DIS).
JPM likely got on the list due to a positive earnings report which saw the bank post smaller provisions for loan losses. Redditors were interested in all of the bank earnings coming in the next few days.
DIS is on the list due to the announced reorganization that made everyone curious about what it means for the stock in the future. On Reddit retail investors quickly started to discuss the positive after-hours performance and how their long positions will benefit. They also proposed the reason why DIS went up.
Mention cloud anything and your stock moon. I'm long Disney via call and will dump it 1st thing morning looking to buy back when it retrace.
On Twitter, the discussion was a bit more balanced as seen below.
Agree I'm skeptical on this announcement too. How are they going to increase production in Covid time? https://t.co/D5wzE0cP8y

— Thomas Thornton (@TommyThornton) October 12, 2020
Even though Ross Gerber did not forget to chime in.
Now that I e had a few minutes to think.. This Disney thing is huge. This is everything I've been pushing for. Huge long term implications. They are seeing reality. Hundreds of millions of subscribers worldwide. So many ways to consume Disney content and merch. $dis

— Ross Gerber (@GerberKawasaki) October 13, 2020
Draft Kings (DKNG), an $18.84bn betting company, also still dominates the list even though the share price has suffered in the past few days. The interest in the stock continues to be strong likely due to some investors now thinking the downturn in the share price could create a buying opportunity. In any case, this was the logic of one sell-side analyst who might have spurred further interest in the stock.
Redditors also wondered whether the entry point is now favourable. However, even on Reddit, some were sceptical about the valuation of the firm in the midst of the pandemic with one contributor raising the point about DKNG's PE.
Now it's only 1050 PE. What a bargain!
Dominant retail selling pressure
Finally, we mention tickers with estimated dominant retail selling pressure: Microsoft (MSFT), Apple (AAPL), Tesla (TSLA), J&J (JNJ)
In terms of the three tech giants, it seems the retailers might be closing out some of their positions. In AAPL the selling likely came after yesterday's stellar performance. This has been suggested on Reddit. The same goes for MSFT. In the case of TSLA, there does not seem to be a clear reason for the selling sentiment to be present apart from profit-taking.
Lastly, in JNJ the selling is likely here due to the news about their vaccine for COVID19 and the new issues.
---

---
FAQ | Q: Can I publish parts of above data and analytics in an article? A: As long as you reference our work in your article - yes, you can.
FAQ | Q: Could you provide more related data and analytics? A: Sure, contact us and we'll try to help as soon as possible.
* Note: Presented data and analytics is as of available on 2020-10-13, UTC 13:00.
The services and any information provided by Breakout Point or on the Breakout Point website shall not be, or construed to be any advice, guidance or recommendation to take, or not to take, any actions or decisions in relation to any investment, divestment or the purchase or sale of any assets, shares, participations or any securities of any kind. Any information obtained through Breakout Point and its services should never be used as a substitute for financial or other professional advice. Any decisions based on, or taken by use of, information obtained through Breakout Point and by its services are entirely at own risk.