Today on October 15 we are seeing the following stocks with unusual positive retail interest estimates;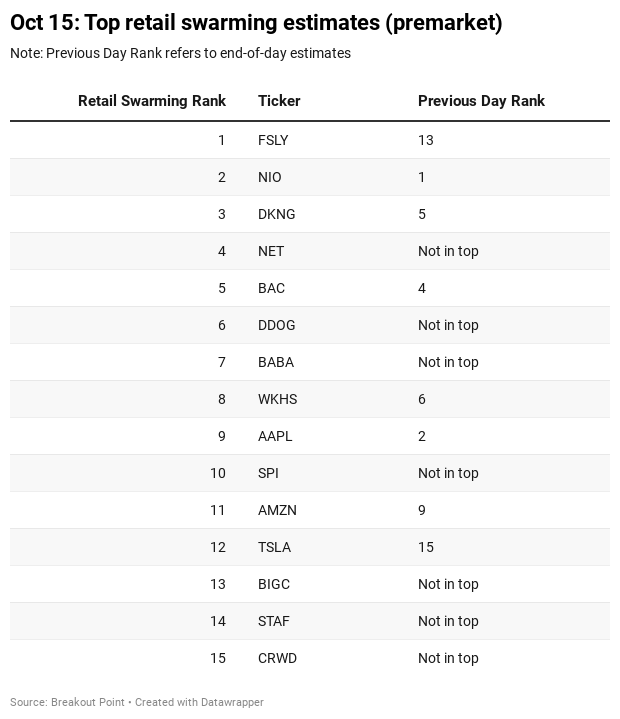 Positive Sentiment Highlights
Today's notable new entrants in the list include Fastly (FSLY), Cloudflare (NET), Datadog (DDOG), Alibaba (BABA), SPI Energy (SPI), BigCommerce (BIGC) and Crowdstrike Holdings (CRWD).
Almost all of the stocks mentioned are dealing with cloud or e-commerce and have seen their share price rise in the past few weeks.
FSLY, an $11.85bn cloud platform operator, has got into crosshair of retailers due to the company releasing updated guidance about their business. This was negative as the company saw less activity from its main customers, which include the notorious app TikTok. The shares tumbled roughly 30% on the news.
However, retailers are not discouraged. Reddit already spanned threads with the title 'Buying the dip on $FSLY'. Although some posters seemed to showcase the ability to ponder about valuation.
The problem with stocks like FSLY is that they were already extremely overvalued. To justify their current market cap they would have to consistently blow all expectations out of the water, and today they did the exact opposite
Twitter was also actively ensuring investors would not bail further as can be seen below.
Perspective is everything!$SHOP fell from $120 to $93 in matter of couple of days in 2017.

You can't even see that blip if you expand the horizon to just 5 years!

Something similar is happening with $FSLY right now

You probably won't see this blip on the $FSLY chart in 2025. pic.twitter.com/nwaNqG2qy2

— Dhaval Kotecha (@dhaval_kotecha) October 14, 2020
An author on Seeking Alpha provided a quick overview of the whole situation.
NET, an $17.61bn cloud platform, was the opposite story in the past two days. The company announced its new effort 'Cloudflare One' which was positively received by the market and pushed the shares by over 40%. It was quickly caught by the usual channels on Reddit. The stock got pressured yesterday after FLSY's news and is down pre-market. However, it seems investors are quickly rallying to support 'buy the dip' mantra with the following tldr disclosure for those pressed on time.
tl:dr buy the NET dip, don't touch FSLY
DDOG, a $31.63bn cloud-orientated business analytics firm, got also caught by the FSLY news. It also dropped in pre-market trading, but the public interest of retail investors was lower. This could be because DDOG's share price has been less volatile in the past week (but went up). Twitter though offered quick consolation for DDOG's traders.
$FSLY Usage based model coupled with TikTok issue messed up guidance . I think this is a short term blip. $NET$DDOG price drop due to this is unjustified as both are different models and businesses . They should recover and go up more after earnings if they don't recover fully

— Septum Capital (@Soumyazen) October 14, 2020
BIGC, a $6.18bn recently IPOed SaaS stock, was not necessarily connected to the previous trio. The stock continues its steady upward climb since the middle of September and the retailer investors do not seem to question it much apart from few on Seeking Alpha.
The last tech stock on the list today is BABA, an $816bn Chinese giant in the e-commerce space. The stock got the attention of retailers likely due to somewhat average stock performance in the past few days based on a flurry of news about potential US regulation hitting parts of the business. Redditors, however, see the shares recovering and climbing ever higher due to three factors (Chinese commerce, Ant IPO and the perceived irrelevance of the US regulation).
The almost only exception to today's group of tech firms is SPI which is a Chinese-based firm focused on solar and EV vehicles. The focus itself should explain why the stock made it onto the list. Couple that with a new agreement with EdisonFuture, SPI's subsidiary, and another EV manufacturer and you have retailers interested. Reddit was commenting on SPI in the past few weeks due to a volatile trading day in September.
Dominant retail selling pressure
Finally, we mention tickers with estimated dominant retail selling pressure: Microsoft (MSFT).
---

---
FAQ | Q: Can I publish parts of above data and analytics in an article? A: As long as you reference our work in your article - yes, you can.
FAQ | Q: Could you provide more related data and analytics? A: Sure, contact us and we'll try to help as soon as possible.
* Note: Presented data and analytics is as of available on 2020-10-15, UTC 13:00.
The services and any information provided by Breakout Point or on the Breakout Point website shall not be, or construed to be any advice, guidance or recommendation to take, or not to take, any actions or decisions in relation to any investment, divestment or the purchase or sale of any assets, shares, participations or any securities of any kind. Any information obtained through Breakout Point and its services should never be used as a substitute for financial or other professional advice. Any decisions based on, or taken by use of, information obtained through Breakout Point and by its services are entirely at own risk.