Today on October 16 we are seeing the following stocks with unusual positive retail interest estimates;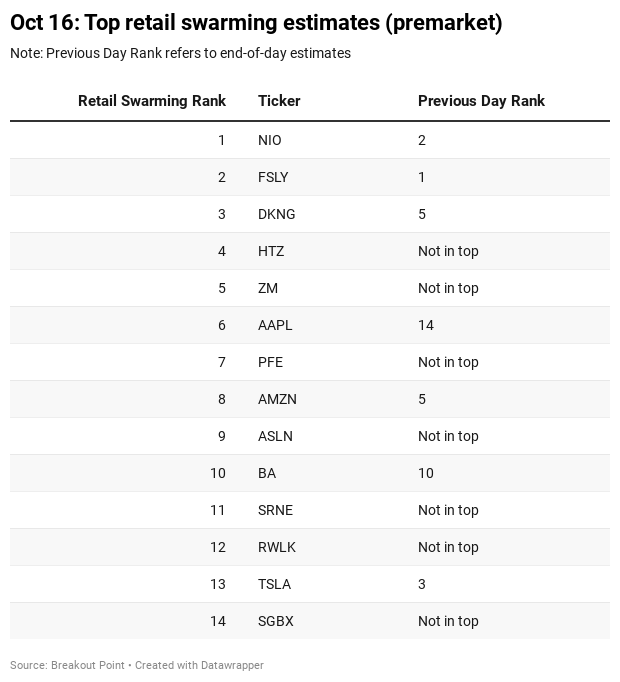 Positive Sentiment Highlights
Today's notable new entrants in the list include Hertz (HTZ), Pfizer (PFE) and SG Blocks Inc. (SGBX).
A notorious bankruptcy stock HTZ made a showing likely due to the news that they have a struck a deal with some of their creditors. This will help the company continue to run the business without too many issues, however, the deal is extremely unlikely to create much value in the equity of the company. Despite that, the stock is up strongly in premarket trading. Reddit is relatively quiet as they have been expecting a delisting instead of a new deal. Some speculate about a possible short-squeeze, others bet on the gullibility of retail traders.
Hertz secures commitments of $1.65b in DIP financing. $HTZ up ~34% pre-market. Expect another boost when the robinhood traders wake up at noon, have no idea what the news means, but pile in nonetheless

— litquidity (@litcapital) October 16, 2020
Another well-known stock in today's list is PFE, the medical and consumer behemoth. The stock got on the list likely due to their effort to try to get an emergency approval for their COVID19 vaccine. They stated they might know whether the vaccine is effective or not by the end of this month. The stock was already discussed by Reddit two days prior to the news. One Twitterati shared useful progress on all of this.
Phase 3 Covid-19 vaccine trials in the U.S. $PFE - 37,864/44k enrolled, 31,062 have received 2nd dose (as of Mon)$MRNA - 28,618/30k enrolled, 22,194 have received 2nd dose (as of Fri)$AZN - trial halted (4+ weeks)$JNJ - trial paused due to illness (DSMB investigating)

— Zach Brennan (@ZacharyBrennan) October 13, 2020
What is perhaps notable to point out is the omission of several other biotechs who have raced to create a COVID19 vaccine such as Inovio (INO), which was targeted by Citron.
Another biotech potentially connected to COVID19 is ASLN, a smaller $72m Singapore-based business. The interest here is due to their development of a novel inhibitor in auto-immune conditions. In their PR they did not forget to mention the possibility to tailor this to COVID19. The stock has so far received only interest from Twitter.
New EV-related stock of the day is SGBX, a small $20m fabricator of container-based structures, which is landing in the cross-hairs of retail traders likely due to an agreement with another popular EV play, Blink Charging (BLNK). Reddit is quiet so far and Twitter has mostly day traders chatting about the development. However, it might be interesting to keep an eye on this stock given the coverage BLNK received from two activist short-sellers. Culper and Mariner Research both showcased strong allegations of dubious business practices at BLNK.
Finally, we would like to highlight the ongoing interest of retailers in NIO (NIO), a Chinese-based premium EV car company. As per many Reddit threads, the stock has been 'mooning' recently. It is up 30% just in the past five trading days. The support of the trend likely comes for various channels. Sell-side has been touting the stock and Redditors are pointing to alleged endless opportunities in the business. The trend might as well continue before the below three things, pointed out by one retailer, are not going to somehow change.
Chinese Government won't let NIO fail. Its the only local premium luxury EV brand

NIO is entering the EU market in 2021

Price is set below Model S
Dominant retail selling pressure
Finally, we mention tickers with estimated dominant retail selling pressure: Nano Dimension Ltd (NNDM) and Microsoft (MSFT).
---

---
FAQ | Q: Can I publish parts of above data and analytics in an article? A: As long as you reference our work in your article - yes, you can.
FAQ | Q: Could you provide more related data and analytics? A: Sure, contact us and we'll try to help as soon as possible.
* Note: Presented data and analytics is as of available on 2020-10-16, UTC 13:00.
The services and any information provided by Breakout Point or on the Breakout Point website shall not be, or construed to be any advice, guidance or recommendation to take, or not to take, any actions or decisions in relation to any investment, divestment or the purchase or sale of any assets, shares, participations or any securities of any kind. Any information obtained through Breakout Point and its services should never be used as a substitute for financial or other professional advice. Any decisions based on, or taken by use of, information obtained through Breakout Point and by its services are entirely at own risk.