Today in premarket on October 28 we are seeing the following stocks with unusual positive retail interest estimates;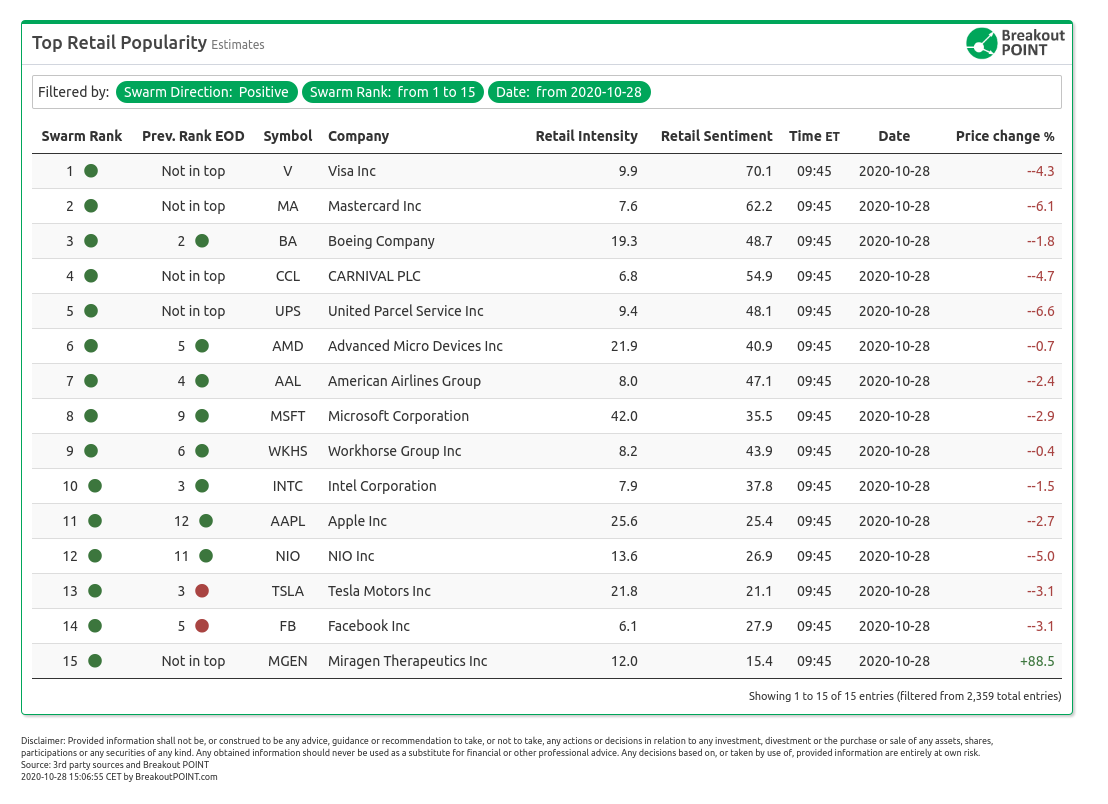 Positive Sentiment Highlights
Today's notable positive retail sentiment stocks in the list include First Solar (FSLR) and Scholar Rock (SRRK).
SRRK (Rank 19) landed in retailers' crosshair after the $877m biotech announced positive developments in their key product targeting muscular atrophy. This quickly pushed the share price up over 100%. The company used this chance to announce a share offering which then diluted retailers' enthusiasm somewhat, but some bulls remain as per below tweet.
+21% AH...biotech investing not always about finding really beat down stuff that's out of favor...sometimes you buy stuff on strong clinical update where you believe market may have underestimated potential even near 52W/ATH$REPL$SRRK this month alone, who's next... https://t.co/b4fHSlCJCI

— Wilson Cheung (@Sanctuary_Bio) October 27, 2020
Other than SRRK, most of the stocks are on the list due to earnings.
FSLR (Rank 10), an $8.45bn residential solar business, is present due to the positive share price performance in today's pre-market trading. This is a reaction to seemingly strong earnings results which featured material beat on revenue estimates. Bulls on Seeking Alpha and Twitter were quick to point out further macro trends supporting the stock (such as US politics).
Boeing (BA, Rank 2) has been frequently featured on the list which was likely due to the anticipation of the earnings which arrived today before the market open. The initial take seemed to have been slightly positive as the aeroplane company did beat street estimates. Bullish Redditors were discussing their positions which however might not benefit as much due to muted share price action so far. Some talked about possible stimulus deal as another catalyst for the stock.
Microsoft (MSFT, Rank 8) also appeared on the list due to its earnings yesterday. The results were seemingly positive with earnings beat, but the market slightly sold-off the stock. Reddit quickly discussed the print, some commenters were unhappy and suggested switching of positions but others seemed to have stayed bullish. Seeking Alpha also featured positive comments.
These come despite David Einhorn's comments about a possible tech bubble.
We also saw a jump in sentiment regarding Workhorse (WKHS, Rank 4), the popular bet on commercial EV vehicles due to possible deal with USPS. This is likely due to the news that a famous short-seller pitched WKHS as an actionable short at an investment conference. Retailers were not moved by this and do not seem to be losing their bullish perspective.
Finally, Alphabet's earnings are coming tomorrow which is likely why GOOG is trending in our list today. Retailers are likely interested in the results of GOOG's cloud business given their interest in FSLY, SNOW and other cloud plays.
Dominant retail selling pressure
Finally, we mention tickers with estimated dominant retail selling pressure: Zoom (ZM) and Tesla (TSLA).
---

---
FAQ | Q: Can I publish parts of above data and analytics in an article? A: As long as you reference our work in your article - yes, you can.
FAQ | Q: Could you provide more related data and analytics? A: Sure, contact us and we'll try to help as soon as possible.
* Note: Presented data and analytics is as of available on 2020-10-28, UTC 13:00.
The services and any information provided by Breakout Point or on the Breakout Point website shall not be, or construed to be any advice, guidance or recommendation to take, or not to take, any actions or decisions in relation to any investment, divestment or the purchase or sale of any assets, shares, participations or any securities of any kind. Any information obtained through Breakout Point and its services should never be used as a substitute for financial or other professional advice. Any decisions based on, or taken by use of, information obtained through Breakout Point and by its services are entirely at own risk.