Today in premarket on October 30 we are seeing the following stocks with unusual positive retail interest estimates;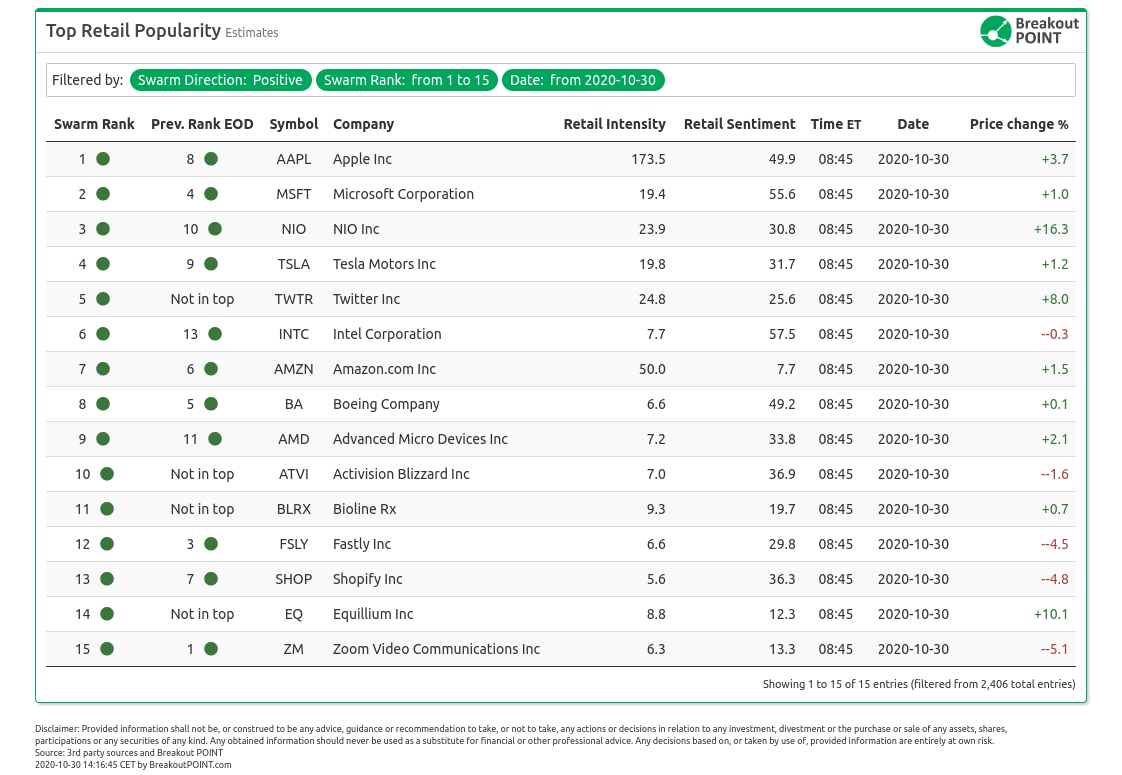 Positive Sentiment Highlights
Today's notable positive retail sentiment stocks in the list include Twitter (TWTR), Activision Blizzard (ATVI), Equilibrium (EQ) and Microvision (MVIS).
As per usual most of the stocks were on the list due to earnings.
TWTR (Rank 5) seems to have been pressured after the market close. This is likely due to the earnings report and the controversial testimony that has already sparked several meme trends. The company saw favourable growth in its core business, but the user growth was slower which likely sparked the sell-off.
Twitter kept a bullish tone despite share price action.
$TWTR increased my position for tomorrow. Complete overreaction. Numbers were really good, except the users grow...

— Antonio Costa (@ACInvestorBlog) October 29, 2020
On the other hand, Redditors were proposing buying puts instead of calls even before the earnings due to several factors such as elections and the potential loss of one of the most famous Twitter users - the President of the United States, Donald Trump.
ATVI (Rank 10) seems to be having a stronger bullish response to the earnings on the side of Reddit. The game developer reported earnings which handsomely beat expectations. The share price has not reacted much, but r/wallstreetbets was positive on the stock due to the ongoing belief gaming will be strong even after COVID19. One Redditor specifically pointed out the popularity of Modern Warfare which should eventually drive the stock higher.
Finally, we would also note the inclusion of MVIS (Rank 17) on the list. This small tech company has likely landed in retailers' crosshairs due to its earnings report. The company did not announce anything significant as they are still unable to create much revenue or profit.
However, bulls on Seeking Alpha and Twitter were mainly talking about the potential acquisition and future business projects and were not distracted by the fundamentals. That being said the shares will likely plunge about 20% on the open based on pre-market action.
We note MVIS was the target of Wolfpack Research who targeted the company due to serious allegations of lapses in corporate governance which are still likely unresolved.
One stock that is not listed due to earnings is EQ (Rank 14), a $132m biotech. The company announced that its treatment got the green light from the FDA to start Phase 3 trial. The treatment is aiming at COVID19 patients suffering from acute respiratory distress syndrome. The stock is up almost 20% pre-market. Reddit is quiet for now, while Twitter is swarming with the usual chatter from day traders.
Dominant retail selling pressure
Finally, we mention tickers with estimated dominant retail selling pressure: GOOG, FB and NFLX.
In the case of NFLX, the selling might be a result of yesterday's hike in the share price of about 5%. This was a reaction to news of a price hike for the subscription to the video content platform.
---

---
FAQ | Q: Can I publish parts of above data and analytics in an article? A: As long as you reference our work in your article - yes, you can.
FAQ | Q: Could you provide more related data and analytics? A: Sure, contact us and we'll try to help as soon as possible.
* Note: Presented data and analytics is as of available on 2020-10-30, UTC 13:00.
The services and any information provided by Breakout Point or on the Breakout Point website shall not be, or construed to be any advice, guidance or recommendation to take, or not to take, any actions or decisions in relation to any investment, divestment or the purchase or sale of any assets, shares, participations or any securities of any kind. Any information obtained through Breakout Point and its services should never be used as a substitute for financial or other professional advice. Any decisions based on, or taken by use of, information obtained through Breakout Point and by its services are entirely at own risk.