What We do?
Robinhood stopped distributing its popularity data in August. This data was very popular not only with journalists and retail investors, but also with professionals. The good news is that we developed a viable alternative and proxy for retail investors popularity data.
Our customers can benefit from our retail popularity data proxy that provides real time estimates of retail sentiment and retail flows. We focus on identifying those stocks that have the highest estimated values. We estimate both positive and negative retail sentiment and flows.
Our retail flows and sentiment estimates are based on several public sources, which we continuously monitor. These also include developments in social media. Our methodology includes: (1) advanced text sentiment analysis, encompassing any specific language use by a community; (2) determination of the frequency of mentions of companies and their tickers; and (3) aggregation and evaluation of community reactions via several metrics. In addition to almost-real-time, intraday estimates of the companies currently trending among retail investors, our methodology offers a longer-term perspective. This allows tracking longer-term (weekly, monthly) developments of trends in retail investors popularity.
Our data begins in the U.S. pre-market and is updated approximately every 30 minutes during U.S. market hours. Depending on client's needs, we deliver via dashboards, email notifications, API and EOD files.
The collected data is analyzed and the result is a list of estimated top retail favorite tickers (1."Swarm Rank") and two additional metrics. These two metrics are: the level of retail interest (2."Retail Flow") and whether and to what extent retail sentiment is positive or negative (3."Retail Sentiment").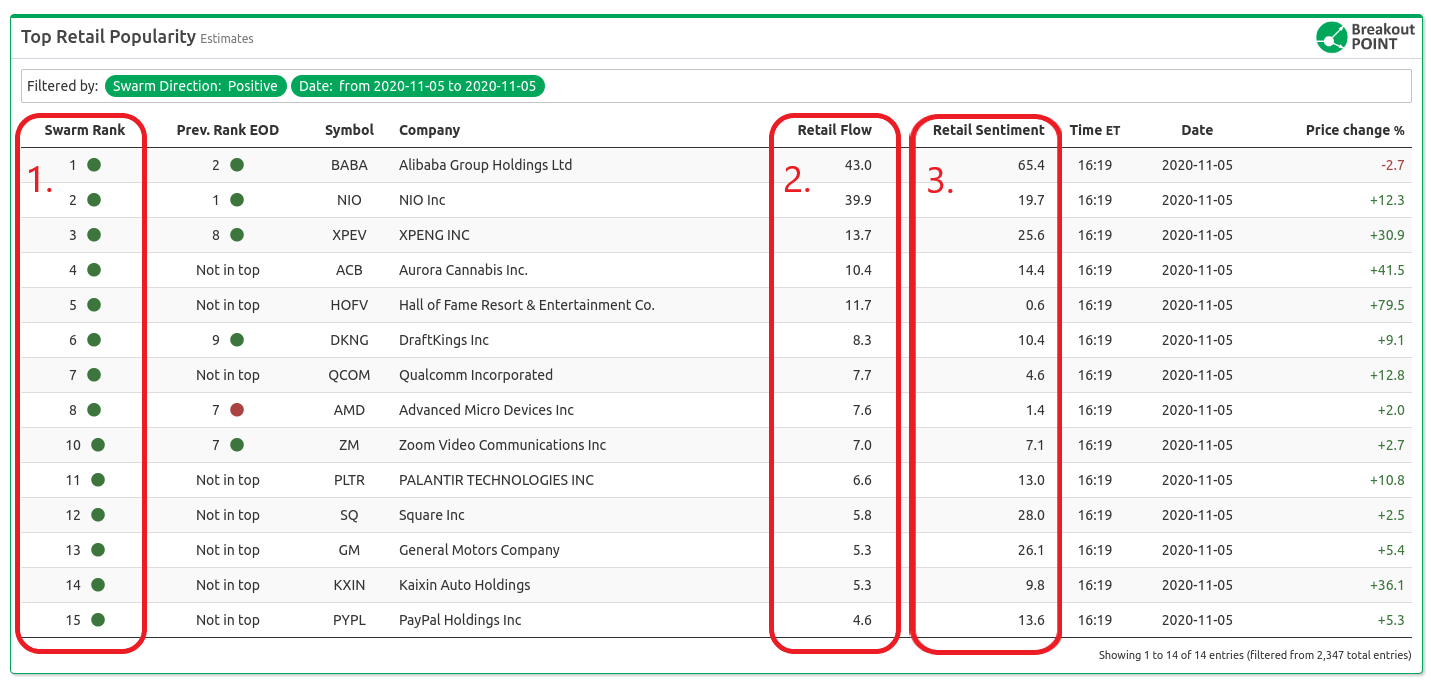 Retail Popularity Metrics
1.

Swarm Rank

"Swarm Rank" is our composite real-time estimate of the popularity of a particular ticker. It combines the strength and direction of the underlying retail sentiment and the level of retail activity. "Swarm Rank" is our proxy for ranking the tickers that have the highest popularity change at Robinhood.

We separately classify tickers with a positive and a negative "Swarm Rank".
2.

Retail Flow

"Retail Flow" assesses the overall interest and activity of retail investors in a particular ticker, regardless of the underlying sentiment. Sometimes, despite a rather neutral retail sentiment, the overall retail activity may be very high, indicating a significant follow-through in share volume. "Retail Flow" is our proxy for underlying retail investors volume.

Values in the range from 0 to several 100s are possible. "Retail Flow" values above 50 are rare, while values above 100 are extremely rare. We have encountered values above 100 only in several famous cases: the day Kodak stock prices surged, the day Apple and Tesla shares were split, and the day Snowflake went public.
3.

Retail Sentiment

With "Retail Sentiment" metric, we show whether estimated retail sentiment towards a particular ticker is currently predominantly positive or negative. Negative and positive values of "Retail Sentiment", respectively, refer to a negative and positive sentiment. The negative and positive retail sentiment correlates directly with the expected dominant retail selling and buying. We also estimate the extent to which such a positive or negative sentiment exists.

Values in the range from -100 to +100 are possible. "Retail Sentiment" values near 0 indicate balanced sentiment.
Retail Popularity Filters
By clicking on the "funnel" icon in the upper right corner of our "Top Retail Popularity Estimates" table, users can filter by various parameters and, for example, watch only tickers with a negative swarm rank, look at a specific date range.
Use Cases
Here are some use cases, where our retail popularity data and analytics helped our users (contact us for more details):
Dec'20: Timely recognition of retail popularity of Luminar Technologies following U.S. listing;
Nov'20: Retail swarming in Chinese-EV stocks and cannabis stocks following U.S. elections;
Nov'20: Fading of retail popularity in cannabis stocks, that preceded corresponding stock wekness;
Sep'19: Retail swarming in Nikola after announcement of the deal with General Electric;
Aug-Sep'19: Stratospheric retail herding in Apple and Tesla on the days of the stock split, which quickly evaporated;
Sep-Oct'19: Record listing-related retail popularity in Snowflake and Palantir. Far lower corresponding levels in Hyliion.
---

---
FAQ | Q: Can I publish parts of above data and analytics in an article? A: As long as you reference our work in your article - yes, you can.
FAQ | Q: Could you provide more related data and analytics? A: Sure, join our Retail Flows plan and start benefiting.
* Note: Unless otherwise stated, presented data and analytics is as of available on 2020-10-31, UTC 13:00.
The services and any information provided by Breakout Point or on the Breakout Point website shall not be, or construed to be any advice, guidance or recommendation to take, or not to take, any actions or decisions in relation to any investment, divestment or the purchase or sale of any assets, shares, participations or any securities of any kind. Any information obtained through Breakout Point and its services should never be used as a substitute for financial or other professional advice. Any decisions based on, or taken by use of, information obtained through Breakout Point and by its services are entirely at own risk.