---
Palantir Technologies went public yesterday and became an immediate favorite with retail investors. Considering that, according to our estimates, this is currently the most popular stock among retail investors, the question arises: How does this popularity compare to the famous Kodak's swarming day, Snowflake's IPO day and other high-profile swarming days?*
We resorted to our Robinhood-popularity-proxy feed and found that yesterday Palantir was catapulted among the top five most swarmed tickers in our records.
---

---
Retail Investors and Palantir
Palantir (PLTR), a famed security company, went successfully public yesterday with a direct listing and ended the day 30% up even though there were technical issues in trading the stock for some of its employees. As can be seen from a few tweets below, there could be many reasons for the popularity of this stock, but in general, each new listing has attracted the attention of numerous retail investors recently:
Peter Thiels Palantir $PLTR IPO should start trading any minute
this IPO will rip
smart money in this big

— Will Meade (@realwillmeade) September 30, 2020
Privatized NSA going public today.

Who's excited for Palantir IPO?$PLTR

— Turbo Trader (@turbotrader) September 30, 2020
Naturally, some were a bit sceptical and started to question the business model and the attached valuation.
Despite these reservations, as per our retail flows estimates, PLTR registered an enormous interest from the retail investors side as seen below.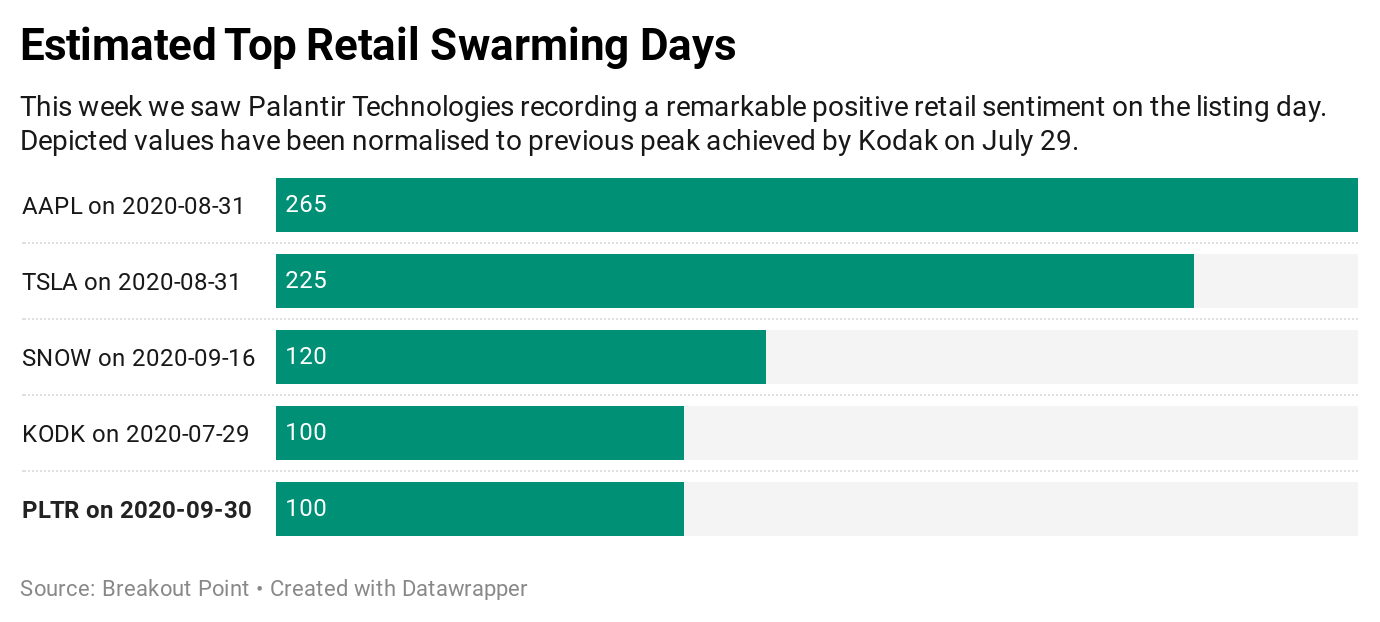 Only four stocks were ever more popular since we started to track and estimate the interest of the retail audience in specific companies.
Apple and Tesla are neck-to-neck in the record interest which is due to the 'magical' stock split events which potentially allowed a new wave of retailer investors to take a position in the companies as the share price became smaller in absolute value.
Behind them is Snowflake, dubbed, the biggest software IPO ever, that had a record swarming day on IPO day.
Lastly, we can't forget about Kodak and its popular day among the retailers when the company announced its now notorious governmental loan which should have resurrected KODK's business. So far it seems it has only worked to shortly resurrect its share price. The investigation in the whole drama and potential insider trading is likely ongoing.
...And there is Asana (ASAN)
Palantir was not alone with its direct listing yesterday. Asana, a software company, joined PLTR with a successful entry as it also ended the day up over 30%. According to our records, it has been the second most popular stock among retail investors yesterday.
Some retail investors over at reddit were optimistic due to the potential of ASAN being a COVID-related stock. Others were sceptical about the attached valuation and the business.
i don't short but realized that 20x revenue and massive losses is the new 10x revenue and massive losses. $ASNA.

— 24 hours (@wixonstoddard) September 30, 2020
It remains to be seen what will happen next with both stocks. At least retail investors seem still excited, as we are still measuring strong positive retail sentiment for PLTR and ASAN,
---
Need retail flows and sentiment? Robinhood's API, which provided popularity data, recently ceased operation. This data was popular not only with journalists and momentum investors, but also with short sellers, who frequently applied reverse Robinhood swarming strategies. The good news is that there are a few great alternatives and proxies for Robinhood's popularity data, eg our Retail Flows plan provides real time retail sentiment, estimates retail flows and positioning, and alerts about activities of VIP retail investors.
---
FAQ | Q: Can I publish parts of above data and analytics in an article? A: As long as you reference our work in your article - yes, you can.
FAQ | Q: Could you provide more related data and analytics? A: Sure, join Breakout Point and start benefitng from our services.
* Note: Presented data and analytics is as of available on 2020-10-01, UTC 13:00.
The services and any information provided by Breakout Point or on the Breakout Point website shall not be, or construed to be any advice, guidance or recommendation to take, or not to take, any actions or decisions in relation to any investment, divestment or the purchase or sale of any assets, shares, participations or any securities of any kind. Any information obtained through Breakout Point and its services should never be used as a substitute for financial or other professional advice. Any decisions based on, or taken by use of, information obtained through Breakout Point and by its services are entirely at own risk.