---
This week we have registered three new major activist shorts campaigns and one major negative flag by Citron. We also tracked a number of substantial follow-ups and communications related to on-going short campaigns.
Muddy's Chinese short target caught the most interest from the community due to explosive allegations and the extent of the research. However, it was not left without questions from the short-selling community.
We also note the developments in Penumbra which saw QCM getting the support of a very well-known fraud buster. Europe also saw a meaningful impact by a campaign from ShadowFall.
Finally, we scrutinize the wild price action in two alternative energy stocks this week. Both are up significantly since short-sellers presented material downside opportunities.
---
Bits and Pieces
MiMedx C-Suite: After several years of fighting MiMedx, Marc Cohodes can fully celebrate. Few days ago former CEO Parker "Pete" Petit was convicted:
Former MiMedx CEO and COO are convicted on fraud, conspiracy charges
Beastie Boys + Activist Shorts: This week we saw an unusual, but clever way to communicate the key allegations of this short seller that also operates 'Deloitte Watch' page. The target GSX closed about 8% lower on Friday, following release of Q3 results.Turn up the volume:
The SPAC Mafia: Great story about SPACs appeared in Forbes this week. The cases of Muddy Waters and MultiPlan and of Hindenburg Research and Nikola Inc are also mentioned. Yet, we missed mention of Quintessential Capital Management (QCM) and Akazoo. The story of this SPAC ended rather quickly after QCM's short report in special committee's determination that former Akazoo management and associates participated in sophisticated multi-year fraud. Forbes' story on SPACs:
How hedge fund traders known as the SPAC Mafia are driving an $80 billion investment boom with a no-lose trade
---
Big Movers
Apart from Co-Diagnostics (CODX) which got pressured by the market as the vaccine news continued to come out (they do diagnostic tests and are down about 20%), the week saw wild action mostly on the long side. Several stocks went sharply against the short-seller campaigns.
The sharpest mover was Blink Charging (BLNK), the EV charging company, which shot up over 133% this week. This company was targeted by two short-sellers, Mariner and Culper. Both alleged the company is overstating their current number of chargers and the state in which the chargers were operating. They also questioned the behaviour of the insiders and their track record.
The market sees things differently as some investors are excited about the potential of the business in the long run. Even if the current situation might not support the almost $750m market cap valuation of the business which currently generates below $1m in revenues per quarter.
The second mover was FuelCell (FCEL), an alternative energy stock, which moved up almost 95%. The latest campaign pointing out the potential downside opportunity was Night Market Research. In October of this year, they alleged the business concealed losing two major contracts. This claim was basically validated by the management of the company. The short-seller also did not see the business as viable.
The market so far disagrees. The stock is up in triple % digits since the report. Most of the upside came from the broader excitement about alternative energy given the election outcome. That being said, even the sell-side is now saying that the stock got ahead of itself as this week there was no material news that would justify such share price move.
Others are also taking notice of FCEL's track record.
$FCEL
* $1.5B mkt cap
* $65M in TTM rev
* 3Q20 revenue down 18% y/y
* Low growth forecast
* Huge negative GROSS margin
* $1.4B in accumulated losses
* Cash burn rate up 50% y/y
* Serial dilution of shareholders
* Large share overhang
* 23 yrs. of losses in a row
Missing anything?

— Forge River Research (@ForgeRiver) November 19, 2020
---
Grego and Cohodes join forces
Last week, Penumbra (PEN), a medical device company, was targeted by QCM led by Gabriel Grego. The short-seller is accusing the company of causing multiple deaths due to the product deficiency which was not fixed early enough and could still cause future adverse events.
The stock shrugged off the claims quickly and the stock is now higher by over 6% since the report. Some of the market participants are saying that QCM did not bring much new information and that the market was aware of the problems, especially since Roddy Boyd wrote about the catheter issues in September of this year.
All this caught the interest of Marc Cohodes who then invited Grego to do a periscope session talking about the situation.
November 18, 2020
Cohodes revealed a short position and has mentioned he will help QCM get to the bottom of the company's allegedly questionable behaviour. Others pointed out that the competition of PEN might now have an easier way of selling their own products given the above.
I think the most interesting angle in $PEN is that the sales force of both competitors will have a field day with the report @QCMFunds put together. You only need to change the mind of a number of doctors and sales will plummet.

— Sheep of Wall Street (@Biohazard3737) November 18, 2020
As far as we noted, the company still did not respond in any manner to the allegations. The company seemingly did not even mention anything during their quarterly conference call with the analysts which caught the interest of the duo.
The elephant in the room must have been quite conspicuous...incredible amount of groupthink and deference to CEO. Once again analysts failed in their duty to doh their job and probe. Perhaps Heike Pauls was in the room as well

— Quintessential Capital Management (@QCMFunds) November 20, 2020
It will be interesting to see the developments now that Cohodes is on the 'case'.
---
New Campaigns
ShadowFall Impact
This week we have also seen Blue Prism Group (PRSM), an AIM-listed company focused on Robotic Process Automation fall more than 16%. This is due to a campaign of ShadowFall, managed by Matthew Earl. ShadowFall targeted the company due to allegations of business challenges of increasing competition and decreasing business performance.
Interestingly, a day before the campaign was released, the company reiterated its guidance of what they call strong revenue growth. In addition, three disclosed short positions were reduced in the days leading up to the report, perhaps in part due to rising share prices.
Most importantly, the report talked about the company and its purported inability to reach...
(Get full weekly report and stay on top of activist short selling developments - Join Breakout Point).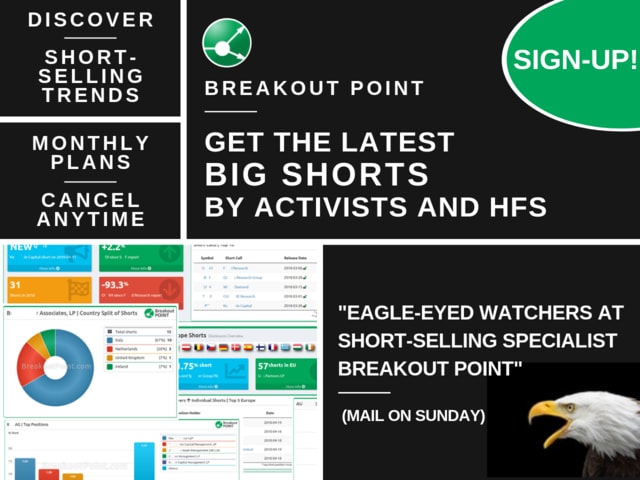 ---
FAQ | Q: Can I publish parts of above data and analytics in an article? A: As long as you reference our work in your article - yes, you can.
FAQ | Q: Could you provide more related data and analytics? A: Sure, join Breakout Point and start benefitng from our services.
* Note: Unless otherwise stated, presented data and analytics is as of available on 2020-11-21, UTC 12:00.
The services and any information provided by Breakout Point or on the Breakout Point website shall not be, or construed to be any advice, guidance or recommendation to take, or not to take, any actions or decisions in relation to any investment, divestment or the purchase or sale of any assets, shares, participations or any securities of any kind. Any information obtained through Breakout Point and its services should never be used as a substitute for financial or other professional advice. Any decisions based on, or taken by use of, information obtained through Breakout Point and by its services are entirely at own risk.