Today in premarket on November 17 we are seeing the following stocks with estimated high retail interest: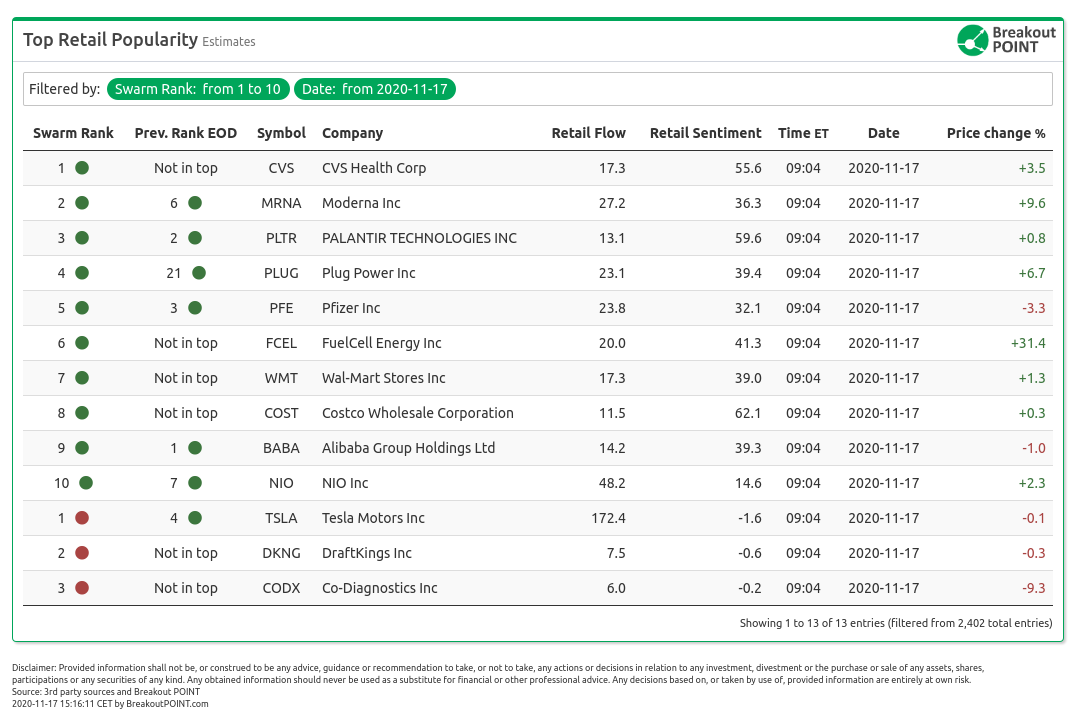 Positive Retail Sentiment
Today's notable positive retail sentiment stocks in the list include CVS Health (CVS), FuelCell (FCEL), Costco (COST), McKesson (MCK), and Wal-Mart (WMT). Finally there is also esla (TSLA) but only in terms of very high estimated retail flows.
First of all, we are estimating a very significant retail flow (but a rather balanced retail sentiment) regarding the ultimate EV play, TSLA. This is because of the event that many have been waiting for, the inclusion of the company into S&P500. Many Reddit threads started to celebrate the addition of the company as the share price reaction is expected to be positive. The shares are up over 10% pre-market. Some were a bit more conservative and cautioned against entering into new positions.
Anyhow, it's a Tesla day at r/wallstreetbets and memes are in full-swing $TSLA, Lord of S&P500, Papa Musk is back, and Elon delivers the goods.
Others on Twitter pointed to the share dynamic and the potential for a continuation of the short squeeze.
$TSLA index squeeze ahead? Perhaps the most intriguing aspect of S&P announcement is the 12/21 inclusion date. But if TSLA SH don't want to sell, where are indexers going to find 122M shares (16% of float)?? Most L/T holders believe $TSLA is worth far more than $460 ($720 PT).

— Gary Black (@garyblack00) November 17, 2020
Other than that today's list features several stocks which are usually not the most frequently talked about companies in the retail space.
There were two pharmaceutical companies that got into retailers' crosshair, CVS and MCK. Both operate distribution networks for drugs. Both are up big (more than 20% up) since the vaccine news. There is a bullish narrative that the companies will be able to benefit from taking part in the supply chain of the vaccine as per below.
$CVS and $WBA are going to be presented with a generational opportunity to acquire customers in 1Q'21. Massive store bases with significant optionality. Come for a vaccine, stay for pharmacy and convenience.

— Post M. (@Post_Market) November 16, 2020
The usual r/wallstreetbets threads popped up with some asking whether to buy more or sell with the comment section saying it is better to take the gains. This might prove as a sound move today as both stocks are in the red due to Amazon announcing the launch of their own pharmacy solution.
Another two stocks which are usually not visible in our list are retailers, COST and WMT. The first one made the list likely due to the announcement of a $10 per share special dividend (some Redditors wanted to make sure others know how this can affect their options) and also because of WMT's results. Walmart reported positive earnings as they have beaten expectations and signalled overall better macro picture. Reddit also highlighted their self-driving partnership with GM, others were asking about what they should do with their call options.
Finally, we saw significant interest in FCEL, an alternative energy stock which skyrocketed over 30% yesterday and is up over 10% pre-market. This interest likely stems from the expectation of the US policy regarding green and renewable energy sources. The Biden administration has spurred a rally in all-things green and FCEL now seems to yet another retail favourite. r/pennystocks started to discuss why FCEL could be the next PLUG (which went from around $4 per share to $25 per share within a couple of months).
Dominant retail selling pressure
Finally, we mention tickers with estimated dominant retail selling pressure: M SBUX SONO.
---

---
FAQ | Q: Can I publish parts of above data and analytics in an article? A: As long as you reference our work in your article - yes, you can.
FAQ | Q: Could you provide more related data and analytics? A: Sure, contact us and we'll try to help as soon as possible.
* Note: Presented data and analytics is as of available on 2020-11-17, UTC 13:00.
The services and any information provided by Breakout Point or on the Breakout Point website shall not be, or construed to be any advice, guidance or recommendation to take, or not to take, any actions or decisions in relation to any investment, divestment or the purchase or sale of any assets, shares, participations or any securities of any kind. Any information obtained through Breakout Point and its services should never be used as a substitute for financial or other professional advice. Any decisions based on, or taken by use of, information obtained through Breakout Point and by its services are entirely at own risk.