Today in premarket on November 6 we are seeing the following stocks with unusual positive retail interest estimates;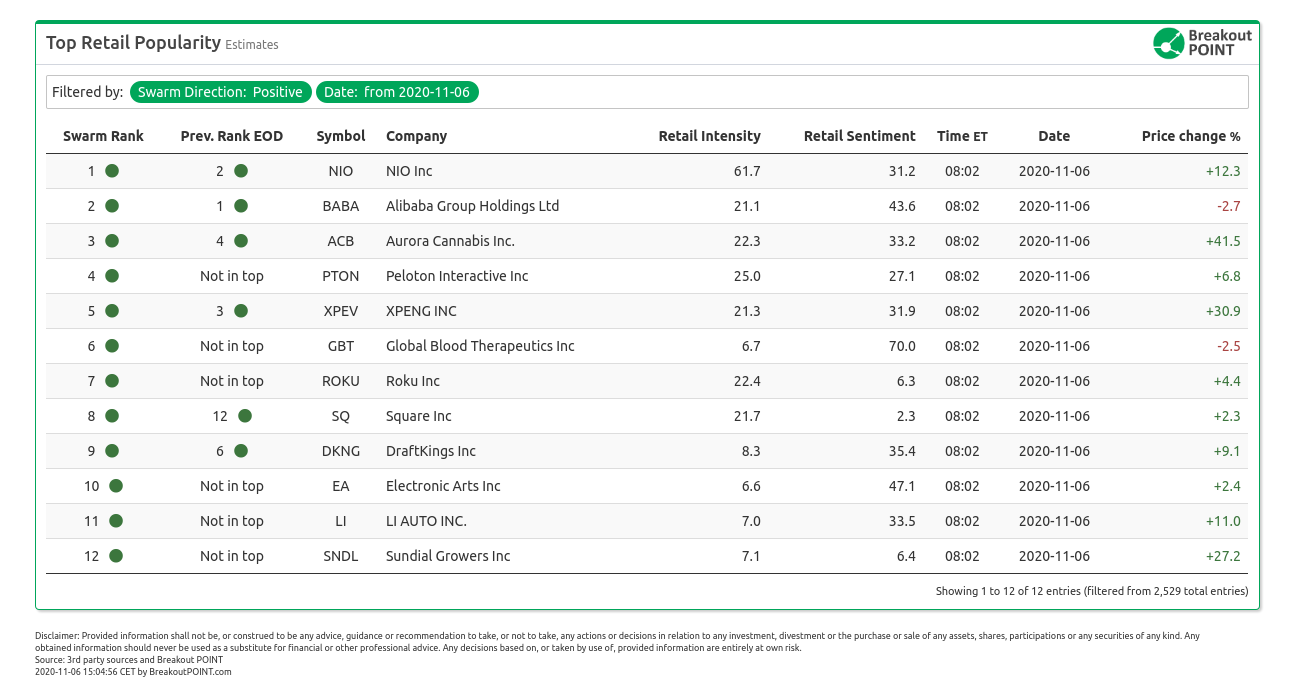 Elections Retail Popularity Trends
Following the U.S. elections, we are seeing three new popularity trends among retail investors:
Positive: Cannabis stocks (ACB, CGC, TLRY and APHA);
Positive: Chinese US-listed stocks, most notably EV related stocks (NIO, XPEV, KXIN, LI);
Negative: Most of FANGMAN-stocks (FB, AAPL, MSFT and AMZN).
Positive Retail Sentiment
Today the focus of retail traders stems mostly from the ongoing event of the US elections. While there is still no official winner, the markets have signalled that Joe Biden is likely to ultimately prevail.
This boosted two groups of stocks as the retailers quickly thought what could be the impact of a Biden victory and the election as a whole.
The first positive group of stocks consists of Chinese US-listed stocks. This group got strong support from retailers. This could well be due to the likely change of US approach towards China in the event of Biden victory. Unlike the current president Trump, Biden is likely to be less hawkish about the country. One example for all could be NIO, everybody's favourite EV play based in the Asian country. The stock has surged above 12% in a single day and Reddit featured the classic threads about people mortgaging their houses or selling them to buy the shares.
Elon Musk chimed in as well likely further spurring interest in the stock.
420 is ten times better than 42

— Elon Musk (@elonmusk) November 6, 2020
Other stocks in this group conclude Xpeng (XPEV) and Kaixin (KXIN), another two EV-plays, both of which rose above 30% on the back of the sell-side positive call on a broader group of names. We also see a surge in sentiment regarding Alibaba (BABA) the Chinese premier e-commerce company. Reddit was positive about the stock even despite the slightly negative share price action the day before as the company reported their earnings. However, some Redditors have advised caution (of all things) and mentioned BABA's connection to the Chinese government which could ultimately hurt the prospects of the business.
The second group that got a positive boost from the election consists of cannabis-related stocks. This is most likely due to some US states approving of relaxation regarding marijuana laws and the hope that Joe Biden will not stand in the way of the ongoing further deregulation.
One of the better known Twitterati's confirmed the retailer focus.
The Green wave is here. #cannabis is a big winner in the election. And when these stocks start to trade on the US exchanges. This industry is about to take off. $iipr$trssf$plnhf$curlf

— Ross Gerber (@GerberKawasaki) November 5, 2020
Some of the best known cannabis tickers saw the most surge as Reddit was focusing on what companies will benefit the most. Aurora Cannabis (ACB) was mentioned as it is one of the largest players. Canopy Growth (CGC) was also in the spotlight in both r/wallstreetbets and r/stocks. Aphria (APHA) was also present in the focus, here some Redditors also caught the news about the company buying craft beer brands.
Dominant retail selling pressure
Finally, we mention tickers with estimated dominant retail selling pressure: Facebook (FB), Apple (AAPL), Microsoft (MSFT), Amazon (AMZN), Nvidia (NVDA).
Continuing the trend of election-effect we see that retailers have been slightly negative about the tech-heavy names. This could be due to Biden's potential policy of regulating the space more heavily or a continuation of the broader tech sell-off from last week. FB itself had enough issues on the election day. AMZN saw Jeff Bezos sell some of his stake which Reddit dutifully caught. NVDA, a chip darling of retailers, got also caught on the negative side as some Redditors proposed buying puts. According to them, the company got ahead of itself due to a number of issues including AMD catching-up and game delays that will delay buyers of the new gen of video cards.
---

---
FAQ | Q: Can I publish parts of above data and analytics in an article? A: As long as you reference our work in your article - yes, you can.
FAQ | Q: Could you provide more related data and analytics? A: Sure, contact us and we'll try to help as soon as possible.
* Note: Presented data and analytics is as of available on 2020-11-06, UTC 13:00.
The services and any information provided by Breakout Point or on the Breakout Point website shall not be, or construed to be any advice, guidance or recommendation to take, or not to take, any actions or decisions in relation to any investment, divestment or the purchase or sale of any assets, shares, participations or any securities of any kind. Any information obtained through Breakout Point and its services should never be used as a substitute for financial or other professional advice. Any decisions based on, or taken by use of, information obtained through Breakout Point and by its services are entirely at own risk.